« June 2004 | Main | August 2004 »
July 01, 2004
Howdy. Pull up a chair.
At lunch a little while ago I checked the server log.
Wow.
I can't tell where all the traffic is coming from but thanks for stopping by. I'm guessing that Fabulous Babe must have posted the address somewhere.
If you're new I suggest starting over at the left. Feel free to leave comments or thoughts.
Thanks!
Jim
Posted by Jim at 02:23 PM
July 02, 2004
Working in PJ's...
Fabulous Babe is now officially working from home until the blessed event occurs. (The Janitors at her office finally hit the right bribe amount.) Her home office, a living room chair, has snacks and phones within easy arms reach and a 50 foot cable from the router in the basement to her office laptop for high speed access.
My honey boo was a little fuzzy at the edges trying to figure out how to embrace her new work environment. It's a pretty big change in pace and clothing for her to get to grips with. I found this out after while getting ready this morning.
"Are you taking a shower this morning?"
"Nope. Maybe I'll take one this afternoon. We'll see."
Well that was quick. I guess it's only fair that when you're 3 days overdue you get to work from home, shower when you want and wear your pj's around the house. I think it's a Union regulation.
Some co-workers of hers are still struggling with the notion of her being "unavailable" for a while. (She's the Queen of Feed at Monolithic Peoples Dairy Co-Operative.) She told me yesterday that someone was trying to schedule her on a conference call for next Friday. I told her that despite that being when we were going to induce the baby she should make an effort to attend while in labor.
"So what does the report say Fabulous Babe?"
"I've got that right here. Hold on a second. Arrrrrrrrgh! Uuuuuugh! YAAAAAAA!"
*pause*
"Maybe we should reschedule this for another time."
*chuckle*
Our neighbor June stopped by last night. The latest hot home accessory item in our neighborhood are in-ground pools which Gear Daddy and June are having installed this week along with another of our neighbors, Mr. Plow and Shutterbug. June was glad to have a few minutes away from the madness and hadn't seen FB in a while.
June traded stories with FB about what her last few weeks were like for each of her three kids. She confessed that at least once she was contemplating breaking her own water out of frustration which was a sentiment that FB identified with immediately. I tried to tune out the technical discussion while assembling the ExerSaucer that my Canadian Sister sent us. (Thanks sis!)
June highly approved of FB's selection of the "Super Duper UdderMaster 9000" with special "Dual Pumping Action!" (Again getting into more technical detail that I tried to shut out.) She had a very funny story of Gear Daddy being dispatched for a manual device late one night in a time of dire need only to have him come back with one from a hardware store. Visions of a Home Depot lactation consultant were quickly squashed.
After June left and FB headed to bed I was looking around our house at all the baby gear last night. This time next week we might be using some of it. We'll see.
Posted by Jim at 08:47 AM
July 03, 2004
And Now a Word from our Sponsor
Over the past many months, my husband has been keeping this weblog and I didn't think it needed my input. Well, I think that the time has come for me to add my two cents worth.
This log started out as a series of little notes keeping our family and close friends "in the loop" on my pregnancy. Now, it is a much bigger, more widely read blog and I think that is neat. (Despite my on-and off embarrassment about some of the less than flattering parts of pregnancy.)
It took me a long time to come to the idea of having a baby. In fact, it took 34 years, two countries, three major cities, and two long term jobs. It was pretty difficult to fit anything in except my career, including a husband, but the time is now and we will figure it out. Now it is more of a reality than I ever thought, and I can't wait… despite the fact that this baby is set on making us do just that. It was a pretty interesting feeling leaving the office last Thursday night thinking, "I won't be back here for quite a while." I know things are going to be different, but I have a feeling I have no idea of "how different."
Today we made what might be our last little venture as "just the two of us." We went to see a flotilla of paddleboats that were making their way from as far as New Orleans to St Paul to celebrate a similar trip from 1854. Then we had a nice Mexican lunch – which did not trigger labor. Then on to see our last movie in a theatre for probably quite a while (Spider Man 2.) 'We made this trip in the Miata. To which my dad said "can you get in that thing? The answer to which is "Yes" but it is not the prettiest process. All this was fun, but next time we will look at all of this through a different set of eyes.
Last May, Jim and I went to Disneyworld for a vacation. I am probably the only person in the US, who prior to that trip, had visited EuroDisney but not one in the US. (I liked the FL experience more BTW.) Anyway, we went to the nighttime parade they have on Main Street in the Magic Kingdom and sitting around us were many families. In particular, on one side, a five year old girl from Chicago and on the other side a five year old girl from England. I was fascinated by the instant bond these two little girls had in the hour we waited for the parade, discussing "the princesses," their respective day at the park, etc. (This probably also says a lot about the Michael Eisner marketing plan, but that's not my point.) It was hard to decide to watch the parade or watch these two girls' faces as the parade moved past or characters came up to greet them. The pure unadulterated joy and awe was something I hadn't seen or had forgotten existed in all of the "fulfilling" days I had been working over the past 13 years. That may have been a defining moment in deciding to have a baby or how I view the world. Since then I have occasionally thought about how the world might look to our child. Starting soon, we will know rather than wonder.
The next week will be interesting, with doctors directing a process that has taken place millions of times. Thinking about the process is scary, but we are ready to go to the next stage. I have had a great time reading Jim's observations about the past ten months and checking out your comments. Thanks to Jim for writing. Thanks to you for reading and writing. Thanks to everyone who has been patient, kind, and supportive over the past 41 weeks. Keep in touch over the next few weeks. I have a feeling things get very, very interesting...
Posted by Mrs. Canadian Hotness at 07:31 PM | Comments (0)
July 06, 2004
No. Nothing yet
Yes we're still pregnant.
Fabulous Babe has an appointment this afternoon with a battery of tests followed by the first gel treatment after that. We have gel treatments today, tomorrow and 2 on Thursday. Each treatment has a 50% chance of bringing on labor. If none of those work then Friday is a Pitocin filled extravaganza starting at 7:30.
More later.
Posted by Jim at 07:46 AM
Huh? What?
Remember how I said that I was 80% sure of what the baby was?
The other 20% came back today with a vengence.
The ultrasound went well today. 6 out of 8 scored because Junior was taking a nap and wasn't willing to breathe on camera. It also, once Fabulous Babe turned her head, gave me a very clear picture of the sex of our baby.
At this point I have a lot of stuff to return. (Hidden in closets and such.) FB laughed her ass off in the car when I told her we're 180 from where I thought we were. Her mother joined in over the cellphone. Neither of them know what it is yet.
Hmmmmm. 21 weeks of planning shot. What do I do for an encore?
Posted by Jim at 07:25 PM
Tuesday night update...
So we're home after a LONG day at the hospital.
The tests were fine. The gel treatment went well. The good news that on her own from last Wednesday Fabulous Babe has gone from 0% to 80% and 1 cm. (I'm skipping detail here but you get what you pay for.) This means that with the gel things might move along quickly.
FB has forbid me from bringing the laptop to the hospital so updates once things get going might be rare. Feel free to lobby for the laptop via email or comments. I doubt it will sway her but we can see. I was sore at her for a while but then saw what she had to go through for the gel treatment. Yikes!
She's in bed right now with backaches and contractions. Things may happen or they might just stop. We'll see.
More as it happens on America's number one pregnant redhead news network.
Posted by Jim at 07:30 PM
We're off!
Next update will probably include a baby.
Contractions are 3-5 minutes apart. Wish us luck.
Jim
Posted by Jim at 10:21 PM
July 07, 2004
So far so good...
Got to the hospital last night about 10:30. The contractions were coming pretty sharp and pretty fast. (7-8 on the pain scale.) After settling in the Nubane helped take the edge off. Fabulous Babe let go of my lower lip about that time which was nice.
Around 2:30 they gave the go ahead for the epidural. (Highly recommended.) We snoozed from then until this morning.
Things are going well. Expecting the birth sometime between now and 6ish. I came home for a quick shower. FB's parents are here after driving all night. We'll head back down as a group.
The only bad thing? Some yahoo scraped the back of the car last night in the parking garage and didn't leave a note. Weasel.
Thanks for the thoughts and prayers.
Jim
Posted by Jim at 08:55 AM
Welcome to the world...
Shortly before 12:00 our time Fabulous Babe gave birth to John Burks ____________.
8 pounds, 13.5 ounces. 20 inches long. (14 inch head measurement.)
He's in perfect health and is, as I type this, screaming his lungs out.
Mom is in post op recovery. (We had a C-section.) Everything went well and looks good. I'm going to be with her as soon as they will let me.
Love to all of you.
Jim
Posted by Jim at 12:25 PM
Pictures!
Hi Folks,
I'm sorry for the delay. We've been a little busy. Allow me to introduce John Burks. (He'll go by Jack.)
This is his "GQ" pose. Note the sly look in his eye that says "Yes. Yes that is a ridge on my skull from being squished against a pelvis. Do you find it beautiful?"
What a heartbreaker.
This is the not happy look. It's not hard to hear Jack saying "The lights! The lights! Won't you quit hounding me!"
I also have no idea where the black hair comes from. At this point I suspect our local Schwann's food delivery serviceman but Fabulous Babe says nope.
This is Jack with FB's mom. He seems to be a big hit with the grandparents.
Note the sporty hat. It keeps questions like "Where did he get that black hair?" to a minimum.
The world renowned card carrying Evil Scientist, Doctor Molotov. Notice the bloodchilling smile as she holds Jack in her clutchs while planning the downfall of humanity. Jack, sensing danger, struggles to free himself.
FB would point out about now that I'm a nitwit and that Doctor Molotov is wonderful. I tend to agree. The Evil Scientist stuff just seems to fit.
Since I am frequently asked if the silly names are just people I've made up I thought I would prove differently. Here's a picture of FB's co-worker Wonder Woman with Jack. She stopped by with her husband for a bit tonight. She seems to be a natural. I hate to be the one to tell her...
"Tag! You're it!"
More pictures to come.
Posted by Jim at 10:22 PM
Trying to sum up the last 36 hours...
Whew.
Folks it's late and I am so tired I have a fever. I have to beg off to type up the whole shooting match until tomorrow. I'm running on 2 hours of sleep for being up over 40 at this point.
Our answering machine is overflowing with well wishes. Same goes for our cell phones, email, etc. Thank you all so much. If I haven't spoken with you yet please know that it has been the circumstance and not the sentiment. I'm trying to touch base with everyone as fast as I can but my time today has been fleeting.
I'll explain his name before I go. John was my grandfathers name who passed away a few years ago. He went by Jack. The middle name, Burks, is my fathers middle name and has come down through the family for some time.
I'll get to typing in the a.m. Right now I have a very serious appointment with the pillow.
Thanks again for your love and support.
Jim
Posted by Jim at 10:55 PM
July 08, 2004
Much better.
Ok. I feel a 1000% better than I did last night.
I tried sending an email blast this morning to everybody with pictures attached. I know that I missed a lot of you so do me a favor. If you want to see some more pictures email me at thespecialproject@comcast.net and I will forward them on to you.
I?ve been asked to post some pictures of Fabulous Babe. I have a few from yesterday but even I?m not dumb enough to post pictures of my starved, frayed at the nerves, heavily medicated, post labor, post C-section, up for 36 hours wife. I?ll get some tonight and post them.
To keep you happy though here's a picture that didn?t get up last night: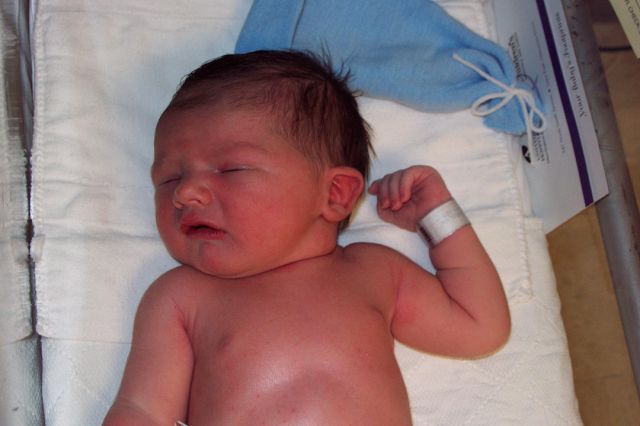 Tuesday evening we got home from the 6 hours we spent at the hospital. The gel treatment was causing some irritation and by 8:00 Fabulous Babe had begun experiencing some pain in her back. By 9:00 we had full contractions. Around 10:00 FB had one big contraction and *pop* the water broke. (Lucky I had her sitting on towels.) Within a few minutes the contractions were 3-5 minutes apart.
Tuesday night was a blur. Checking in took a while with way too many questions. (?Have you ever had or been given monkeypox? What about elephantpox??) FB got annoyed with me for mentioning she wanted an epidural to every nurse we came in contact with but I was worried it might be too late. Who says I was sleeping in class.
Nubane was administered around Midnight. The decision to go with the epidural came at 2:00 and by 2:30 FB was feeling much better. The only problem with an epidural is that you have to be moved every 45 minutes. This means catnaps only and deep sleep is impossible to come by. Ugh.
By 5:30 we were at 80% and 5 cm but that was the end of our progress. At 10 the discussions began in earnest on moving forward with a C-section. By 11 FB decided it was what was best and no time was wasted.
My cousin, Goolia, sent a note this morning that said she loves his name and that it makes her sad in a good way. Jack?s namesake, his Great-Grandfather, passed away in 2000. He was a loving husband, father of four wonderful sons, grandfather to nine grandchildren and, if I don?t get this wrong, great-grandfather to 5 great grandchildren. He was also one of the friendliest people that ever walked the face of the earth and is sorely missed.
He was also, among other things, a life long Elk who was partial to drinking Schlitz. Perhaps I?ll save those stories for later. *grins*
Posted by Jim at 11:57 AM
More pictures...
Hope you'll allow me some more pictures.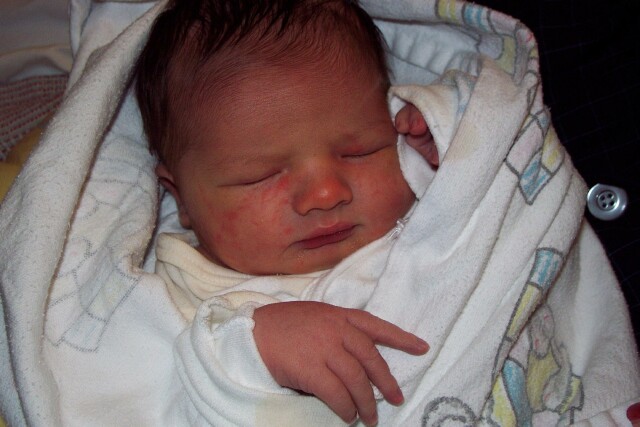 Here's Jack at his cutest. Notice his dreamy hair and the self inflicted scratches from his now trimmed fingernails.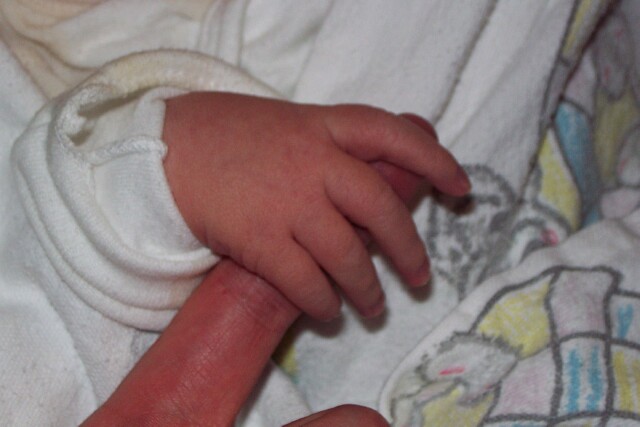 That's my finger in his hand. Can you believe the size of that hand?
Natural part on the left. Be careful kid. That forehead is going to get awfully high before you know it.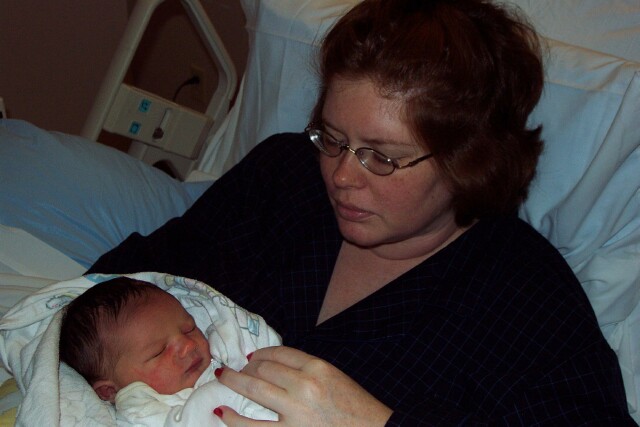 The one and only Fabulous Babe with her son.
Night all!
Posted by Jim at 11:58 PM
July 13, 2004
All's well...
Sorry for the delay folks.
The computer I use for all of my imaging work lost the connection to our Wireless hub on Sunday night. (I've spent two fruitless evenings since trying to fix it.) I have some entries written up but photos are a key part. I'll move everything over to the other PC tonight and do a big update then.
Jack is great. Fabulous Babe and I are a little low on sleep but that's not a big surprise.
Posted by Jim at 01:19 PM
July 14, 2004
Coming home from the hospital
Sunday was the big event: time to come home. Fabulous Babe was ready to come home a day or so before but her recovery brought that to a standstill. The more packing and prep work we did the more anxious we all were to leave.
Fabulous Babe?s dad missed the event. He had to head home for a bank board meeting. He?s coming back soon however and is bringing Grand Ma Ma in tow for the weekend.
Jack decided to leave looking sharp. Here?s a picture of his ?going home? clothes.
I should note that Donatella Versace began harassing Jack as soon as he decided what to wear home. (She wants to introduce it into the Fall line.) After the swell of publicity already surrounding the event Jack thought it best to mislead her by telling her it was simply something from FUBU. Donatella was crushed.
Here's Jack all ready to make the trip to our villa / manse / compound to be free of the intrusions of the paparazzi into his already hectic life. Unfortunately I wasn't fast enough to catch him discarding the press of photographers with a dismissive wave of his hand.
Jack is snuggled under a blanket my grandmother made for him. He loved the feel of the yarn in his hands and played with it all day. Her Kung Fu Ninja Knitting skills know no equal.
The other thing to spot is the car seat. Little did I realize that while they pronounce it "Ferrari" it's actually spelled "Peg Perego". All joking aside it strikes me that they have similar pricing levels.
We made it home with no problems and for the most part crashed after we arrived. It's a good thing we did because sleep was a hard commodity to come by Sunday night.
The Racetracks came by on Sunday evening to see how things were. Here?s a picture of Kate next to Jack: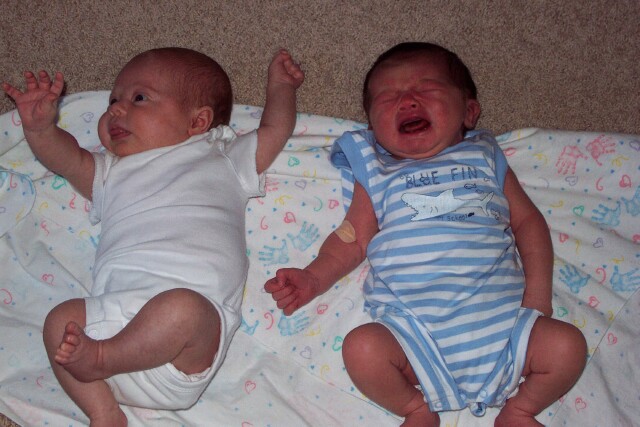 One look at the picture and you can see that right minded women are already fleeing Jack?s charm and good looks. Sorry son. It?s genetic.
Jack was pretty restless Sunday night. (Must have been that call from the Hilton brats.) Multiple attempts at feedings and a lot of crying kept FB and I up until the wee hours. I got to sleep around 6:15 and was pretty grisly.
Hoping to prevent a repeat FB and her mother took Jack to meet with the lactation consultant on Monday. That went very well. Jack?s mouth developed oddly and as a result FB needs to wear a nipple shield to nurse him correctly. (The nipple shields look like the transparent top that Jane Fonda wore in Barbarella. After one glimpse I simply dubbed them ?Space Boobs? and never looked back.
Monday night went better. Much better.
This was how I left Jack this morning: In his PJ?s and snoozing away.
Posted by Jim at 12:41 AM
A quick note about comments.
Before I was able to write last night I had to do some housekeeping. It seems that at some point yesterday my online labor of love was discovered by some unsavory types. I had to go through all the back entries and delete 60+ messages in the comment fields that advertised websites and services for "special interests" of various sorts. This included things that I never suspected existed or, in some cases, have tried to forget ever since I heard they existed.
With my cleaning efforts I also locked down the comments on old entries. I'll leave comments open on new posts but after a few days I'll be closing them as well. It's not that I am against midgets, little people, etc., or their professional career in "entertainment" but it seems to be out of sync with management's goals around here.
Based on traffic levels the overwhelming majority of you tend not to post comments. (I suppose this means mine is an audience of voyeurs.) In many ways this is a lot like radio where you talk into the microphone but rarely "hear" what your audience thinks.
I can tell you that the comments that are posted are read enthusiastically and remain what I look forward to the most. I hope that you, my gentle readers, won't mind the restriction on older entries. A site without feedback strikes me as being a bit autocratic.
Thanks for your patience and understanding.
Posted by Jim at 08:31 AM
July 16, 2004
Trials and tribulations
Our son might be a "leg" man because it is becoming obvious that he isn't a "boob" man. That's the educated guess by Doctor Molotov. At yesterday's doctor appointment Fabulous Babe explained some of the trials and tribulations we've had with nursing. (He's getting it most of the time but at night Jack's a little off.) After hearing some of the tales of woe Doctor Molotov suggested we go ahead with the bottle for some of his feedings.
Emotionally this was a bit of a blow for FB. In her mind I think she really wanted to be able to do everything without needing to use a bottle. While it's practical it isn't as personal and there's the rub: It's not FB's fault but it's still disappointing.
Pregnancy is filled with these sorts of moments. In the hospital last week FB was horribly upset when it became clear that Jack was "stuck" and would need to be delivered via C-section. If there is one noise in this world that can bring me to my knees it is the sound of my wife crying. Worse still is being able to do nothing but stand next to her and try to make better a situation far out of my control.
Jack's overall weight is down a few ounces but he is otherwise in perfect health. His color is good and all the rest of the vitals seem normal.
We used the bottle last night and Jack took to it straight away. It is a bit easier but FB still nursed him for several feedings. Sorry kid. It's 50/50. Those are the house rules.
Posted by Jim at 03:45 AM
Our very own Strange Change Machine
Warning! Useless Knowledge is eminent! Warning!
There used to be a toy in the late 60?s called the Strange Change Machine made by Mattel. The Strange Change Machine used hot air to cause a small cube of plastic to unfold into a small monster, insect, etc. After assaulting sisters and friends with the miniature menace you then stuck it back into the Strange Change Machine and compressed it back into a cube. (E-polymers rock!) Who says recycling is a new concept?
Obviously modern society cringes at the thought of something like this today. This was a toy that essentially was a stationary heat gun that used temperatures that would strip paint at a couple of yards to cause plastic to expand. (?Never mind the fumes son.?) For your safety Mattel was kind enough to include a pair of tiny plastic tongs to handle the molten plastic after it was heated. The first version of the Strange Change Machine included a plastic heat shield that the second version discarded all together. (?Too clumsy! Rip it out!?)
Here's a picture of what the box looked like: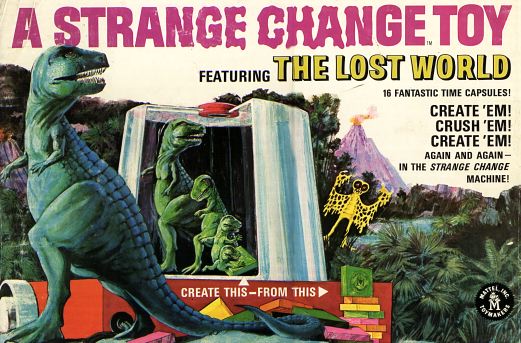 How cool is that! This was your very own 3rd degree burn kit in a box! It makes the gash inflicting Evil Knievel toy I got for Christmas one year seem pale by comparison. How could a 9 year old boy standing in a toy section of his local department store not begin spasming uncontrollably when he beholds the ability to unleash these sorts of horrors on his family. It brings tear to my eye I tell you.
All of this just goes to prove that the Mattel of the 1960?s was a glorious company. Couple this with things like Hot Wheels and Major Matt Mason and you just stand amazed. Comparing it to the hollow mockery that bears the Mattel name today is like night and day. What once was the embodiment of California creativity has become a public concern trapped in an endless cycle of zombie like brand revival. Bah! Fools!
In that cruel twist of fate I never owned one of these. My neighbor Noel had one courtesy of her older brothers. (Care to guess what day she was born on?) I remember wanting it desperately but no such luck. Cruel, cruel world. If you know of one that works and needs a good home let me know. Jack MUST have one.
I know. Your eyes are starting to glaze over and you want to ask:
?What the heck does this have to do with your child??
Jack is starting to unfold. (Without the use of a stationary heat gun I might add.) His legs are getting straighter and he is stretching his arms and legs a lot. As he slowly looses the bowlegged cowpoke look he?s growing before my eyes. Every day he grows and changes it the most unexpected of ways.
I may not have had the original but our new Strange Change Machine beats the old one any day of the week.
(Many thanks to Fox's Strange Change Machine webpage for the picture. Highly recommended.)
Posted by Jim at 03:58 AM
July 18, 2004
Saturday Morning
Saturday morning I took Jack with me on a Bank, Target, and Post Office run. He slept the entire time which I expected. (I was ready with the emergency diapers and wipes though.) He met with rave reviews and accolades which is gratefully accepted but a little weird when you're not used to that sort of thing.
The most repeated line I hear is "He's cute. Really! I'm not just saying that!" which is sort of funny after the first few times. I have since learned that C-section means that the baby avoids some of that "Run under a bus" look that the normal route can inflict. (Cone head, clamp marks, etc.) I'm really at a loss when people say how cute he is. I'm grateful but it was all Fabulous Babe's work, not mine.
Don't get me wrong. I'm certainly glad he isn't "stop a clock" ugly because I can only imagine what the compliments would be like. "Quite the career in the circus sideshow industry for little Jack isn't there!" or "Which asylum are you shipping him off to at the first opportunity?" The old standby, "I suppose you'll be keeping him in the attic and feeding him nothing but fishheads," is my personal favorite.
The Wells Fargo Ladies had a number of saucy comments about his big hands and big feet but this isn't that sort of webpage. They claimed he was the perfect end to "the longest pregnancy ever" which gives you an idea of how much I am willing to talk to people.
In Target I was ambushed in the pharma aisle by three women who descended on him cooing and gushing. ("How old? 10 days! Oh my gosh!") I have to admit I was tempted to use a stun gun on the one that started to pull his blanket back. As it was I just shifted the cart away before she made contact and said I had to hurry.
The Post Office, "Now with 100% less Tear Gas!", was pretty empty which gave me a chance to set him up on the counter and spend a couple of minutes demonstrating how he could sleep through my babbling pride. Again a great success.
This Father / Son Saturday Morning could be a regular thing.
Posted by Jim at 10:28 PM
July 19, 2004
Cinema C-Section
Although I swore I wasn't going to do it I did indeed take the video camera into the delivery room when Jack was born. I think at that point I wasn't thinking clearly and was just trying to do the "right" things that I thought needed to be done.
I've let the tape sit since I shot it. Part of me was afraid of what I filmed. (It was a C-section after all.) With Fabulous Babe's family here the notion of viewing it has come up a few times. Figuring that I should make sure it is fit for family consumption I sat down to watch it last night by myself. Here are some of my thoughts:
A.) No man should ever try to film the birth of his own child. You're distracted, sometimes babbling and worse you're just trying to capture everything. Parts of this make me dizzy.
B.) I did have presence of mind not to shoot anything I shouldn't. At least now if you visit us there won't be an awkward moment of horror as parts of my wife never meant for public display appear on the television.
C.) The doctor and nursing staff were singing as I walked into the theatre. I like a surgical team so comfortable with the task at hand they feel they can sing. That sets me at ease.
D.) In an odd coincidence a song from our wedding CD was playing when Jack was born. Stranger still it was the Barenaked Ladies. This weird Canadian theme in our lives is getting out of hand.
E.) Hearing my wife crying and asking to see Jack just after he emerged is now one of my favorite memories of all time.
F.) Some kind soul picked the camera up and shot footage after I set the camera down to hold Jack up to Fabulous Babe's head. It's a little weird seeing myself on camera.
There's a lot of sloppy shooting and a bit more jostling that I wanted to see. You can hear all of the "I love you!" moments however and that's what is most important. When I'm old and blind I'll still be able to hear my son being born, my wife crying for joy and the Barenaked Ladies singing:
"So if you call, I will answer. If you fall, I'll pick you up."
Which are the lyrics that got it onto our wedding CD in the first place and remain as true today for my son now as my then soon to be wife 4 years ago.
Posted by Jim at 05:22 AM
Baby Blues...
Fabulous Babe is coping with the tidal wave of hormones that has her a little off right now. I spoke with my Spiritual Train Brother today and he used a great term that I had never heard of: The Baby Blues.
It's an apt term. Fabulous Babe had a few crying jags over the weekend and all I could do was hold her hand, wrap an arm around her and try to make things better.
Part of it is the lack of sleep we are both experiencing. We are trying to set a schedule with me taking the first shift and staying up late with Jack until she relieves me around 1:00-1:30. It's getting better but we're not quite set yet.
The Baby Blues are hard to watch. You find yourself worrying that they might be the start of post partum depression. Logically the odds are slim that this is the case so you then end up chastising yourself for being over reactive. In the end you just hope for the best and try to be as supportive as you can be.
I'm planning to take FB out over the next few days with Jack to try and do some "normal" things as a family. We could both use the time out of the house and according to my Spirtual Train brother it makes a difference. We'll see.
Posted by Jim at 11:22 PM
Matchmaker Matchmaker make me a match...
My plan to introduce my single and compatible friends has once again met with success. A good time was had this weekend by two of my friends who had a date Saturday night with dinner and dancing.
She: "I'm afraid he thought I was boring!"
He: "I thought she was really great!"
She: "He was really a nice guy!"
He: "This was the best experience in months!"
This is why Hollywood has such a hard time making films I'm willing to watch anymore. They can't come close to writing dialogue that is as honest, as warm or as much fun as what I heard today. Sure nothing may come of this but at right now it's like I am Frank Capra and I get to watch Jimmy Stewart and Donna Reed together for the first time.
*footnote*
One of the anonymous duet above called me today and asked me what their date had to do with Jack or Fabulous Babe.
*cough* El Jefe *cough*
I reminded him that since I own the joint I can take a sidebar any darn time I feel like it. So there.
Posted by Jim at 11:45 PM
July 20, 2004
Armstrong Syndrome
I received a very nice email asking why I haven't posted a picture of myself yet. There are actually a couple of reasons.
A.) I hate scaring small children. The rough hewn burlap potato bag I wear over my hideous features sometimes slips and the young frequently flee my visage.
Ok maybe not.
B.) I suffer from Armstrong Syndrome.
For those of you unaware of it there are only 5 pictures of Neil Armstrong that were taken on the moon by "Buzz" Aldrin. Armstrong, as Commander of Apollo XI, was assigned most of the camera duties for the mission. There was only one point he set the camera down and Aldrin picked it up to take some photos. Even then they weren't really planned. Neil just happened to be in the shot when "Buzz" took the picture. (Painfully obvious when you see them.)
The joke is that at no point in the instructions sewn onto Armstrong's sleeve did it explicitly say: "Hand the camera to Buzz and strike a pose." That's right. The first man on the moon didn't think to ask his buddy to take a picture or two.
My case in point: It wasn't until Jack was 4 days old that occurred to anyone to take a picture of me holding him. Thus it is that I have Armstrong Syndrome.
This website is primarily about Jack and Fabulous Babe. They're the stars here, not me. I'm lucky enough to be a spectator to all this and chronicle their achievements. (Friends and family fall under this umbrella as well.) Pictures of any of the above? Just fine. Me? The last thing you need cluttering up the place are pictures of me.
Thanks for asking though. I felt all warm and fuzzy. *grins*
Posted by Jim at 12:04 AM
Bath time!
Fabulous Babe went on our first walk tonight as a family. She's not really felt up to it until now so previously it was just me and Jack flying solo.
After the bath FB led me through my first go at washing the boy. Until now she and her mother have taken care of all the water based cleaning.
"Don't dunk him!"
"Why not? It's faster."
"Just don't."
"How about I half dunk him?"
We got through it without mishap. He seemed to like sitting in the tub of water and didn't splash too much. Jack was passed out on the bed in his pj's with wavy sort of George Hamilton hair at the end of it all.
It may be a trick of the light but his hair almost looks red tonight. It's so long I still say it needs a good trim with the clippers but Wife-o Deluxe-o said no. Guess the "high and tight" has to wait a while.
Posted by Jim at 09:43 PM
July 21, 2004
Fabulous Babe's parents and grandmother
Fabulous Babe's parents and grandmother left this morning headed for Illinois. This left FB alone with Jack all day by herself. While not the largest of challenges it was the first time she has been alone with Jack for an extended period of time.
When I got home it was pretty clear that it had been a long day. She was a little teary as she explained that she had a hard time adapting to the pace of the day. Between diapers, pumping, feeding and sleeping it was culture shock.
I've always felt that FB is the living embodiment of one of those women you tell little girls they can be when they grow up. In her work at the Monolithic Peoples Dairy Co-Operative she's respected for her work and her work ethic. This is the woman who was regularly putting in 12-14 hour days. (I used to joke that our best form of birth control was her work schedule.)
It's that 5th gear race car pace that has come crashing down to the equivalent of being stuck in 1st with the added bonus of being hitched to a trailer. (Filled with milking equipment.)
My poor honey. She can put the Access beat down on any fool that crosses her path but
Posted by Jim at 12:19 AM | Comments (0)
July 22, 2004
New Jack Photos
Not to be confused with the movie "New Jack City". (I'm ashamed to admit that somewhere I have a Color Me Bad CD hidden away in a box.)
I was reminded that I hadn't posted pictures in a few days so here are a few until I get some really good ones in the next day or so,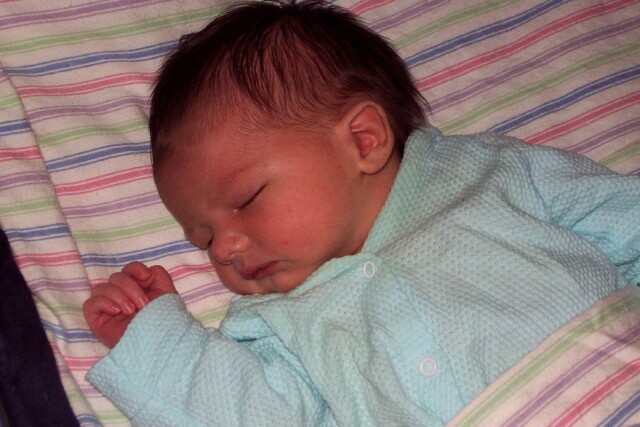 This is Jack doing what he does best: sleeping. Unfortunately this is during the day and we want him to be doing this at night. Ugh.
Notice the sleeper. I know some parents like the snaps but they are a royal pain in the backside to get on and off during a Level 10 Poop emergency. The zippered sleepers are MUCH faster.
Here is a shot from a week or so ago when Fabulous Babe?s co-worker Wonder Woman stopped by to visit. Worn out from the effort of entertaining, Jack has managed to pass out from all the excitement.
Jack yawning. Not eventful by itself but?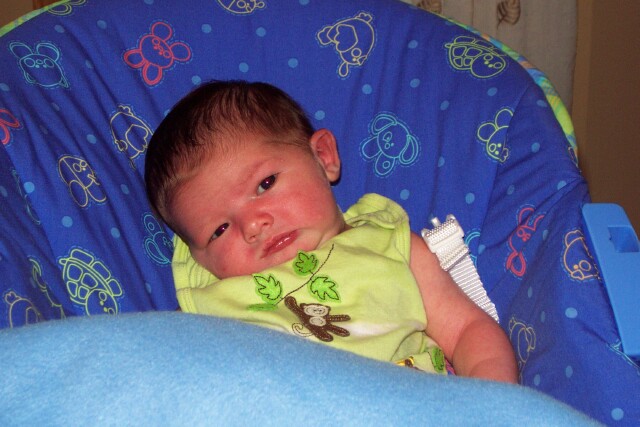 It lead to this moment of introspection and contemplation. Either he?s thinking over Stephen Hawking?s change of thinking about Black Holes or he?s spotted FB and thinks it might be time for a snack. Odds are it?s the latter.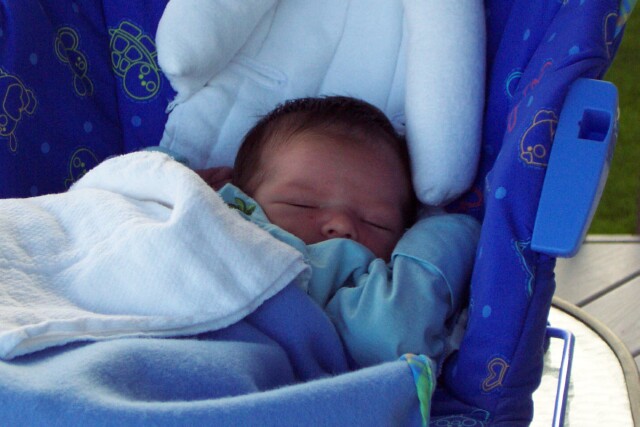 Q.) What happens when you have no butt you ask?
A.) Not only do you share a plumber?s crack with everyone in the world but you also slide down in your bouncy chair until only the top of your wee little head is exposed.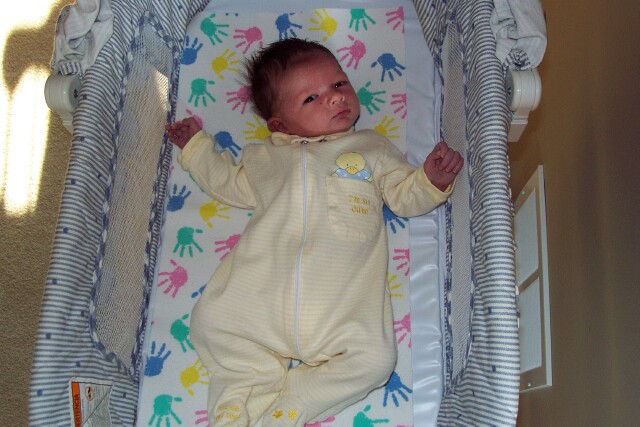 Here?s Jack how I left him the other day when I was leaving for work. Stretched out in his morning glory and giving me that ?Would you knock off this camera business!? look that I love. He?s also sporting the morning hair that usually takes a full bath to tame.
Stay tuned for more pictures this weekend.
Posted by Jim at 10:57 PM
Whee! Time off with the family.
I took Thursday and Friday off to spend more time with Fabulous Babe and Jack. This also gives us a chance to catch up on rest and try to "set" a schedule with the boy wonder. (Here's hoping.)
The big news of Thursday was that we had a visit to the doctor today. The news? He's in the 95th percentile of everything. He grew two inches in length and now ways one ounce shy of 10 pounds. Even his noggin is larger. He's as healthy has a horse which is just wonderful to hear.
After lunch I dropped FB off and took Jack with me on some errands. He was
Fabulous Babe went to dinner with co-workers tonight with Jack. (I got to sort out trash, the catbox, and sweep the garage.) It was the first such occasion since Jack appeared and a healthy step for her. She was tuckered out when she got home but in a good way.
The rest of the evening and night was spent finally resolving the worst crash of a hard drive I have ever imagined. After a week and a half of agony I managed to recover the lost data and have almost got things back to normal. I'm exhausted but in a better place now.
More tomorrow.
Posted by Jim at 11:15 PM
July 23, 2004
A day in the life of Jack
What's it like being Jack on a Friday?
Here's a little photo essay.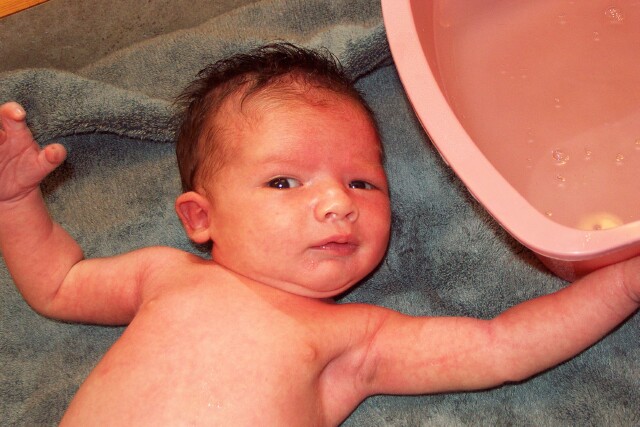 This is Jack doing his best Keanu Reeves "Whoa" as we move into the Friday bath. I particularly like the splayed arms that seem to mimic Keanu's surfer detective movie "Point Break" so well.
To the left off camera is the washcloth of doom that he's eyeing suspiciously.
Those sneaky Canadians! 2 weeks and 2 days old and already Jack has his first Roots Olympic attire. (I don't think they make a beret that fits.) A splendid addition to his wardrobe. El Jefe shoots and scores!
This may be one of my favorite pictures as well. Jack has a lot of personality and this is the first photo that I've taken that captures it.
Jack in the Apollo Launch chair assembly. We headed out today to give Mom a chance to nap and this was the sly look he shot me just before we left.
Enjoy!
Posted by Jim at 04:32 PM
July 27, 2004
Sleepless in St. Paul
Ever see any of those Living Dead movies? The ones with the Zombies that wander around making "Uhhhhhhhhhh!" noises?
That's us right now. Except we say things like "Bottle. Uhhhhhhhhhh!" We both have the listless, sleepless, shuffle down pat. All that means is that we won't have to go through the beginner Zombie school.
Saturday we headed over to the after hours clinic for Fabulous Babe. (She's having some recovery issues but nothing too serious.) Sunday we had visits from FB's old boss from Seattle and his family as well as the entire Lost Control Family.
In other news I, with the approval of the head of accounting, bought / built a new PC with the help of Mr. Racetrack on Saturday night. I'll go into more detail about this later. Hopefully I can recover some of the lost mail and other wayward files that have been in hiding in the depths of the old PC.
Meanwhile I'll make sure to add some new pictures tonight. This will happen after I cut the grass, change a few diapers, make up the bottles, pay the bills, take out the trash, etc.
*yawn*
Posted by Jim at 12:29 AM
Pimp my Desktop
So a little over two weeks ago our trusty desktop began giving us fits. It began with a cough, developed a sputter and then the entire C: drive pretty much decided to give up the ghost.
There was much wailing and gnashing of teeth when this occurred for no shortage of reasons. Most of my "work in progress" was on this drive and while I backup pretty often this was still going to be a tremendous pain in my backside. The time required to try and sort this out was also lacking as Jack was born shortly before it happened.
After 2 weeks of work I managed to recover most everything from the C: drive. (I'm still working on a couple of things.) All of these events led to a discussion with Fabulous Babe about replacing our now almost 5 year old computer. (One big reason: it's not capable of working with the video from the camera.) Eventually the CP (Chief of Procurement) gave the ok so I grabbed Mr. Racetrack and we headed off for some parts.
Everything was pretty straightforward: New motherboard, new processor (Fairly fast), memory (a bushel), a new video card (adequate but not $500), etc. Seems normal right?
In buying a new case the employee at the store recommended a particular model due to it's having the drive space and bays I needed with the bonus of the inclusive large power supply. What I didn't quite realize is the depths that the computer building industry has been taken over by the same people that take old Honda Civics, lower them, add neon and then spend thousands of dollars tricking them out.
When we first applied power the case lit up like a gaudy neon Christmas Tree. The fans produce brilliant amber light, the front face has an ethereal blue glow, etc. All I need now are some Bass tapes, a few pop up flat panel screens coated in Bling Bling and then me and my homeys will be styling at the next LAN party in the hood. Now if I can only figure out where to tack the Dubs on it I'm all set to Represent for the PC Nation! Woot!
Fabulous Babe had the best comment when she saw it the first time: "What the hell is that?"
*chuckle*
Posted by Jim at 11:10 PM | Comments (0)
"Be alert. The world needs more lerts."
That's a quote from a button I saw at Commander Salamander in Georgetown in 1985. (Don't ask me how I remember this stuff. I just do.) Not quite up there with the classics like "WAR! Frankie says hide yourself!" or the endless Duran Duran buttons but most of 80's button culture is better off forgotten.
Jack is starting to stay awake longer during the day. At the same time his eyes are growing stronger and he is constantly looking at everything he can. This can lead to disaster as he tries to turn his head only to discover that his weak and flimsy neck muscles are incapable of supporting these attempts. Good luck for Jack that his mother or father are always there to catch him.
It's fun to have him on my lap and watch him stare at me with such intense scrutiny. I can't help but wonder what his thoughts are. So far the faces he sees the most are Fabulous Babe and I which I hope he is beginning to recognize. We'll see. Usually he sticks his tongue out which we both mimic but it's not catching on with him yet.
I know that behind the eyes a mind is beginning to take shape. I just can't wait to interact with it.
Posted by Jim at 11:17 PM
July 30, 2004
Bunny Lumpkins
Jack tends to wake us up somewhere between 5 and 6 with a bloodcurdling cry. It's always a blend of "I'm starving!" with a dash of "My pants are FULL!" In the moments after fetching the bottle and changing his pants we've taken to climbing back in bed with him and feeding him while the two of us give him the once over. (To make sure that overnight he didn't grow horns.)
It's usually a quiet time. Tosca will jump on the bed to check things out and will usually lay down with one paw alongside Jack. (Aida still views him with curious contempt.) One of us will talk to Jack depending on who is the least ruined from the multiple wake ups the night before.
On Tuesday Fabulous Babe was talking to Jack and through the haze of my coma I heard her call a name I hadn't heard before: Bunny Boy.
For the rest of the day I was haunted by visions of Ralphie from "A Christmas Story in his bunny suit." Our poor Jack was being forced into a horrible bunny suit by his loving mother. When I got home I mentioned my fear and Fabulous Babe responded with: "I've never seen that scene and I don't care. He's still my Baby Bunny."
What this means is that she's saying "I made him. I carried him. I gave birth to him. I'll call him darn well anything I want to."
Fine.
Wednesday and Thursday morning saw FB using "Baby Bunny" again and again. Then this morning she upped the ante.
"Come here little Bunny Lumpkins."
I asked FB if this meant that we would be having "B. Lumpkins" sewn on the back of his hockey jersey in 3rd grade or if we were going to shorten it to "Bun Bun" by the time of his Senior Prom. When she started laughing I continued my rant. By the time I ended she was laughing so hard she was crying and began smacking me claiming that I had to stop because all the laughing was hurting her incision. I think I've managed to convince her to hold off on additional names.
Unfortunately it means I'm stuck with "Baby Bunny" and "Bunny Lumpkins" for the time being. *sigh*
Posted by Jim at 07:46 AM
"I'm to sexy for my hat..."
It?s Friday so to celebrate here are some pictures of our little superstar. First up: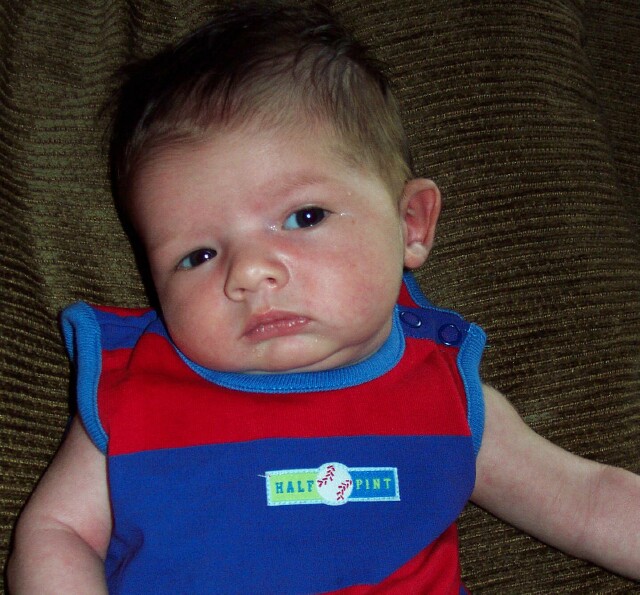 ?I'm a model you know what I mean
And I do my little turn on the catwalk
Yeah on the catwalk on the catwalk yeah
I do my little turn on the catwalk?
Sorry. It just seemed to fit. He is too sexy for that shirt though.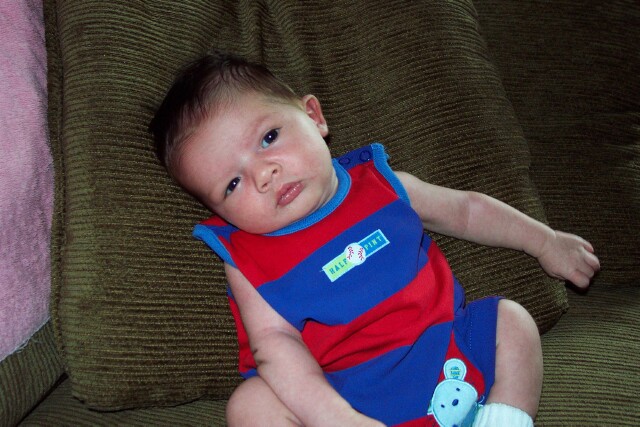 Remember how I said that Jack hasn?t quite got down the ?turn my head and still manage to sit up straight? thing? Here?s proof. What started as a glance became a horrible slide slowed only by the cloth on the pillow. Notice the arm trying to compensate for the impending crash.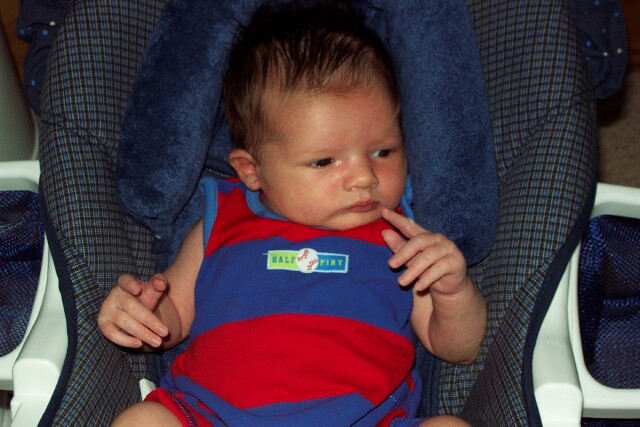 I?m not sure what he?s doing or saying here. He seems to have been interrupted in the midst of a gesture by some sort of distraction.
Anyone with a good caption idea feel free to post it in the comments...
Posted by Jim at 07:51 AM | Comments (0)