« Trying to sum up the last 36 hours... | Main | More pictures... »
July 08, 2004
Much better.
Ok. I feel a 1000% better than I did last night.
I tried sending an email blast this morning to everybody with pictures attached. I know that I missed a lot of you so do me a favor. If you want to see some more pictures email me at thespecialproject@comcast.net and I will forward them on to you.
I?ve been asked to post some pictures of Fabulous Babe. I have a few from yesterday but even I?m not dumb enough to post pictures of my starved, frayed at the nerves, heavily medicated, post labor, post C-section, up for 36 hours wife. I?ll get some tonight and post them.
To keep you happy though here's a picture that didn?t get up last night: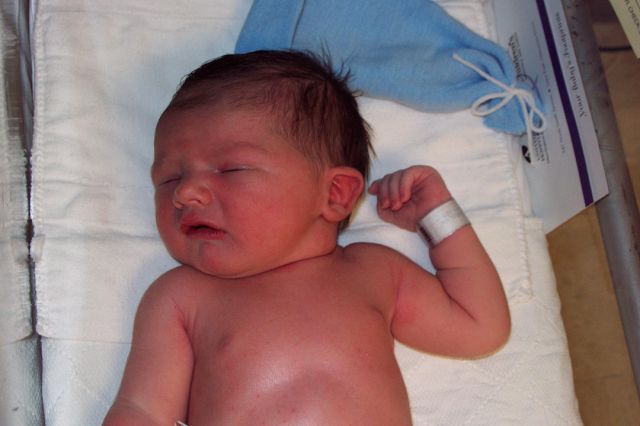 Tuesday evening we got home from the 6 hours we spent at the hospital. The gel treatment was causing some irritation and by 8:00 Fabulous Babe had begun experiencing some pain in her back. By 9:00 we had full contractions. Around 10:00 FB had one big contraction and *pop* the water broke. (Lucky I had her sitting on towels.) Within a few minutes the contractions were 3-5 minutes apart.
Tuesday night was a blur. Checking in took a while with way too many questions. (?Have you ever had or been given monkeypox? What about elephantpox??) FB got annoyed with me for mentioning she wanted an epidural to every nurse we came in contact with but I was worried it might be too late. Who says I was sleeping in class.
Nubane was administered around Midnight. The decision to go with the epidural came at 2:00 and by 2:30 FB was feeling much better. The only problem with an epidural is that you have to be moved every 45 minutes. This means catnaps only and deep sleep is impossible to come by. Ugh.
By 5:30 we were at 80% and 5 cm but that was the end of our progress. At 10 the discussions began in earnest on moving forward with a C-section. By 11 FB decided it was what was best and no time was wasted.
My cousin, Goolia, sent a note this morning that said she loves his name and that it makes her sad in a good way. Jack?s namesake, his Great-Grandfather, passed away in 2000. He was a loving husband, father of four wonderful sons, grandfather to nine grandchildren and, if I don?t get this wrong, great-grandfather to 5 great grandchildren. He was also one of the friendliest people that ever walked the face of the earth and is sorely missed.
He was also, among other things, a life long Elk who was partial to drinking Schlitz. Perhaps I?ll save those stories for later. *grins*
Posted by Jim at July 8, 2004 11:57 AM