« May 2005 | Main | July 2005 »
June 01, 2005
"Great job kid. Just wait 'till you get to grade school."
When I got home last night Fabulous Babe was in the process of putting Jack to bed. I arrived to be greeted by the sight of my son laughing his head off while laying naked on the changing table. When I picked him up he did something completely unexpected:
He leaned over and gave me a smooch on the cheek!
Granted it was pretty sloppy, he gets that from me, but it was a good attempt. I was so stunned I couldn't believe it. He laughed and looked pleased with himself while I yelled to Fabulous Babe about what had just happened. She explained that she thought he had been trying for a couple of days now.
How cool.
I emailed my friend Squirrel Bottom yesterday about the increased level of interaction that makes children such a reward. (Vincent is doing well.) This is just another solid example.
Somewhere my grandmother has my first grade report card that claims that "Jimmy needs to quit kissing girls" for some reason. I'll be interested to see what Jack's will bring.
Posted by Jim at 12:01 AM | Comments (0)
Another Jack Haiku...
I awake and dress.
Dad, why are my shirts so loud?
Mom just shakes her head.
Posted by Jim at 11:09 PM | Comments (0)
June 02, 2005
"You think she needs any of your hand me downs Jack?"
Congrats to Denise Richards!
At some point today she had a baby girl named Lola. From the sounds of the announcement Her ex-husband, Charlie Sheen, was lurking somewhere nearby.
Management here at The Special Project have remained firmly in Denise Richards corner since this day last year.
I'll announce right now that Miss Richards and her kids have an open invitation for dinner at our house from here forward. Somehow I don't think we'll be cracking out the fine china anytime soon.
Jack and Lola? Stranger things have happened.
Posted by Jim at 09:50 PM | Comments (0)
"When you can't hold your head up anymore we'll go home."
I headed home a bit early so I could arrive at Mrs. Dawn's Day Spa for the Small and Troublesome on time. I walked down with the stroller and found Mrs. Dawn out on a blanket with a couple of the kids but Jack was upstairs having a nap.
The last two nights Jack has thrown us for a loop by cutting back on his afternoon naps. This makes him cranky and tired which means that bedtime has been a bit troublesome. On the way home yesterday I formed a plan.
When Dawn brought him down I loaded him into the stroller and took him for a bit of a walk. Then I loaded him into the truck and took him with me for some errands.
First the bank to deposit my past few weeks of accumulated change into Jack's savings account. (He's now our local Wells Fargo's official mascot.) Then to Target where he shamelessly flirted with a little girl in another shopping cart. (No toys though. I was good.) After that we did a high speed pass through Wendy's and headed home.
Once we got home I fed Jack dinner and let him talk to Mommy for a bit. (Still in Colorado at the time.) After that I took him for a LONG walk. Crazy long. We stopped and talked with people. We did the usual loop and then some. He started out sitting in the front of the stroller and ended up leaning back against the seat rubbing his eyes.
After the walk was over I dragged him upstairs for a bath and then a bottle and bed. He was out in 5 minutes and snoring in 10.
I love it when a plan comes together.
Posted by Jim at 10:02 PM | Comments (0)
"Listen up bub, you're in the wrong place. She's not even asian."
Someone spent over 2 hours on the website the other day after a search for "hot redheaded asian babe" led them here.
They went through almost every single page before they finally quit. (In what I imagine must have been some serious frustration.) They also performed a number of searches but none seemed to yield the results they were looking for.
I almost feel sorry for them. Almost. LOL!
Posted by Jim at 10:13 PM | Comments (0)
June 03, 2005
"You only get one life. Use it wisely."
A friend of ours discovered that their blood pressure is somewhere around 150 over 100. For those of you who don't know that means it's somewhere between throwing an engine rod and having your radiator burst. Itís not good.
Fortunately they caught it in time. The friend is younger than we are and odds are medicine and some rest will take care of everything with time. Itís still a bit of a shock.
Iím waiting for the first person we really know well to have a heart attack or worse. Our circle of friends includes no shortage of work-a-holics. A friend of mine out in Seattle was the closest so far: His health deteriorated so badly that his doctor forced him to take three months off away from work.
The next time youíre in a store and you see one of those free blood pressure testers have a seat. I donít want to lose any of you anytime soon.
Posted by Jim at 12:14 AM | Comments (0)
"Perhaps I'll just do it over in pink and blaze orange."
We're approaching Jack's 1 year birthday and the roughly 1.5 year birthday of the website. With that come a few thoughts about the work in progress.
First is my worry that my instinct to journal is swamping what is supposed to be a blog about my son. Ideally "The Special Project" isn't about me. Reading older entries versus some newer ones I'm a bit worried that might be the impression.
Part of that comes from a conscious decision I made to increase my postings and give you more to read. The only feedback I've gotten so far since making that effort was someone who said "Why don't you post more pictures? I just skim past the other stuff." I'm not sure if that was an endorsement of my photography or a condemnation of my writing. *chuckle*
Second is the website's look which is truly beginning to bother me. My saying it's dull and listless is a bit like finally admitting that there is an elephant lurking in the corner of the room. I'm moving towards some changes that will hopefully be a step in a direction more satisfying to everyone. (It's not like I can make it much worse.) None of you have actively complained but I remain certain the more creative of you cringe upon visiting.
Third is links. I'm going to begin posting a series of links to things of interest. My hope is that this will garner some additional traffic and interest not alienate anyone who reads here regularly. I have a few people who've been so kind as to link to me and it really is time to return the favor.
I have no intention of letting things go or slowing down. (Certainly Jack isn't.) I guess I'm trying to say the website is going to enter into a state of purposeful evolution. Hopefully you'll be pleased with the results.
Please feel free to offer suggestions or direction.
Regards,
Jim
Posted by Jim at 12:57 AM | Comments (0) | TrackBack
June 05, 2005
"Hmmm. Perhaps lime green and blaze orange?"
Aloha,
Light blogging tonight. I hurt my hand this morning and it hurts to type. (Which is going to make Monday a lot of fun.) Thus I'll turn it around...
I'm interested to have you post links to websites that you like the look / design / style of. Easy to read, nicely laid out, etc.
At the same time tell me why you like it. Do you find it easier to read text against a gray background or a white? Does colored text bother you as much as it bothers me?
I do need your input so consider this an urgent request. Every link will be followed. (Excepting of course those "special" links I get from friends and my Dad from time to time.) You get the idea.
On an unrelated note Fabulous Babe is growing her hair out and hasn't decided when she's going to get it cut. I view this as a win/win. She grew up on the farm like Mary Ann but she's going to have the long red hair like Ginger. *drool*
I just need the pale sequin dress and we're SO in business.
Posted by Jim at 11:32 PM | Comments (0) | TrackBack
June 06, 2005
"Consider this a public service announcement."
Kryptonite has finally come to terms on how they are going to handle their "unbeatable bicycle/motorcycle lock" that any yahoo can open with a ballpoint pen.
The website for the claim forms are here.
We have one or two of these that apply. (I just have to go out into the garage and dig around.) The nice thing is that Kryptonite is offering to exchange the defective ones for a replacement.
Anyone with a bike worth stealing probably owns one of these. Make sure they hear the word. (U.S. and Canada only it appears. Sorry!)
Posted by Jim at 11:39 PM | Comments (0) | TrackBack
"This should keep you busy reading for a long time..."
While my hand heals and I tinker with the website...
(Input please if you would love. That's a dear. Thanks ever so much.)
Give this a read: A report on Bob Geldolf's efforts to help Africa.
"In case you havenít noticed, Geldof hasnít produced much music in the past 20 years. Instead, heís devoted his life to fighting hunger and poverty in Sub-Saharan Africa, and it shows Ė Sir Bob really knows his stuff. And while he is clearly trying to reach out to a wide spectrum of people, he didnít pull any punches when it came to criticizing those who waste, embezzle, or squander public money (at one point, he casually mentioned that both Prime Minister Berlusconi of Italy and French President Jacques Chirac would be in jail for corruption if they werenít leaders of their respective nations)."
Great stuff with a TON of links. Scott has done an excellent job of linking to other contributors that were on the call and the organizations that deserve your attention.
Much like the Gates Foundation what Geldof is proposing is rewarding the countries that move towards making things better, a phenominal step in the right direction.
Very inspiring.
Posted by Jim at 11:47 PM | Comments (0) | TrackBack
June 08, 2005
"Cue the handsome boy please..."
Jack completely slept through the clothes change this morning. (Must be nice.) He started stretching as I was finishing up and really didn?t come around until I picked him up to take downstairs.
My hand is still giving me problems so my typing is still at a minimum. That being said I?m falling back on this: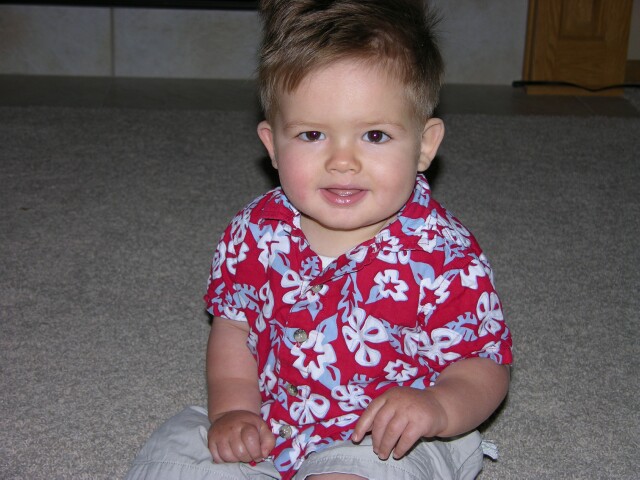 Can?t go wrong with cute Jack pictures.
Jack?s just figured out who?s the villain in a Film Noir movie or he?s distracted by one of the cats. Your guess as to which.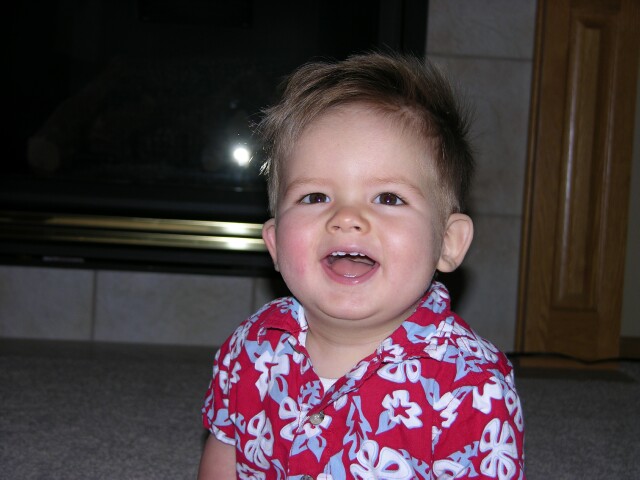 Don?t ask me what face I made. The shame is unbearable.
Posted by Jim at 07:56 AM | Comments (0) | TrackBack
"Can't you just photoshop a few pounds off before you post them?"
We signed Jack up for swim classes at the gym a few weeks ago. He starts in a week or two.
Before taking Jack to the gym we asked June and Gear Daddy if we could bring Jack down to their pool for some open water trials. That way if he freaked out about the water it wouldn't be in the first class. They readily agreed.
Last night Fabulous Babe called and we got the "Thunderbirds are go!" we were hoping for. After we got Jack into his swim diaper and his swimsuit we changed clothes and headed down the street.
I have no idea what we were worried about. Jack took to the water like an otter.
He laughed and grinned and carried on. He threw one of the big inflatable balls. He splashed everywhere. By the time we were winding up I was picking him up and lowering him in a cannonball splash.
Utterly fearless.
I got some good photos that I'll post after a while. (Fabulous Babe has veto rights.) At the end when we pulled him out and wrapped him in a towel he kept looking at the pool with a "Why can't I go back?" look that was heartbreaking.
Posted by Jim at 10:50 PM | Comments (0) | TrackBack
June 09, 2005
"The Undersea world of Jacque."
It?s swim time!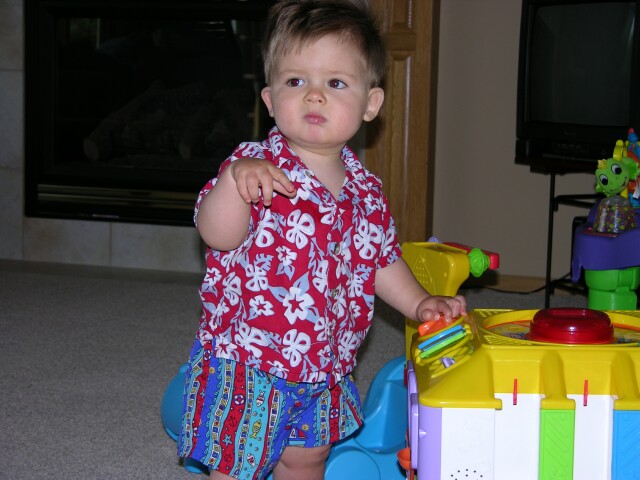 Here?s Jack looking fashionable in his red aloha styled shirt with his horrifically non-matching swim trunks. I like how the vertical stripes on the trunks offset the flowers of the shirt. Jack just likes to stand and point at things.
Fabulous Babe and Jack. This was during the initial ?see how you like it? phase. Notice that the water had yet to tame Jack?s born to be wild hair.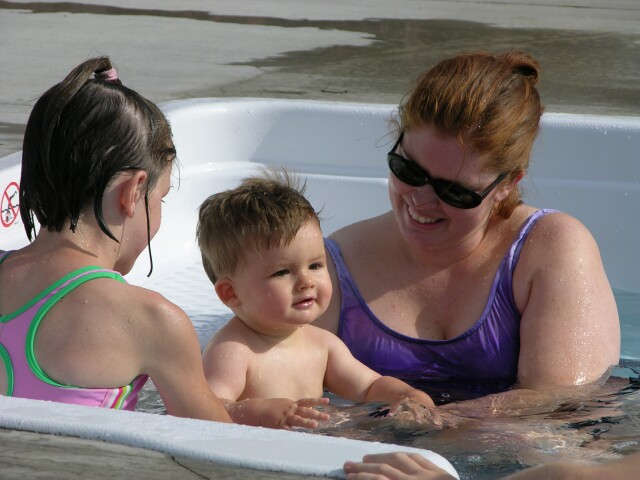 Was Jack having fun?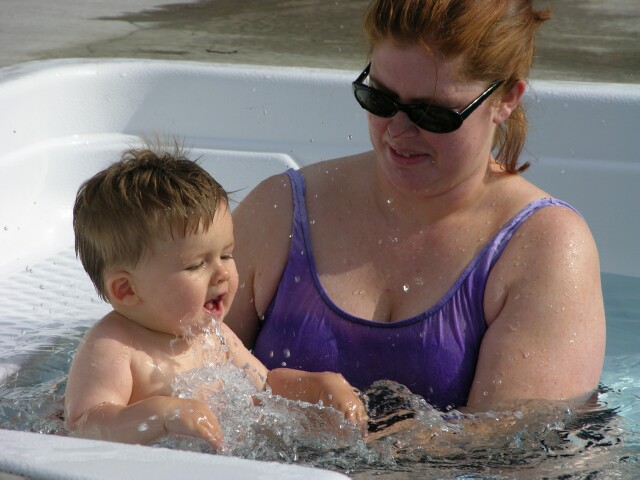 I think the answer is a most definite ?Yes!?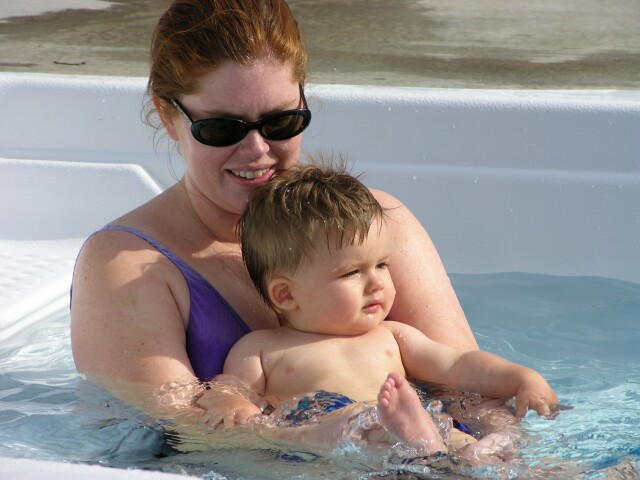 ?After a long day of eating and naps there is nothing I like more than to be borne around the pool in the style and manner I have grown accustomed to. Home mother.?
?It?s over??
Unfortunately for Jack all good things had to come to an end. After almost a half an hour of happy pool fun time we wrapped him up in beach towels and plopped him in the stroller.
?Will you still be here if I come back??
Yes Jack. Your new friend the pool will still be here.
Posted by Jim at 11:34 PM | Comments (0) | TrackBack
June 12, 2005
"Snow Goons! Space Man Spiff! What's not to get?"
Found this on Amazon when I was ordering something for my father for Father's Day:
Every one of Bill Watterson's magnificant creations from start to finish! New illustrations! I can't use enough exclamation points! *sigh*
Fabulous Babe commented that she never really "got" the comic but to me it's simply glorious news. Order now. My guess is that this thing is going to sell out. It's not getting much fanfare right now but as we get closer to Christmas the legions of Watterson fans will make their gift desires known.
My dad's gift? It's this:
$54.00 plus $3.00 shipping. What a deal! I've already called my stepmom and asked her to squirrel it away for Sunday. She's as excited as I am. (You know your parents are cool when they both dig the Far Side.)
Posted by Jim at 10:17 PM | Comments (0) | TrackBack
June 14, 2005
"We're going to fire your wife for a week."
Fabulous Babe has a two day business meeting in downtown Minneapolis this week. Logistically we didn't think it would present too much of a problem until the company invited all the attendees to have their spouses meet them for dinner.
Fortunately Miss Brittney, our superstar babysitter, is helping out at Mrs. Dawn's Day Spa for the Small and Troublesome. Arrangements were as easy as dropping off the stroller and a housekey and making sure there was a $20 bill for Brittney to order a pizza.
Dinner was good fun. It's always nice to meet Fabulous Babe's co-workers from the Monolithic Peoples Dairy Co-Operative. It was nice to hear I'm not the only one that has figured out she's a workaholic. Best laugh: her boss said, "I think we might fire her for a week so she can take some time off." I almost snorkeled my drink when he said that.
The rest of the evening was good fun. It turns out a couple of her co-workers and I have common interests. The Former Canadian and I share a love of convertibles and a loathing of Lucas Electrics. I'm also going to be sending a sampler package of beer to Mr. Smooth, a lover of fine beers.
Going home I ended up being chased by some ugly storms rolling into the area. (Lots of nifty lightning across the sky.) I got Miss Brittney into the car and home before the worst of it hit. When I got back Jack was already down and sawing lumber. Fabulous Babe?
In bed wearing her pj's checking the email she missed during the day.
Lol.
Posted by Jim at 12:08 AM | Comments (0) | TrackBack
"Progress!"
I walked into the nursery to get Jack up this morning. Jack was laying in the crib with his legs tucked under him and his butt sticking up in the air. As I started pulling clothes out of the drawers he started to stir and wake up.
Hardly a big deal until I watched him actually sit up by himself. (It's the first time I've seen it.) He sort of backed into it which was funny to watch but close enough for government work. After sitting upright he then went through an elaborate stretching and eye rubbing routine that ended with a squeek of joy when he spotted me looking at him.
I'm thinking we'll be putting in the safety gates on the stairs this weekend. Doh!
Posted by Jim at 06:58 AM | Comments (0) | TrackBack
"Mommy! Share the Internets!"
So now that Jack's figured out how to move around the dynamic in our home has changed dramatically in the last 24 hours.
Case in point: Fabulous Babe was working on her laptop last night when she suddenly had a little helper:
Yup. Jack wandered over and began feverishly trying to type on the laptop. This of course caused Fabulous Babe no shortage of consternation and me no shortage of amusement.
Attempting to handle it as gracefully as possible Fabulous Babe kept trying to move Jack's hand but no luck. He was determined to surf the web and would keep trying to move around her. All the time I'm running a steady stream of dialogue for Jack: "Mommy, why won't you share the Internets? All you do is look at the computer! Look at me!"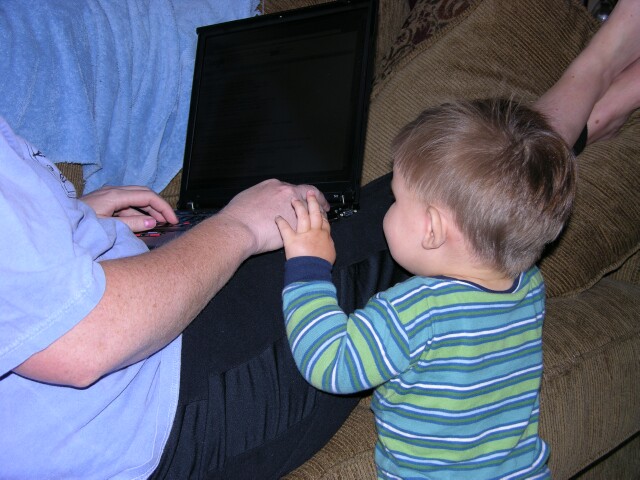 Here's a great action shot of Fabulous Babe doing an intercept of Jack's hand. By this time Jack assumed this was a game and was laughing as hard as the both of us. Finally realizing that the game was up Fabulous Babe relented and just shut the computer down.
I slipped Jack a $5 later when she wasn't looking.
P.S. The towel on the couch back is our token effort to save the furniture from the cats. When company comes we snatch the towels up and throw them in the washer. Sometimes we even let the cats out first.
Posted by Jim at 11:19 PM | Comments (0) | TrackBack
June 15, 2005
"It is wonderful thing to be the Pirate King..."
What greets me now in the morning?
This: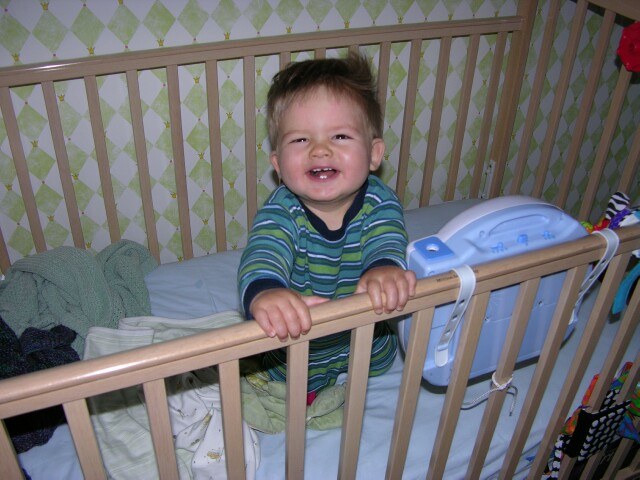 How's that for someone ready to take on the day?
I soon discovered that Jack was laughing that hard because of what he had done in his pants. Oof.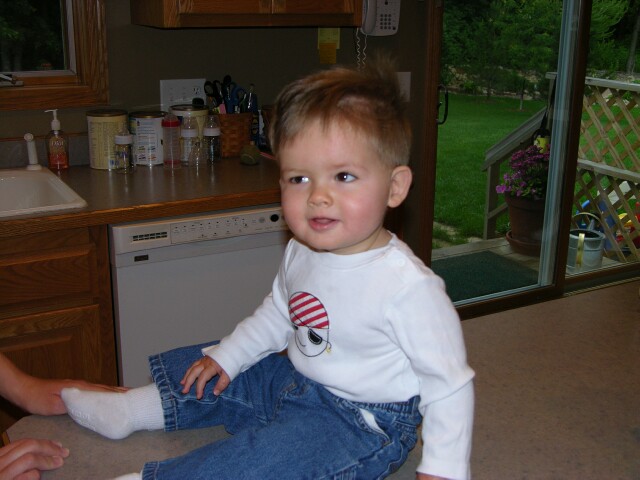 None the less I managed to get him dressed and off to Mrs. Dawn's Day Spa for the Small and Troublesome. Here's Jack sitting on their kitchen island wearing his special pirate shirt and giving Mrs. Dawn the eye. No idea if he's going to give her the Black Spot. (He is the Pirate King after all.)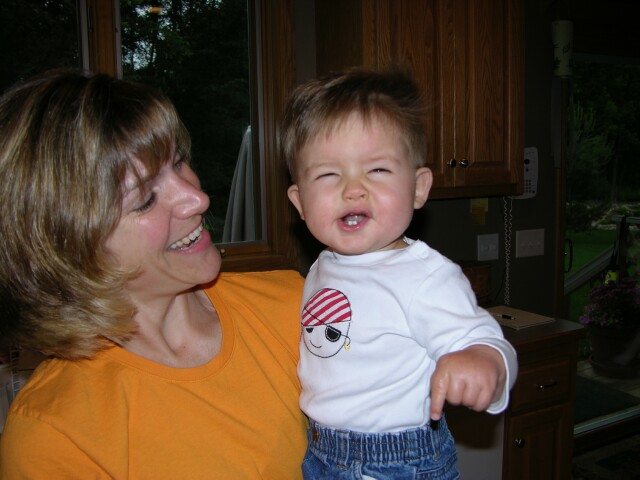 I simply have no idea whats going on here. (Neither did Mrs. Dawn.) Perhaps this is his "Arrrrrrr" face. Maybe it's his "Scary Pirate" face. Either way you can be certain that a copy of this will land in the hands of his prom date.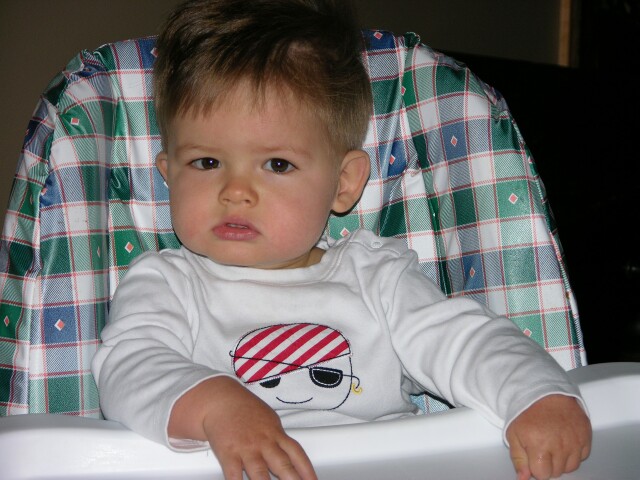 This is how I left Jack this morning. Ready for breakfast and as saucy as ever.
He did wave good bye which was nice.
Posted by Jim at 07:59 AM | Comments (0) | TrackBack
Rest in Peace: David C. Sutherland III
One of the most influential artists of the last 30 years passed away a little over a week ago. Unfortunately not many of you may know who he is.
David C. Sutherland III was an artist who joined the company that created Dungeons and Dragons, TSR, at just the right time. He was one of several illustrators who managed to capture the spirit and intentions behind the game: high adventure, heroic deeds, etc., the stuff that young boys have always dreamed of.
Sutherland created countless images for TSR in those early days of the company in the late 70ís. (A search of the internet will deliver galleries of his work.) Two of those images did more for Dungeons & Dragons than anything else: the covers to the Players Handbook and the Dungeons Masters Guide.
Hereís the cover for the Players Handbook. Itís a moment that captures a group of adventurers in the aftermath of fierce battle in a lizardman temple. Two member of the party are consulting a map, a fighter is cleaning his sword while a mage watches on and two thieves in the background are prying a jewel from the eye of some horrid idol. (The dead lizardmen are a nice touch.)
This was the true start of the D&D mechanism: kill monsters, get treasure. Some people within the industry knock that as being too simplistic but itís the mechanism for success that has been proven time and time again since TSR first marketed it. In this one illustration Sutherland captures that mechanic and it's image sent kids across the world into worlds of their own imagination.
This illustration was on the cover for 8 printings over 3+ years. Not bad for an artist without professional training.
The illustration for the Dungeons Masters Guide is a bit cheesy but is a great eyeful: a wizard and a fighter battle a huge efreet that holds a fair damsel in distress. Itís a simple image but imagine being a 10 year old boy and realizing this was a guide to creating your own adventures just like what was on the cover. Who doesnít want to kill the monster and get the girl? Where I came from this was what we would call a "win/win" but that's just me.
Yes it's simplistic but it captures the same spirit that pulp novels and boys magazines of the 1920ís and 30ís. Argosy and others featured similar iconography and images. This was the stuff of Edgar Rice Burroughs and Arthur Conan Doyle.
Ironically these were the sort of images that when Sutherland was creating them were out of vogue with art styles of the 70ís at the time. (Iíve always maintained that you donít screw with what works.) Frazetta and Boris may have had more artistic talent but it was David's work that appeared in book and hobby stores on and off the beaten path.
David went on to work for TSR for 25 years. As more talented artists came along he took on a role of Art Director and eventually settled into being a cartographer making maps for various adventures. He was well respected in the industry and widely recognized as being the inspiration for many of the artists whose work he later supervised.
TSR fell on hard times in the late 1990ís. The company, then the property of the daughter of the creator of Buck Rogers, had been mismanaged into the ground. As bankruptcy loomed they were purchased by Wizards of the Coast, the company that created Magic: The Gathering, in 1999.
David Sutherland was one of the TSR employees that didnít survive the transition of ownership. Despite being a 25 year employee and numerous attempts to reach out to the new owners they didnít even bother to return so much as a phone call. My friend the Artist has written a wonderful article on the wretched management at Wizards of the Coast for Slate.com that I highly recommend. Itís now here on his personal website.
Letís be clear: It says something when the CEO of a company grants an interview to the creator of one of the worst games in recorded history but allows a loyal, steadfast and talented 25 year employee to be cast aside like old company letterhead after an office move. For a company that wanted to be known as ďprogressiveĒ in its attitude towards employees their treatment of David was wretched and pathetic.
David suffered in the time that passed after being released by Wizards. Distraught over what had happened his health declined. He worked odd jobs and eventually became ill with liver problems. Last year when it was clear that his illness was terminal several charity auctions were held on his behalf on Ebay that yielded over $22,000 to begin a trust for his teenage daughters.
There is a nice obituary for David here. Itís written by the wonderful man who oversaw the Ebay auctions last year. The local paper here also featured something on him as well on Monday that included a reprinting of one of his more famous black and white illustrations.
Davidís memorial service is next Wednesday at the Fort Snelling Memorial Chapel. Visitation with his surviving family starts at 9:00 with the service at 10:00. A full military burial service will begin at 11:30.
I met him once when I used to work for my former employer. He was extremely pleasant and I can remember being struck by his generally good nature and passion. He was comfortable with who he was and what he was doing and thatís more than some people ever have. He was honest, loyal and from all accounts simply a great person.
If youíre inclined to sending cards, condolences or making donations to the trust fund for David's daughters please contact his sister:
Trudy DeKeuster
13911 Castelar Circle
Omaha, NE 68144
If youíve come here through a link or search please feel free to print this page and take it to your local game store. David C. Sutherland III should be honored and not forgotten.
Posted by Jim at 08:00 AM | Comments (0) | TrackBack
June 17, 2005
"Think that's good shooting? You should see their jump shot."
They're celebrating in Kentucky tonight.
Why? Because Raven 42 has received some hard earned and well deserved recognition.
More below...
For those of you who don't follow these things "Raven 42" was the callsign for a squad of 10 MP's from the 617th Military Police Company of the Kentucky National Guard that were ambushed on March 20th. The 10 man squad, in three Humvees, were escorting a convoy of about 30 trucks about 20 miles Southeast of Baghdad. What follows are excerpts from an after action report. I've tried to edit it a bit for the more gentle among you.
"When the insurgents attacked, one of the Hummers was in their kill zone and the three soldiers aboard were immediately wounded, and the platform taken under heavy machinegun and RPG fire."
"After three minutes of sustained fire, a squad of enemy moved forward toward the disabled and suppressed trucks. Each of the enemy had hand-cuffs and were looking to take hostages for ransom or worse, to take those three wounded US soldiers for more internet beheadings."
"About this time, three armored Hummers that formed the MP Squad under call sign Raven 42, 617th MP Co, Kentucky National Guard, assigned to the 503rd MP Bn (Fort Bragg), 18th MP Bde, arrived on the scene like the cavalry. The squad had been shadowing the convoy from a distance behind the last vehicle, and when the convoy trucks stopped and became backed up from the initial attack, the squad sped up, paralleled the convoy up the shoulder of the road, and moved to the sound of gunfire."
?They arrived on the scene just as a squad of about ten enemy had moved forward across the farmer's field and were about 20 meters from the road. The MP squad opened fire with .50 cal machineguns and Mk19 grenade launchers and drove across the front of the enemy's kill zone, between the enemy and the trucks, drawing fire off of the tractor trailers.?
?The MP's crossed the kill zone and then turned up an access road at a right angle to the ASR and next to the field full of enemy fighters. The three vehicles, carrying nine MPs and one medic, stopped in a line on the dirt access road and flanked the enemy positions with plunging fire from the .50 cal and the SAW machinegun (Squad Automatic Weapon). In front of them, was a line of seven sedans, with all their doors and trunk lids open, the getaway cars and the lone two story house off on their left.?
?Immediately the middle vehicle was hit by an RPG knocking the gunner unconscious from his turret and down into the vehicle. The Vehicle Commander, the squad's leader, thought the gunner was dead, but tried to treat him from inside the vehicle. Simultaneously, the rear vehicle's driver and TC, section leader two, open their doors and dismount to fight, while their gunner continued firing from his position in the gun platform on top of the Hummer. Immediately, all three fall under heavy return machinegun fire, wounded. The driver of the middle vehicle saw them fall out the rearview mirror, dismounts and sprints to get into the third vehicle and take up the SAW on top the vehicle. The Squad's medic dismounts from that third vehicle, and joined by the first vehicle's driver who sprinted back to join him, begins combat life-saving techniques to treat the three wounded MPs. The gunner on the floor of the second vehicle is revived by his TC, the squad leader, and he climbs back into the .50 cal and opens fire. The Squad leader dismounted with his M4 carbine, and 2 hand grenades, grabbed the section leader out of the first vehicle who had rendered radio reports of their first contact. The two of them, squad leader Staff Sergeant and team leader Sergeant with her M4 and M203 grenade launcher, rush the nearest ditch about 20 meters away to start clearing the natural trenchline. The enemy has gone into the ditches and is hiding behind several small trees in the back of the lot.?
?Meanwhile, the two treating the three wounded on the ground at the rear vehicle come under sniper fire from the farmer's house. Each of them, remember one is a medic, pull out AT-4 rocket launchers from the HMMWV and nearly-simultaneously fire the rockets into the house to neutralize the shooter. The two sergeants work their way up the trenchline, throwing grenades, firing grenades from the launcher, and firing their M4s.?
?The sergeant runs low on ammo and runs back to a vehicle to reload. She moves to her squad leader's vehicle, and because this squad is led so well, she knows exactly where to reach her arm blindly into a different vehicle to find ammo-because each vehicle is packed exactly the same, with discipline.?
?As she turns to move back to the trenchline, Gunner in two sees an [enemy] jump from behind one of the cars and start firing on the Sergeant. He pulls his 9mm, because the .50 cal is pointed in the other direction, and shoots five rounds wounding him.****** The sergeant moves back to the trenchline under fire from the back of the field, with fresh mags, two more grenades, and three more M203 rounds. The Mk 19 gunner suppresses the rear of the field.?
?Now, rejoined with the squad leader, the two sergeants continue clearing the enemy from the trenchline, until they see no more movement.?
?The team leader sergeant--she claims four killed by aimed M4 shots.?
?The Squad Leader--he threw four grenades taking out at least two AIF, and attributes one other to her aimed M203 fire.?
?The gunner on platform two, previously knocked out from a hit by the RPG, has now swung his .50 cal around and, realizing that the line of vehicles represents a hazard and possible getaway for the bad guys, starts shooting the .50 cal into the engine blocks until his field of fire is limited. He realizes that his vehicle is still running despite the RPG hit, and drops down from his weapon, into the drivers seat and moves the vehicle forward on two flat tires about 100 meters into a better firing position. Just then, the vehicle dies, oil spraying everywhere. He remounts his .50 cal and continues shooting the remaining of the seven cars lined up and ready for a get-away that wasn't to happen. The fire dies down about then, and a second squad arrives on the scene, dismounts and helps the two giving first aid to the wounded at platform three. Two minutes later three other squads from the 617th arrive, along with the CO, and the field is secured, consolidation begins.?
?Those seven Americans (with the three wounded) killed in total 24 heavily armed enemy, wounded 6 (two later died), and captured one unwounded, who feigned injury to escape the fight. They seized 22 AK-47s, 6x RPG launchers w/ 16 rockets, 13x RPK machineguns, 3x PKM machineguns, 40 hand grenades, 123 fully loaded 30-rd AK magazines, 52 empty mags, and 10 belts of 2500 rds of PK ammo.?
The cause for celebration in Kentucky today? The U.S. Army handed out commendations to the members of Raven 42 today:
?Staff Sgt. Timothy Nein, Sgt. Leigh Ann Hester and Spc. Jason Mike of the 617th Military Police Company received Silver Stars for their actions. Spc. Casey Cooper, Spc. William Haynes II and Spc. Ashley Pullen each received a Bronze Star with valor device. Four other members of the Kentucky National Guard unit, Sgt. Dustin Morris, Sgt. Joseph Rivera, Spc. Jesse Ordunez and PFC Bryan M. Mack, received an Army Commendation Medal with valor device.?
Sgt Leigh Ann Hester is the first woman to receive the Silver Star since World War II. Here?s a picture of her after the ambush with some of the weapons collected after support arrived:
W. Thomas Smith has an article on Raven 42 that is worth reading. (You can find it here.) Here's a quote:
"The insurgents, on the other hand ? all wearing handcuffs in hopes of capturing some of the truck drivers or perhaps a few American soldiers for God knows what ? had no idea who they were exchanging shots with; even after they saw the Americans charging toward them. But they quickly realized they had bitten off a bit more than they could chew. After all, a clash between fifty, armed bad-guys and ten, armed Kentuckians has never been ? and will never be ? a fair fight."
My Dad was expecting some celebrating tonight at his pool hall / bar / tavern tonight. Sgt. Hester and some of the others are from towns nearby.
Special thanks to www.blackfive.net for the action report.
P.S. I was going to title this one "Kentucky Girls kick ass AND shoot straight!" but the basketball joke was too easy. Go Big Blue!
Posted by Jim at 12:36 AM | Comments (0) | TrackBack
June 19, 2005
"If you don't have an air compressor go buy one. Really."
Woof! What a weekend.
First decent weekend since spring sprung. Jack?s first swimming lesson. ("Flail madly. Great!") We had Mr. Lost Control's 40th birthday party. First Father's day. Laundry and cleaning. By Sunday evening we were both pretty tired. I'll post more but this will do for now.
Sunday afternoon we inflated the kiddie pool that Fabulous Babe bought for Jack and invited Kate over. How our parents blew these things up without an air compressor I will never know.
Here's Jack in his sporty hat. Notice Kate stealing the ball. This led to a bit of synchronized crying after there was some intrusion on personal space later on.
The blinding glare in the background is the sun reflecting off of Mr. Racetrack's legs. Notice he's sitting in the shade to preserve that natural "blind cave fish" transluscent look.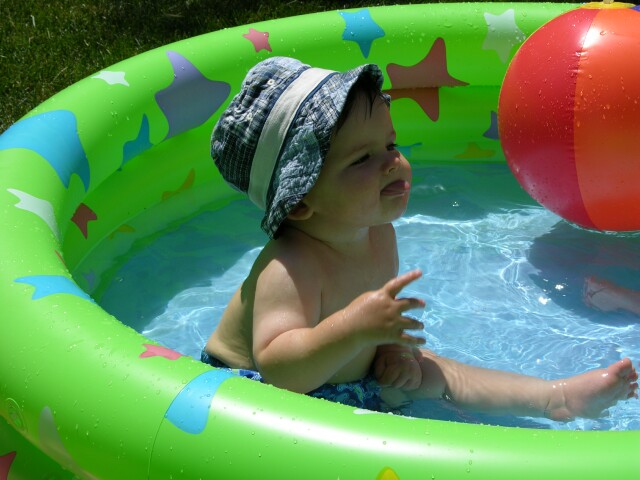 Since discovering his tongue a week or two ago Jack?s eager to share. *sigh*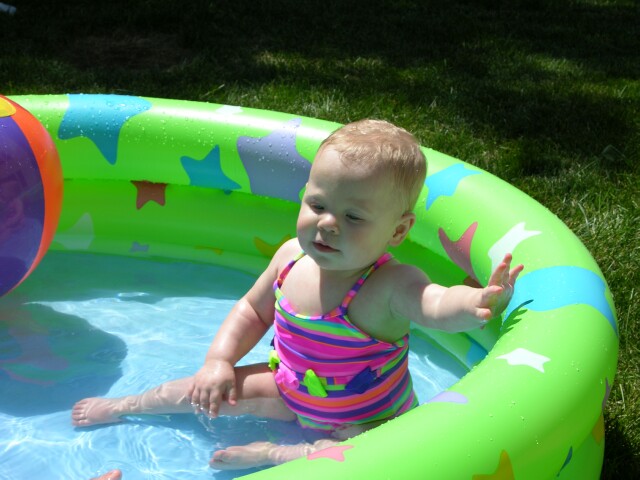 "I'm too sexy for my swimsuit, too sexy for my swimsuit. Too sexy by far."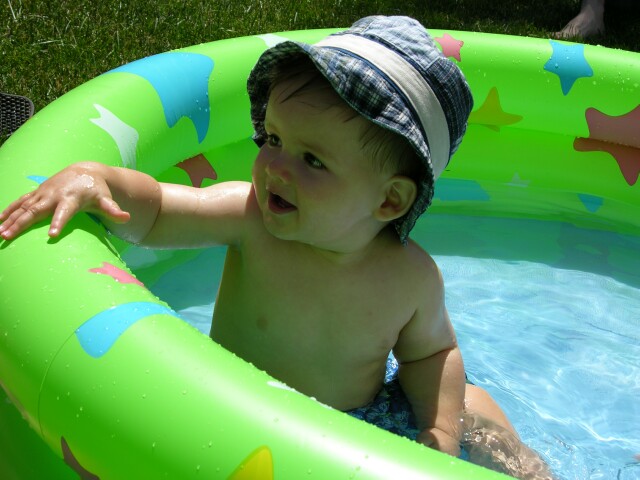 "Can I please take this silly hat off? Please?"
"Yikes! I've got hat head!"
More when my head isn't on the keyboard.
Posted by Jim at 11:44 PM | Comments (0) | TrackBack
June 21, 2005
"Update..."
Aloha,
So far it has been one of those odd and hectic weeks you just wish wouldnít go so quick. Changes are coming so donít be stunned when you see them. Hopefully theyíll capture the spirit of what I intend here. Suggestions are still welcome.
My first Fatherís day was excellent. Sweet cards from Jack and Fabulous Babe that were keepers. Fabulous Babe even mowed the lawn. (Call me a chauvinist but I still think husbands should be the ones to mow the lawn.) I still got to weed whack though.
Fatherís day presents? Fabulous Babe gave me a gift certificate to get the Tribute detailed to the nth degree. It got dirty on the way out here three years ago and despite the regular cleanings it really needed a good scrubbing by professionals. I dropped it off Sunday afternoon and by Monday night it was like I had a new car again. Itís so clean I feel bad just driving it.
Weíre in a holding pattern in regards to the other present. Itís a bicycle that I have wanted for over 5 years. Iím going to look at one this weekend and literally kick the tires. Iíll post more after the fact.
Itís been a long week of emails with some former industry people. I had a nice exchange of emails with Gary Gygax who is unable to attend David Sutherlandís funeral. Gary had a stroke a little while ago and he now rarely travels. (Heís making a single appearance this year at a convention in Toronto.) A similar situation with Tom Wham who passed along the funeral details to some of the other former TSR staff in Wisconsin who used to work with him.
I forgot to mention that the weekend included a nice trip to the gallery showcasing the work of Shag this week. Iíve loved his style for years and the omnipresent tikis arenít the only reason. They had a gorgeous original I coveted but $6000 is about 10 times what I could pay. Oh well.
Our living room is now a containment vessel for the rampaging substance known as Jack. Objects have now been placed in a semi-circle to restrict his movement or ability to damage his precious noggin. It seems to be working out fine until tonight when Jack was standing in front of the television and plopped down on his butt. No tears but the load in his diaper shot up the back, bounced off his shirt and then came down his shorts on the outside. *sigh* Amazingly I only had to cut a small portion of the carpet out to place in the lead lined vessel where weíll bury it next to a time capsule from 1888. Our gift to the future.
Minnesota Public Radio has started their great ďWeíll die without your money, honest!Ē drive here locally and Iím certain itís begging time where you are. (Itís a new season.) As personal broadcasting becomes easier and easier I wonder what public radio and television will become as equipment enables higher quality that is close to current production standards. I have two documentary ideas in my own mind that would lend themselves to either the more traditional route a la a book or something interactive on the web.
Driving home the other night I noticed a gaggle of teenage boys standing in the street in front of the house where a couple of young teenage girls live. (Funny that.) As I drove up a few of the teens, the ones with, I kid you not, ball caps at odd angles on their heads and low rider pants, some of them didnít move out of the way. Instead, in that manner that only comes when youíre trying to impress teenage girls, a few stood there while not looking at my car as it drove up, forcing me to try to needle my way through the narrow gap between them and their pimped out rides. Itís good to know that someone, somewhere, raised children who are determined to become speed bumps. Despite a temptation to lay on the horn I just drove through.
Kids that insolent always get what they have coming to them. Someone that I grew up with was a sadistic monster from grade school all the way through high school. He was the sort that as a 6th grader used to kick younger boys, 3rd graders, in the testicles because he liked to see them cry. In middle school he made a regular practice of dropping books on kidís heads from balconies because the first time he did it the victim ended up with a concussion. In high school he actually drove a car through the front wall of a home during a party for a laugh.
Just reward: Crushed to death under a tractor he was horsing around on as an adult. If anything was going to convince me of karmic payback that might just do it.
Sorry for the lack of quality material. Busy times...
Posted by Jim at 11:25 PM | Comments (0) | TrackBack
June 23, 2005
"New Digs"
Yes it really is "The Special Project".
I told you we were going to undergo some remodelling.
Just bear with us for the next few days. Wonderful things are coming.
I promise!
Best,
Jim
Posted by Jim at 07:25 AM | Comments (0)
"Whoa now ladies."
Folks,
Don't get too excited about the current color scheme. (It's the default.)
Talented pixies are undertaking substantial efforts to render something a bit more interesting.
Posted by Jim at 03:47 PM | Comments (0)
June 24, 2005
"Still tinkering..."
Hi everyone.
I thought I would give you an update on where things are with the renovation and server / hosting migration.
Migration wise everything seems good. If you are still calling up the website and you're not reading this and it looks like the old website you may be finding yourself routed to the old host. This should shake itself out as the DNS routings work their way through the internets.
Once I have a chance I'Äôll get the archives back online. Before beginning the backup I made multiple backups of all the images and text so we've not lost anything. Getting the archive back up is a priority for almost no other reason than the fact that Fabulous Babe'Äôs boss has discovered the website. *chuckle* He walked up to her yesterday and yelled 'ÄúFabulous Babe!'ÄĚ and hugged her. Knowing her she probably blushed so badly her bones turned red.
Worst case scenario is that after loading the existing archive the few entries here so far may go away but no big loss.
The bigger changes are coming within a week or two. You'll know them when you see them.
A big 'ÄúThanks!'ÄĚ to my friend the Astronomer. He helped with some code yesterday that was beyond my ability and got things going. He'Äôs been on some dates and is feeling better which is as it should be. (Again I'Äôll just advise any single man in Smyrna, GA to steer clear of his she-devil ex-wife.)
Blogging is going to be light for the next few days as most of my Jack free time will be devoted to getting things going around the new digs. I've switched to Hosting Matters and have been very pleased so far. (Great hosting plans and the control panel for the domain is excellent. Highly recommended.)
Most importantly know that Fabulous Babe, Jack and I all appreciate your continued support.
Jim
P.S. You still have time to get some suggestions about what you would like to see with the impending changes.

Posted by Jim at 07:55 AM | Comments (0)
June 27, 2005
"There must be something stuck in the gubbins."
Ahoy ahoy,
Archives are back but it looks like I'll be fixing typos and repairing picture links for a while. (If I can get ahead on the housework I might be able to give it a go in the next day or so.) Mostly it looks like work on quotes and other punctuation that the import feature didn't handle very well.
The site re-design is progressing. Ideas hashed and re-hashed. It's a curious tightrope walk of too much or too little. Too much and you'll sooner pull your eyes from your sockets than look at my webpage. Too little and it will only be the sound of your own snoring that will wake you from it's hypnotic emptyness.
Hopefully everything will be done by the end of the week.
One of the advantages of having moved everything to Hosting Matters is that I can now block specific IP addresses. That means that spammers, trouble makers, gossips and people with way too much time on their hands can be blocked from even seeing the website. I'm tinkering with this now and so far it seems to be pretty successful. However if you suddenly have problems and can't get into the website let me know. (I might get an IP address wrong.)
Best,
Jim
Posted by Jim at 11:24 PM | Comments (0)
June 28, 2005
"Jack sure does spend a lot of time in his room..."
Or at least he will when he discovers the NFL Cheerleaders blog.

Posted by Jim at 07:56 PM | Comments (0)
June 30, 2005
"Summer Break!"
Fabulous Babe took Jack for a little vacation over the weekend and headed down to the farm in Illinois for some R&R. (She has about 3 times as much vacation as I do at this point.) They left Friday and didn't get back until tonight.
On Saturday FB's sister, Mary Jane, brought Tall Princess and Number Two Billy Goat down to play with their cousin. The girls were both pretty stoked and Jack, after some initial shyness, got along with them pretty well.
Saturday afternoon saw much pool frolicking among cousins. Here the girls are starting their synchronized swimming routine while Jack looks for his cue to join in.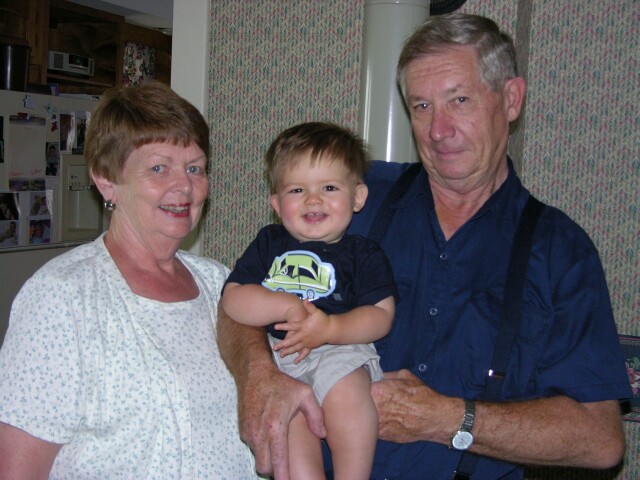 Here's Mr. Happy Pants with the Fabulous Babe's parents. You can tell they were suffering terribly having to put up with ANOTHER grandchild underfoot.
While on the farm Jack tried to shake off his morning nap which is unusual for him. Unfortunately this led to him waking up later and wanting to stay up later which will hopefully pass. We'll see. It might just have been his loathing of the Pack and Play he was sleeping in.
On a completely different subject:
Q.) What's the difference between Farm Cats and House Cats?
A.) Farm cats are free and a renewable resource.
Here's Jack playing with the latest crop of Farm Cats. The pounced and jumped on and over him and he loved it. He giggled and laughed and the kittens just had a ball.
The drive home went smoothly and everyone was waiting for me when I got home. When I walked through the door Jack started vibrating and chattering as soon as I saw him which was pretty funny. He jabbered for almost an hour and we played until his motor finally ran down. (At one point I began tickling him and he laughed harder than either of us had ever heard.)
At day's end I took him upstairs and read him some books to try and put him down. (It didn't work.) We stayed up for another half an hour and then, one bottle later, he finally pooped out.
I checked on him just now. Jack's laying face down with his butt up in the air clutching his blanket and snoring, the little stinker.
Saying I missed them is an understatement. There's a Police song, "The Bed's Too Big Without You", that I'm always reminded of when Fabulous Babe is away. (Of course when I tried to snuggle her she complained I was too warm and shooed me away.) Having them back is like having everything balance out after a long day.

Posted by Jim at 05:13 AM | Comments (0)
"DWM. 38. Tall with Blonde/Brown hair. Good hair."
My friend the Astronomer and I had several chats over the last few days. They've ranged from talking about the website to Jack's growth and development, parenthood and romance.
That last bit is important. He's taken some big steps in moving on from the Self Centered She-Beast of Smyrna. He's had a couple of dates and, in a huge move of self confidence, he's put a profile on Match.com.
No, I'm not linking to it. Not yet. ;-)
He's rewritten it a couple of times and after reading it I had some suggestions for him. (He's asked for input. Otherwise I would keep my mouth shut.) It's not bad but with a little bit of work he'll be fending them off with a stick.
Interestingly Match.com has already spit out a few potentials for him. One in particular is almost exactly what I told him to look for which gave us both some chuckles.
He's still the best bachelor I know of in all of the greater Boston metro area. (If you're hung up on him having a Porsche you're going to have to settle for his slightly less zippy 4 door Saturn.) Athletic so couch potato types are advised to keep moving.
I told him I would be his reference with any of the prospects. He may end up regretting that.
If The Astronomer had background music it would be the "Rushmore" soundtrack.
Posted by Jim at 05:50 AM | Comments (0)
"A disturbing reminder of the world we live in."
Last night I was looking through the IP log.
Usually this is a lot of fun because it gives me an opportunity to see how people arrived, if they followed a link, etc. If they used a search, a la Google or MSN, I can see the words they typed in the search field and this always leads to few chuckles. As an example last night I noticed two entries on building lightsabers.
Then I found one that was anything but funny: Someone came to the website after doing a search for something involving young boys.
It was a pretty grim moment when I read it. I stopped and read it a couple of times to make sure what I was reading was correct. (I'm loathe to type the actual words because this is the only time I've received traffic like this and I don't want to see anymore of it.) Unfortunately the words are pretty clear as was the intent.
The IP address, 24.51.***.***, is now on my permanant ban list. Unfortunately just doing a search falls outside of the National Watchdog website's actionable offenses so there isn't any real "crime" to report.
I've always been careful what I post here in regards to Jack. I'm very selective which pictures I post and what's in them. Even then I knew that eventually something like this would happen. Mercifully, as grim as it is, it's not as bad as I expected.
This is a glaring reminder of the world we raise our children in today. I also am at a loss for words to express the rage that this brings up in me. Adults preying on children is the sort of thing that I'm convinced should be a capitol offense. Most of the parents I know agree.
Our son depends on us to keep him from harm just as much now as over the last year. Unfortunately as he grows older the dangers to him come in far more disturbing form.
Posted by Jim at 06:15 AM | Comments (0)
Me at age 9: "I get to blow up things? Best. Holiday. Ever."
Woo hoo! It's a holiday weekend!
I used to love the 4th of July as a kid. My grandparents always made sure it was special and that there were plenty of sparklers for little twerps like me.
As I grew older I discovered the things that feature so prominently in all our memories: firecrackers, smoke bombs, etc. Kentucky was/is one of those states that have decided to restrict the sales of fireworks so everything out of that class of fireworks had to be smuggled in from other states. (It's the same way here in Minnesota. To get anything with significant lift or display you have to drive to Wisconsin.)
One of my old neighbors growing up, Dean, had a father that understood the need for better fireworks. Dean never lacked for bottle rockets, tanks, mortars, etc. Going to Dean's house the week before the 4th was torture: Dean used to lay his fireworks out on display before the holiday arrived. I remember swooning at the sight of all the potential pyrotechnics.
(Dean was always lucky with that sort of thing. When we were kids and Planet of the Apes toys where huge Christmas saw some of us maybe having enough luck to get an Astronaut. Dean got Ape City, the Treehouse and everything else. Playing at Dean's house was awesome.)
A few years ago I was back in Kentucky for the 4th. (The same occasion that saw the Kentucky Philosopher opine on having a baby.) Where we all had chipped in to buy things for the kids to enjoy we were soon outclassed by our host's crazy neighbors. They had, through some questionable means, purchased professional munitions grade fireworks. After the first volley we gave up and watched the show that put the one directly across the river, sponsored by the city of Ironton, to shame.
Our plans for the 4th are pretty tame. No big excitement. No rockets. Jack's too young for sparklers. I think we're headed to dinner at some point with some friends but I'm not the social director. Swimming lessons are out for Saturday morning so it will probably just be Jack and I goofing around while Fabulous Babe goes to the gym.
I did buy a hammock stand for our hammock so at some point that's going to get a trial run with some shade and a very cold glass of lemonade. God bless Target clearance sales. I imagine that Brats and beer will also figure into the equation somehow.
Canada day is Friday so 'ÄúHappy Canada Day!'ÄĚ to all of my faithful readers up North. (Speaking of which who is it that keeps lurking from Midland Walwyn?) All of you get to start early where we have to try to make it to Tuesday without hangovers.
I'm scheduling time to fix all of the photo links. (That and continue my efforts to fix all of the apostrophes and quotation marks that got fouled up with the archive import. Other things are proceeding equally well...

Posted by Jim at 11:34 PM | Comments (0)