« October 2005 | Main | December 2005 »
November 02, 2005
All hail the Pirate King!
Knowing the rush of after Halloween pictures I thought I would wait a day before posting these.
On Monday there was a party for all the kids at Miss Dawn's Day Spa for the Small and Troublesome. Costumes were mandated and so was parental attendance. When I arrived this is who greeted me: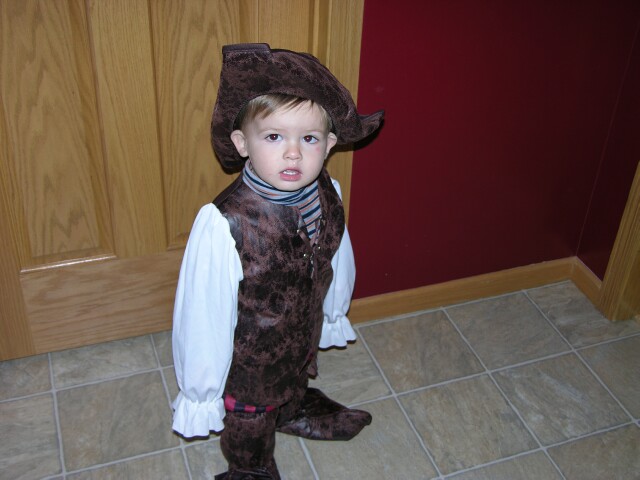 That's right, the Pirate King! In full booted glory. (Boots to his hips actually.) Seeing a disaster in the making I took the overboots off and let him loose after watching him trip on them.
Here's Jack walking away. We ordered the costume and got one a bit big for him to try and get two years use out of it. The matching belt, sash and other things are ready for next year. The hat was a raging success though so I am very pleased that he took to it so well.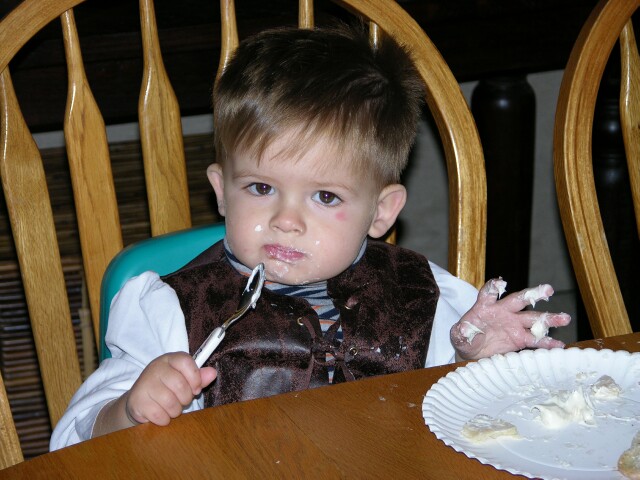 Miss Dawn served decorate it yourself cookies which was, *Ahem*, a bit messy. Jack finally broke down and started eating clumps of icing which explained his manic behavior after we got him home.
The rest of the night was pretty standard. We had 100+ kids, went through 8 pounds of candy. Jack went to about 4-5 houses and then it was off to bed.
All in all a very successful Halloween.
Posted by Jim at 12:38 PM | Comments (0)
Success!
If you have no interest in model trains just skip this one...
After several weeks of posting an ad in the paper here's my largest success story to date: a nearly complete Lionel set from 1949.
Here's a rundown of what I got: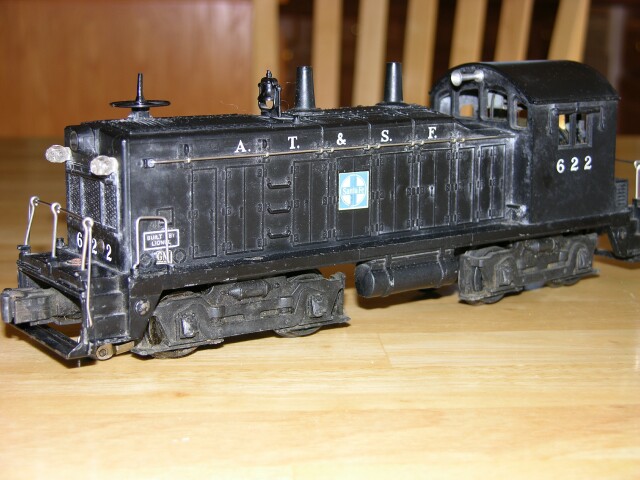 A very nice 622 switcher. The white in the photograph is just dust. It's in beautiful shape with only a tiny speck of rust on one rivet. Otherwise she is just fantastic.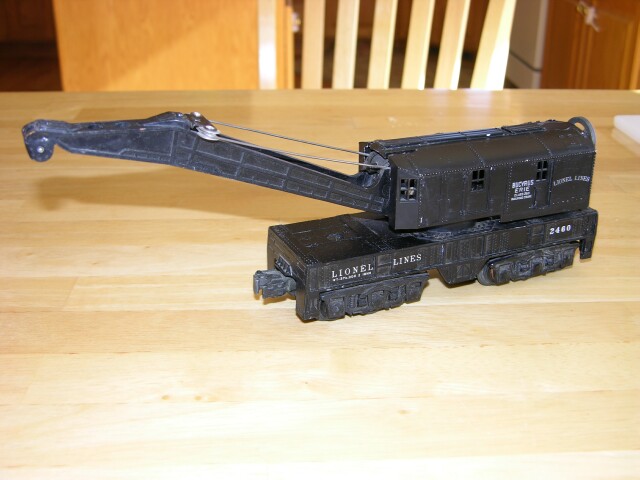 The crane car that came with the set. It's missing the crane hook but is very tidy. Everything works as smooth as silk.
The crane car's matching caboose. Again no rust and just terrific shape.
A searchlight car that will need to have the wires replaced but is very clean.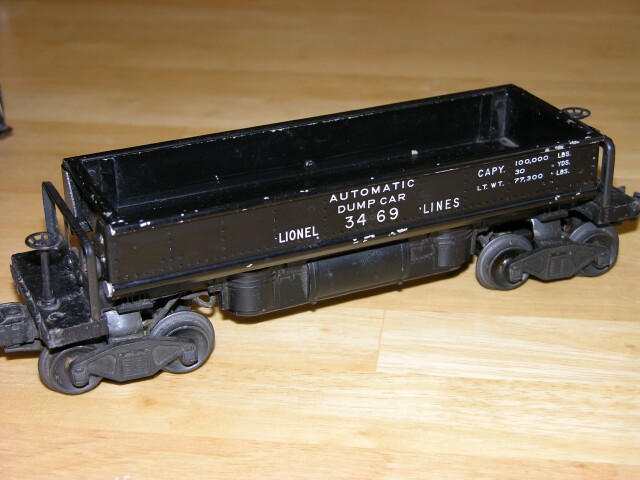 The automatic dump car. For 56 years old it's really very nice.
I've had some other successes but this is my best story so far. With this being the last week on the ad we'll see what else the phone brings.
If you are interested in this sort of thing I have found this guide to be of incredible value:
Standard Catalog of Lionel Trains 1945-1969
Posted by Jim at 12:44 PM | Comments (0)
November 07, 2005
The Special Project Secret Santa...
Since every 4th Quarter holiday seems just around the corner I thought it might be good fun to try something this year: Secret Santa for all of you.
Since I see where most of you come from I thought it might be fun to have a Secret Santa gift exchange among the regulars. The limit will be, in theory, $10 but you can fudge it a bit if your inclined. I'll enlist Fabulous Babe's help to match you all up with folks and we can get the ball rolling in a week or so.
Let me know what you think. The idea of some of you getting little gifts from half way around the world via the website is very nifty. Jack even laughed when I was talking with him about it.
Thanks!
Jim
Posted by Jim at 10:31 PM | Comments (0)
November 20, 2005
"Sure it's a little late but..."
Mrs. Dawn sent out pictures of the Halloween party while we were away last week. Here's our Jack, the Pirate King.
Shivers me timbers it does.
I'm particularly fond of the boots that go up to his hips. In theory we're going to get another years use out of the costume.
Posted by Jim at 10:37 PM | Comments (0)
"Yes. Yes I am still here."
Here's the deal...
Knowing we were going to be gone for an extended time I didn't like throwing it up on the website. I know I'm paranoid but at the same time you never know what sort of characters lurk about the internets.
So where did we go?
Fabulous Babe went one direction for work and I went an entirely different one.
Here's Fabulous Babe's destination:
Here's mine: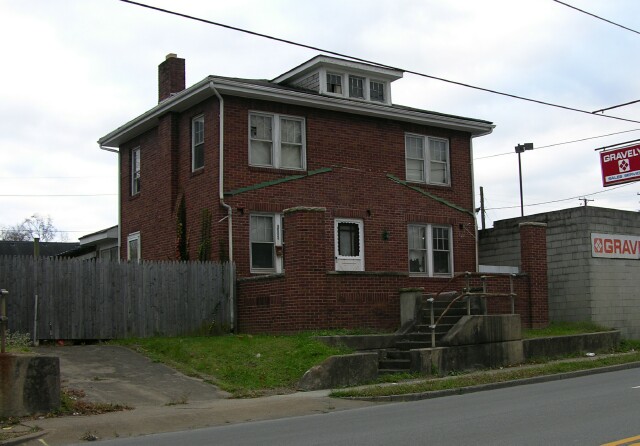 Do you see a contrast?
FB went to China for work. She left on Thursday and spent the weekend in Hong Kong with friends before heading off to Beijing. (We're not sure if she's going to go back anytime soon or not.) This picture is one that she took out of a taxi on her way past the Forbidden City. She has loads more but I need to get her to write up the trip before she forgets everything.
With my wife out of town for so long I made plans to journey back to Kentucky to visit my Dad and Stepmom in Western Kentucky and then my grandparents in Eastern Kentucky. Not quite the 19 hour flight that FB had but the drives were long and tedious.
Either way I'm back, blogging resumes and I have a ton of stories.
Glad to be home.
Jim
Posted by Jim at 10:40 PM | Comments (0)
The Best Woman...
For my trip I took some advice and left Jack with Fabulous Babe's family in Chicago on the way down. The nice thing was that this gave me a chance to introduce Jack to the Best Woman.
I've known the Best Woman since 1989. We met at the ABA show in Washington D.C. and we've been great friends ever since. She's raced cars, fired machine guns and is one of the most well travelled people you may ever know.
I've not seen her in almost a year since I was last in Chicago for work and she's not had a chance to see Jack in person since he was born. That made it clear that this seemed like the perfect opportunity for introductions all around. After getting lost a bit on the city streets Jack and I arrived just a few minutes after she got home from work.
Since I'm a crap photographer here's half a good picture: The Best Woman is looking in the right direction but Jack is distracted by the ancient calculator next to him. (Notice his soaking wet shirt from where he cut 4 teeth last week.)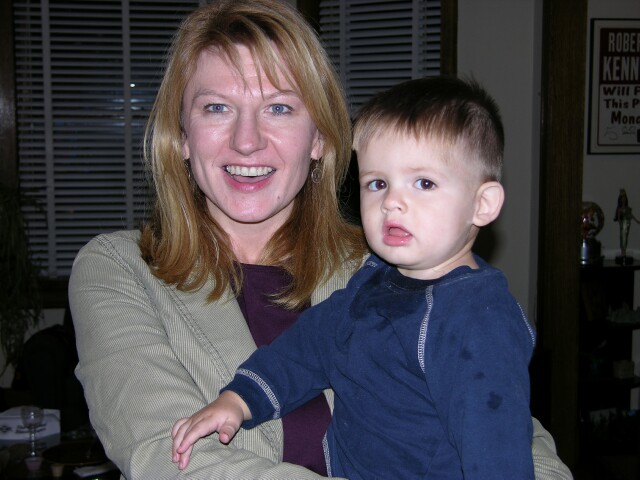 Now it's Jack's turn to look at the camera while my good friend seems to look at something over my shoulder. *sigh* I really need to develop some great Photoshop skills.
We didn't get to stay for very long. Jack ate and then we ordered Chinese takeout while Jack shook off the car ride by running around a and playing in the apartment. (This led to a game of grabbing things that were within Jack's reach and moving them higher as soon as he discovered them.) Sure enough as soon as the food arrived Jack began telling me that he was tired so we loaded up and packed off to Fabulous Babe's sisters house. While it was a painfully short visit it was still great to finally introduce Jack to one of my oldest friends.
By the way...
If you doubt the bit about racing cars...
All I can say is this is all the proof you need. That's the Best Woman in the fancy car *cough* Batmobile *cough* next to her brother. It's still one of my all time favorite "family photos" that I have ever seen. It's the gleam in the eyes that makes the photo. That and a lack of Bert Ward looking to the locals for a date. (His book is some pretty creepy reading.)
Posted by Jim at 10:55 PM | Comments (0)
November 21, 2005
New bookmarks...
Ever since The Artist proposed I've been hoping they would start a blog. Being the creative type they've played along quite nicely. Now you too can read along:
Long time readers may remember the Kentucky Philosopher. ("Heck Selma, if position had anything to do with it we would have had puppies.") Be warned that Slim now has a blog. While there isn't much to read yet the potential is certainly there for what promises to be some painfully funny reading.
He's already got a tale of having to book a drunken jockey and it's certainly the first drunken jockey story I've ever read. Post comments and encourage his lazy butt to share more.
The Kentucky Philosopher's Blog
When I get things sorted out from the revamp the links will be on the side. Until then visit, bookmark and enjoy.

Posted by Jim at 01:28 PM | Comments (0)
November 30, 2005
"Meet a dear old friend..."
When I was born my father bought me a teddy bear. The idea was that I would always have the company of a good bear throughout life.
Unfortunately when I transitioned to my grandparents house my bear got misplaced. It was one of those things that just got put aside and lost somehow.
My father has, off and on, tried to describe the bear to me but as it was 30+ years in the past his memory was a little spotty. He did remember that one arm was slightly larger than the other.
On my epic trip back to Kentucky my grandmother had dug out some stuffed animals from the closet and wanted me to sort through them to see if there were any I wanted for Jack. At the bottom of the bag I found this: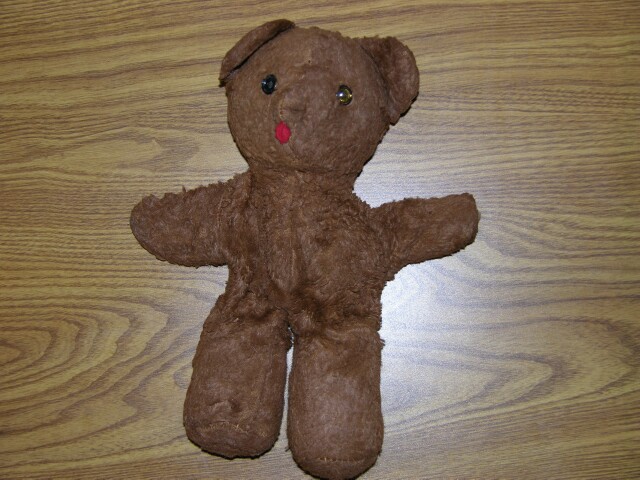 I almost fainted. I can actually remember lugging this bear around when I was 2ish. I took the above picture that night and emailed it to my dad while I called him to confirm it was my long lost bear.
"That's it!"
He's sitting by me right now. I almost feel compelled to take him with me everywhere in a vain attempt to make up for 30 years of being imprisoned in a closet.
Posted by Jim at 12:10 AM | Comments (0)
"It's sort of like "Back to School" but Rodney was better looking."
I'm getting a few emails about my lack of posts so I'll break down and make my confession: I went back to school.
When I quit my job a few months ago it was the right thing to do on a number of fronts. It meant that I would have the availabilty to meet Jack's needs so Fabulous Babe could concentrate on her work, work travel and her MBA classes. (If only she could find a hobby to fill all of her free time.) It also meant that I could do something I have wanted to do for a long time: go back to school.
I'm only taking three classes this semester. A geography course that I completed early with an "A", a Biology course that is kicking my ass and a Computer Science course that is an "Introduction to Microsoft Office" which is going pretty well. The last two classes end in a week and a half so things should be a lot better after that.
Biology. Ugh. Science was the bane of my existance all through school and it hasn't gotten any better since. It's not that I don't "get" it. I just test poorly. High concepts? Fine. Gritty details? Ruined. Why can't it be like Geography? lol
Posted by Jim at 12:22 AM | Comments (0)