« "Mmmmmm. Cake!" | Main | "One small step for Jack..." »
July 12, 2005
"Good friends."
By the time Saturday was over Jack was snoring and we were pretty much ready to do the same. Sunday morning came too soon…
When I brought Jack down he was still amazed by the balloons. He would grab them whenever he could reach them. Even though this is a lousy picture you can still make out Jack playing with one of the balloons tied to his high chair.
When we lived in Seattle we were blessed with a great pair of neighbors, the Ex-Neighbors. They ended up having a son about a year before Jack was born and Mrs. Ex-Neighbor and Fabulous Babe were the best of bestest friends. (Similar in so many ways it was scary.) Mr. Ex-Neighbor and I have a pile of those one words moments that can make both of us laugh out loud. ("Wingdome!" "S*******!")
This past week the company that El Jefe and Mrs. Ex-Neighbor work for sponsored a big meeting in Minneapolis and Mrs. Ex-Neighbor was in town. (Without the armed guards her trip to South America would have required.) On Sunday we got a chance to catch up at the Mall of America while she and her co-worker Miss T. were waiting for their flights.
This is why you have friends. Because good friends, no matter the length of time between visits, can always bring out smiles this big.
We hung out for about 3 hours at the MOA. Some shopping but mostly just a chance to catch up and give Mrs. Ex a chance to see Jack for the first time.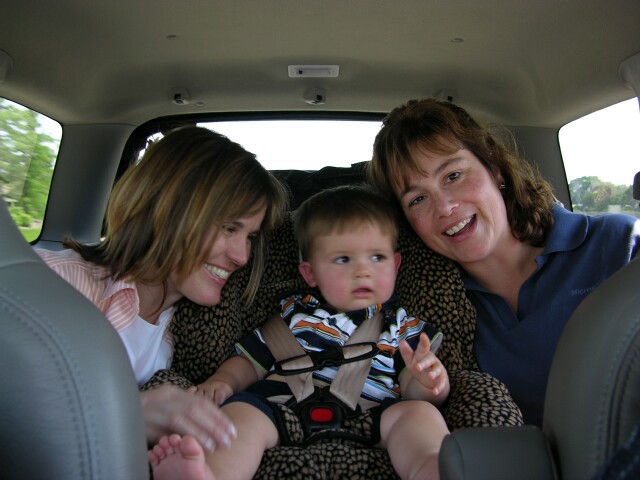 Jack had his moment of glory of course. Here's Mrs. Ex-Neighbor and Miss T. making a Jack sandwich as we took them to the airport in my truck. He was in heaven the whole ride and giggled and cooed as they played with him.
Note the leopard skin car seat. Jack says it works like a charm. Grrrrrr.
Alas all weekends must come to an end at some point. Jack's just a little earlier than usual…

Posted by Jim at July 12, 2005 12:02 AM
Comments
Post a comment