« "I'm big in Doha... AND Dubai." | Main | "My Kung Fu is better than Your Kung Fu." »
April 11, 2005
"I think he needs another haircut."
This was what greeted me when I walked into the nursery this morning and got stinkerbelle out of his sleeper:
Pretty scary. With that hair he looks like a roadie for Motley Crue. The scratch on his face was the tip off that his nails needed a trim yesterday. That "I've been up to something!" grin was the tip off to what was in his underwear this morning. (Ugh.)
If you listen carefully you can just hear him say:
"Where did I leave that bottle of "Yukon Jack" I had last night? *hic*"
Mercifully, clothes seem to make the man: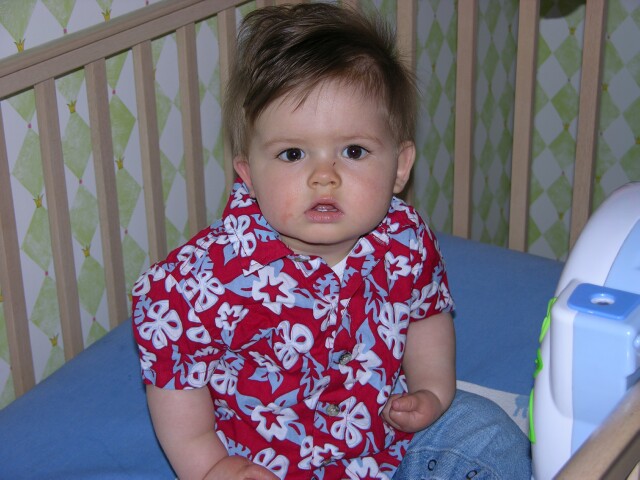 This is the other shirt I bought at Target at the same time I bought the Tiki shirt he wore Saturday. The hair is still a wreck but everything else is pretty reasonable.
All in all the typical little boy: a bit frayed at the edges but nothing that significantly deters from the whole package.
Posted by Jim at April 11, 2005 06:39 AM
Comments
Post a comment