« From bottle to spoon | Main | Christmas Prep Work »
December 22, 2004
More morning prep pictures
When I woke Jack up this morning he was pretty chatty and in a great mood. As I was dressing him he was grinning from ear to ear and carrying on. Figuring it was another Kodak moment in the making I grabbed the camera: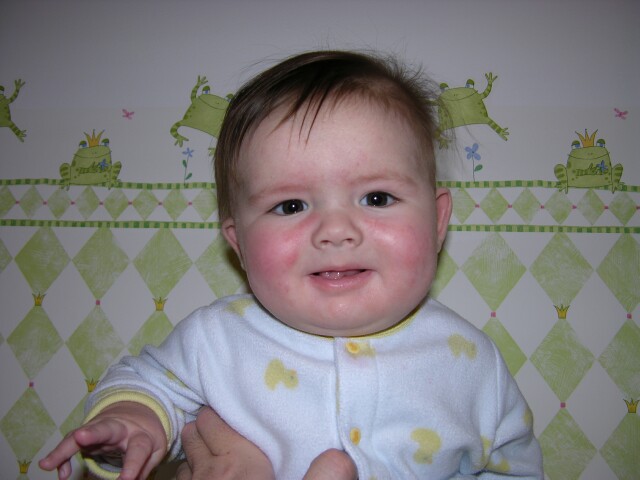 ?You, in the ducky sleeper! Against the wall!?
I think Jack looks a lot like his cousin, Number Two Billy Goat, in this picture. (His forehead is also impossibly large.) It must be the camera or the angle but I don?t think this picture really captures him very well.
Being Mr. Sly, Jack shot me this look as I was sorting out the bag I take with him to the Day Spa. I managed to get the picture before he promptly turned away. He must be camera shy like dad.)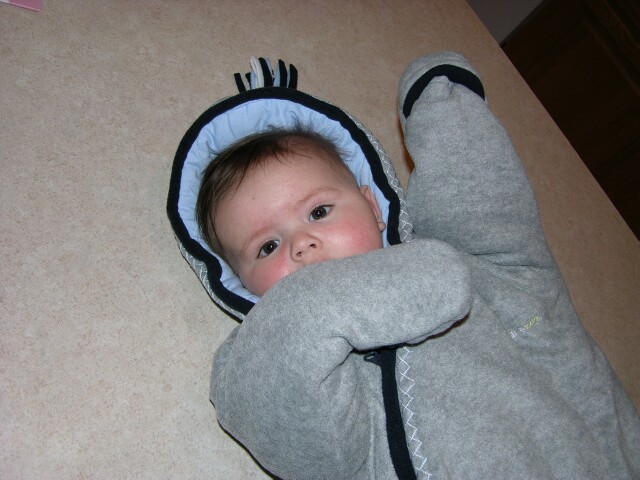 It was -4 this morning when I got up, -20 to you metric types, and that was without the wind. SOP demands the Immobilizer to prevent our child from being devoured by Yetis. Usually I lay Two Foot Small out on the kitchen island which makes placing him in the outfit a lot easier. Here you can see his ?I?m so coy!? look.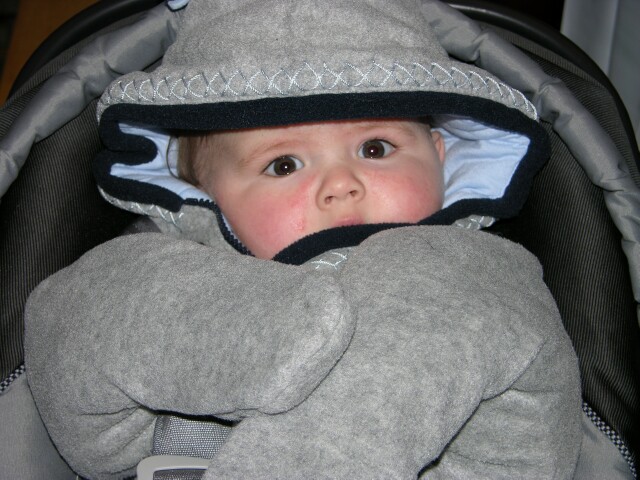 Doesn?t he look terrified? Jack?s wedged in the carseat, strapped in, hood down. No wonder he looks bewildered. (Wouldn?t you if 20 minutes after you woke up you were in this state?) Sometimes he flaps his arms and legs a little which just makes the whole thing all that more melodramatic. The last step in getting ready to go outside is a blanket over the carseat to block the wind for the 15 feet I have to take him between the car and the door.
Usually when I get him in the door at Mrs. Dawn's Day Spa I strip him out of the gear asap. Then I give him a big hug and he "gives" me some kisses which brings a huge smile to his face. It's his reward for putting up with the whole mess and makes me feel a bit better for having put him through it.
Posted by Jim at December 22, 2004 08:02 AM
Comments
Post a comment