« "Famous moments in Potty Training, Vol. 1" | Main | "Good things come to those who wait and a slight foray into Logan's Run land." »
March 06, 2007
"We have reached escape velocity..."
I had Sir Jackness shopping with me the other day for his valued opinions and keen insight. We were at it early so where most of the freestanding stores were open the mall had yet to start rolling up the security gates. Jack spent 10 minutes chasing mall walkers and addressing some of the women as "Viola" which both confused them and had me chuckling.
I had worked our path towards the center of the mall and, sure enough, there it was: a big shiny carousel.
Jack likes carousels. There's one near my dad's that I always take him to and during trips I try to do some scouting beforehand to find one. This was our first time on the one at Maplewood Mall and it might be our last.
Here's Jack as the ride is just starting to reach it's maximum speed. Notice his face: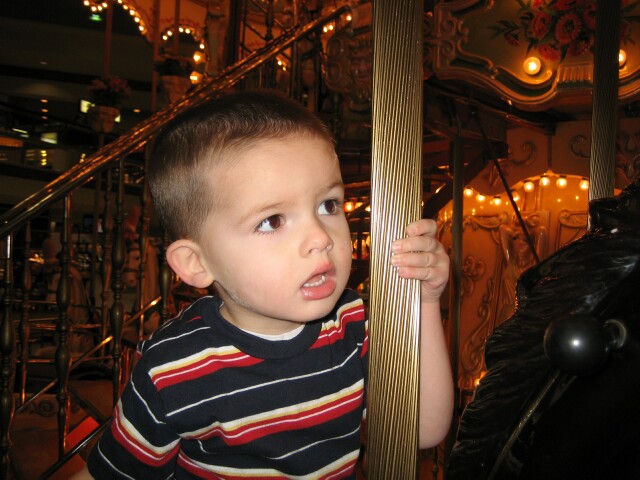 Know what that look is? It's apprehension because...
We're going too darn fast!
The Maplewood Mall carousel might be the fastest one I have ever ridden. When we hit our stride we were going so fast that I was holding on to the horse and Jack for dear life. I looked around and the only other family onboard was havng the same problem.
Of course Jack's opinion, once safely pinned by Dad changed to this: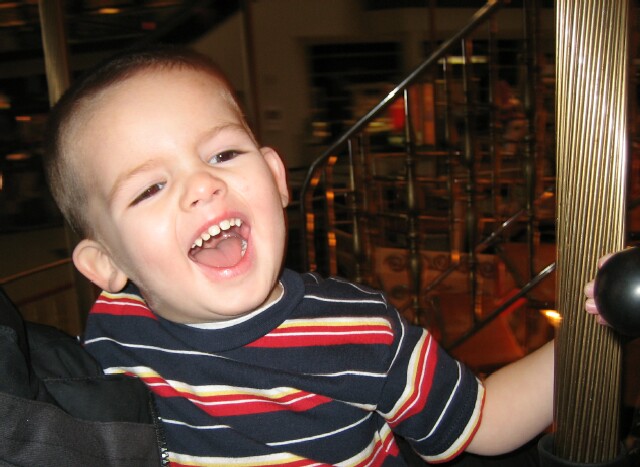 Fearless in the face of death. God love his heart.
When it came to a stop the other family and I staggered to the exit. The dad there gave the hapless and clueless worker a piece of his mind but there wasn't much of a response. Jack tried to run in a straight line but kept veering due to his balance being off. Finally he said "The horses made me funny".
Posted by Jim at March 6, 2007 08:00 AM
Comments
Post a comment