« "We have reached escape velocity..." | Main | "The problem with setting a bar is having to raise it." »
March 16, 2007
"Good things come to those who wait and a slight foray into Logan's Run land."
A few months ago the Astronomer decided to throw his line back in the dating pool. He landed a keeper: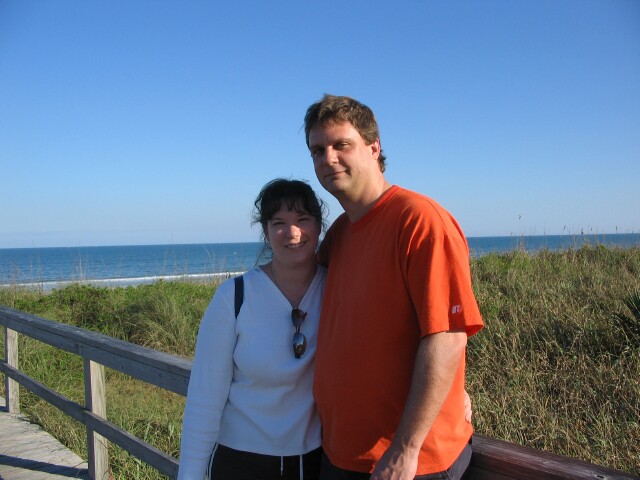 Not sure what her nickname is going to be yet. She's very nice and we've spoken a couple of times on the phone. She's being good to him and after the vivisectionist like ways of his ex-wife he's long due for some honest and genuine affection. (As far as the She Beast of Smyrna goes she's rumored to be seeing one of the Astronomer's old co-workers who really should know better but no dates for a long time cloud a man's mind.) In the picture you can really see a lot of the Astronomer's dad in him.
She's in the medical field and lives in an interesting part of the country. The first few dates were painfully sweet to hear about. He mercifully ignored my advice on gifts and is the better man for it. I talked to them a couple of days ago and he sounds happier than he has in years.
They met through the internets. Sometime I shudder to think what the internets will be like in 100 years. Ideally it won't be like the movie Logan's Run where you dial up someone's profile and then have them appear in your home. Can you imagine what drunk dialing would be like? "Honey. I MISS you. Please punch the button that will allow me to appear in front of you so I can soil your couch and pass out on the bathroom floor." Yikes.
Even though Logan's Run stressed The Farrah's involvement it was Jenny Agutter that was "Teh Hawtness" that you remember from when you were 9 or so and saw the commercials. I saw her in one of the Inspector Lynley Mystery movies that my dad and stepmom love so much. She's certainly held up better than Farrah. (Far less crazy.)
Logan's Run was a big deal when I was little but then Star Wars came along a year later and squashed it like Bambi meets Godzilla.
In 1993 I was in Fort Worth for the Origins show and got to ramble around the water park the ending of the movie was filmed at. It was very surreal to actually be somewhere so recognizable. That was also the show where I first met The Artist face to face and met Rapmaster Ray and Mr. Quads.
How funny that in the movie you have to die at 30 and yet for most of us our lives don't begin to really hum until we're past 30. Great lesson that.
So the Astronomer is off the market, Logan and Jessica 6 put down "The Man" and everyone gets to live happily ever after.
As Jack said the other day when a teacher asked if he liked something: "Sweet!"
Posted by Jim at March 16, 2007 11:06 AM
Comments
Was that where we met? Man, I remember that as an awful show, one of the worst-attended Origins ever. Still, we had fun. ;)
Posted by: Matt Forbeck at March 16, 2007 12:42 PM
Post a comment