« "The 70's were a dark time, a time of turtlenecks. So many turtlenecks." | Main | "It's so much more exciting in Spanish..." »
August 29, 2006
"1 adult vs. 2 kids? Zone Defense."
Last week Mrs. Racetrack was away on a tom tom beating retreat to the northern woods of Wisconsin with her new job and Mr. Racetrack had to go to Chicago for a day trip that would see him back too late to pick Kate. They asked if I would mind and I said no problem.
Here's the two of them in the back of my car while I was getting gas. With Wife-o Deluxe-o out of town on business I had taken her car seat for Jack and loaded it in so that Kate and Jack could ride next to each other. My worst fears were realized when the two of them began holding hands at one point.
What to do for dinner? What to do for dinner?
I've mentioned before that my local McDonalds has "family night" on Tuesday and for once it seemed like a good idea. After bouncing the idea off Jack and Kate and getting a chorus of "DONALDS!" we headed over to the glistening with transfat golden arches.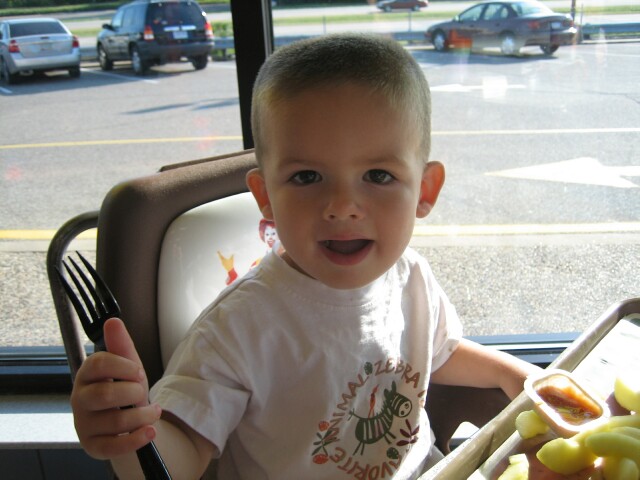 Jack demonstrating his use of a plastic fork for his apple dippers.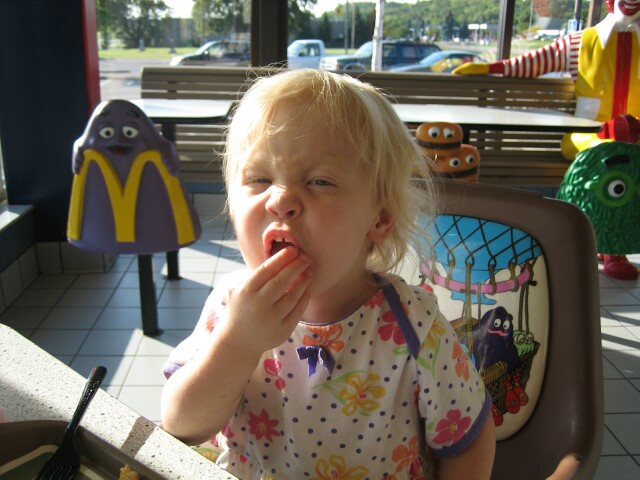 Kate demonstrating how she won the county apple dipper eating contest.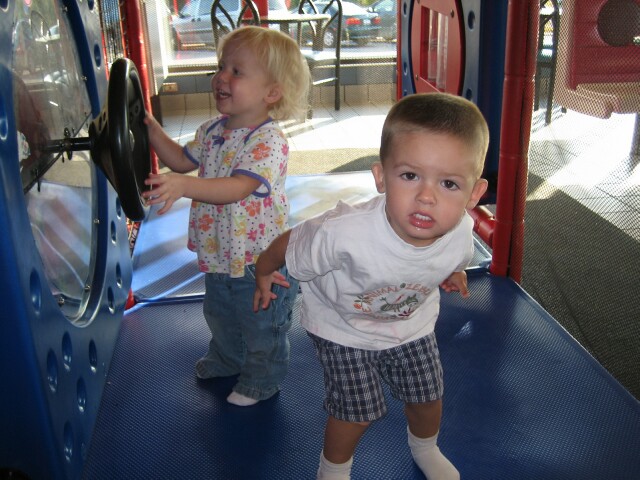 Being the heartless and cruel authority figure that I am, I forced the kids to eat all of their dinner before they could go play. (Chicken nuggets, apple dippers and milk.) Once the trays were clear it was go for broke time. Here's Kate turning the wheel while Jack is either a.) ducking or b.) letting loose with a toot that will knock Kate over. If memory serves I think it was ducking.
The terrible twosome emerge from the tunnel of love only to discover that they've been caught by the National Inquirer photographer. Are they the next Brad and Angelina? I hope not because they would either be collectively referred to as "Kack" or "Jate" and both just sound awful.
Oh yeah. Saving a copy of that picture for Kate's senior prom night.
We got home with no tears or boo boo's and Mr. Racetrack picked Kate up a little after 8.
Final report: nothing broken, all well.
Posted by Jim at August 29, 2006 11:55 AM
Comments
Post a comment