« April 2006 | Main | June 2006 »
May 02, 2006
Note From "The Astronomer"
Hello everyone, last week I got a call from Jim, he and Jack were on the road visiting Jack's great-Grandparents.
I talked with Jim yesterday on the for a short bit, and he said he was sorry that he could not talk much as his throat was bothering him a bit. Jim called me about an hour ago (~9:45 EST) and asked me to post for him and apologize. He was calling from the hospital and said that he is going to be back to posting in a few days ... more news as I get it.
The Astronomer
Posted by Jim at 09:35 PM | Comments (0)
May 24, 2006
"Seems the Hamburglar tastes like a Big Mac."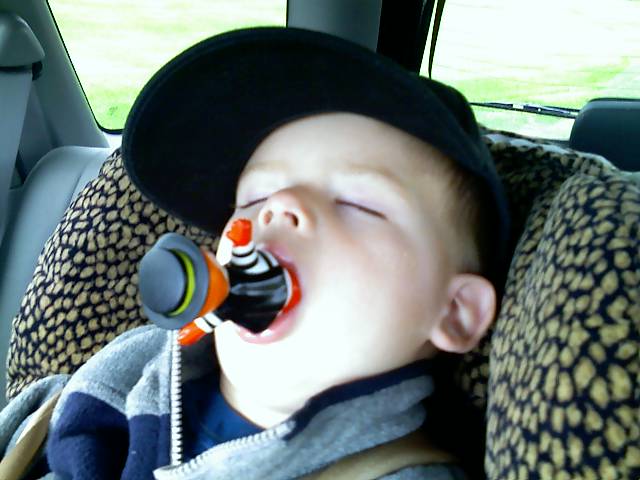 When opportunity knocks, my new Motorola Razor with the camera built into it is there.
(I suppose he tried to find a Nuk and failing that made do. lol)
Posted by Jim at 11:38 PM | Comments (1)
May 25, 2006
"I watch it for the Science! Really!"
Watch "Mythbusters" on cable?
Marvel at the cool things they debunk every week?
Well that's all fine and good but the real reason so many guys tune in every week, Kari Byron, is in FHM this month.
Online preview, mildly not safe for work because of the ads, is here: Never say I didn't give you, the loyal readers, anything.
Now if only they can get her to do some high school science films in that lab coat we might have the cure for cancer and cold fusion solved within a generation.

Posted by Jim at 12:00 AM | Comments (0)
"No. I'm not dead."
A few weeks ago I began to feel a bit run down and after a couple of days of having problems I went to the doctor. When I got there they discovered that some key things weren't functioning properly and that various other things weren't working quite the way they should either.
One $1100 ambulance ride later I was at the hospital. (We'll see what insurance picks up.)
After 4 days they released me with a host of drugs and doctor's orders to take it easy. Of course I overdid it when I got out the next week and spent my second week out of the hospital recovering from my first. *sigh*
I've tried to avoid the computer as much as possible the last few weeks. (My World of Warcraft guild probably thinks I've given up the game.) As the body has been on the mend so has my spirit and after a.) losing 8 pounds, b.) almost completely breaking my Coca-Cola habit and c.) going cold turkey on a lot of my electronic socialization I'm at a point of just wanting to ease back into things.
Jack you ask? Jack's great. He's growing so fast I can hardly believe it. Here's a few pictures: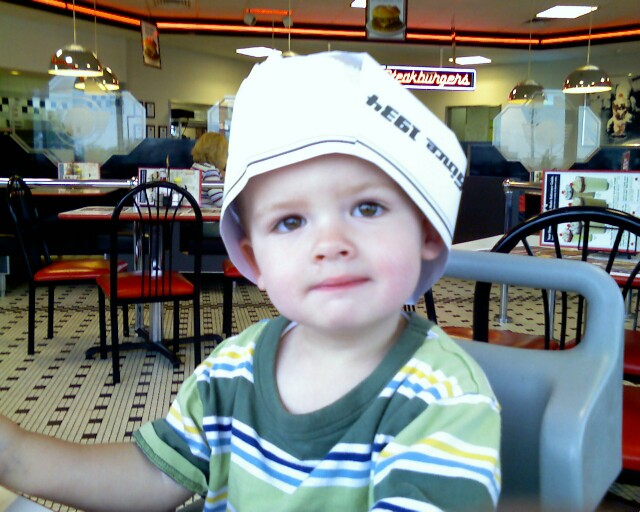 That's from the last Steak and Shake stop on the way home from Kentucky. The hat style was all his work and I was just lucky enough to be there to take the picture.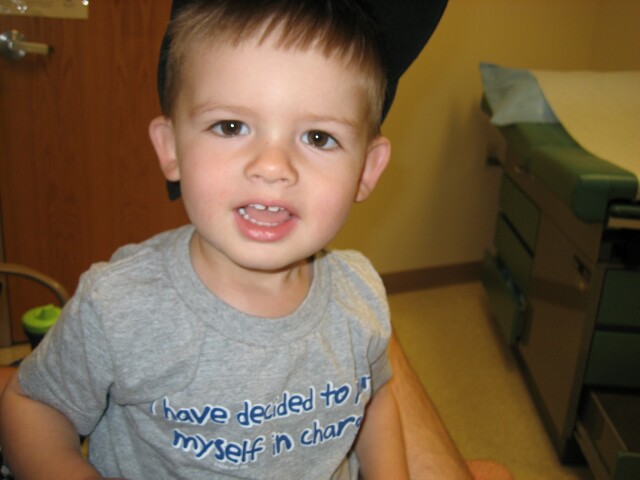 From my follow up doctor's appointment yesterday. I took Jack for a rash that he's had that just won't go away. If you're wondering his shirt reads: "I have decided to place myself in charge" which may be the truest words ever written.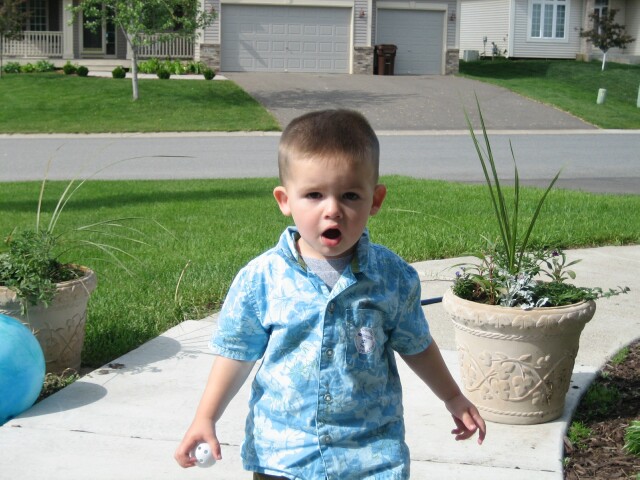 Tonight. He was just being funny so this is one of about 25 pictures I took. I like the look of utter "gobsmack" he's got. There's a caption there I just don't know what it is.
I'm leaving town for a few days tomorrow and will be back Tuesday. Regular blogging resumes then with a lot of back entries.
Thanks for hanging around and for all the kind emails you've sent over the last couple of weeks. They've made a difficult time much less painful.
Jim
Posted by Jim at 12:06 AM | Comments (3)
May 31, 2006
"Why Target is better than Wal-Mart."
Even the clerks who load the shelves at Target have a better sense of humor. Case in point: two of the flat carts used at my local Target. All of the carts have names but these two always strike me as funny:
"Leap of Faith"
Sort of like when you go to get a shopping cart and you pray you get the one where all 4 wheels go the same direction at once.
"The Naughty Wombat"
I'm not sure I ever want to know how a Wombat can be naughty but there is no disputing the lyrical wit of the unknown employee who penned that.
There are others but these were the two that I got pictures of. (Which led to a manager asking me what I was doing.) I'm just glad to see that Target actually values entertainment value when hiring. *chuckle*
Posted by Jim at 10:10 AM | Comments (0)