« February 2006 | Main | April 2006 »
March 03, 2006
"Bubbles!"
Thursday night it was time to introduce Jack to Mr. Bubble. Yep, it was Jack's first bubble bath. Ever!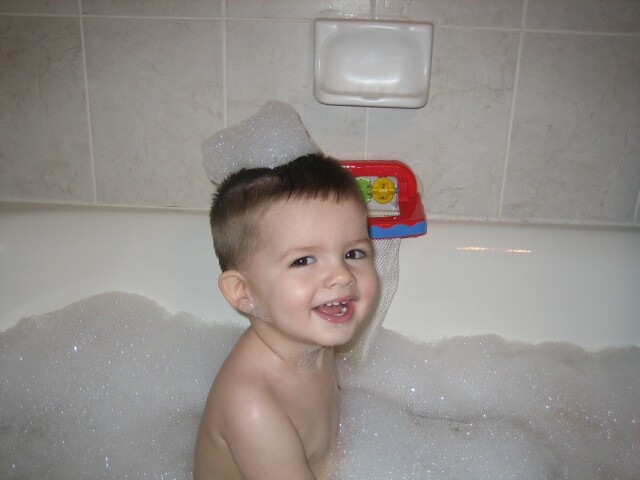 Based on that look I think it was a hit.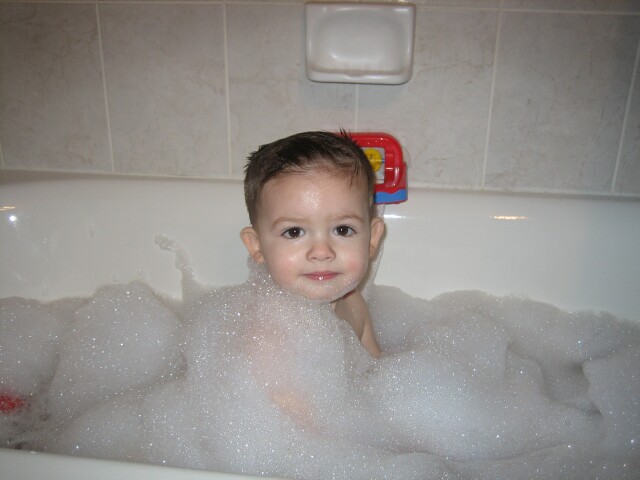 Yep. Most definitely a hit.
At one point he was completely covered in bubbles and laughing his head off. Odds are we'll have to do this only once a week to keep things from getting out of hand. Otherwise he'll grow up into one of these pruny types. lol
Posted by Jim at 01:43 PM | Comments (0)
Podcast delay...
I had minor outpatient procedure on Wednesday that has left me pretty sore. (With stitches! Cool!) As a result the new podcast is delayed until tonight, 9:00ish U.S. Central standard time.
RSS feed for iTunes is delayed until my technical support staff gets it all figured out. (Probably Monday.)
Thanks!
Jim

Posted by Jim at 02:10 PM | Comments (0)
March 17, 2006
Lá Fhéile Phádraig Sona Dhaoibh!
Which translated means "Happy St. Patrick's day!"
That or "Cousin Erin can't drive. Someone call a cab."
Pick whichever works for you.
Posted by Jim at 03:05 PM | Comments (0)
March 23, 2006
"What part of "No" are you having a hard time grasping?"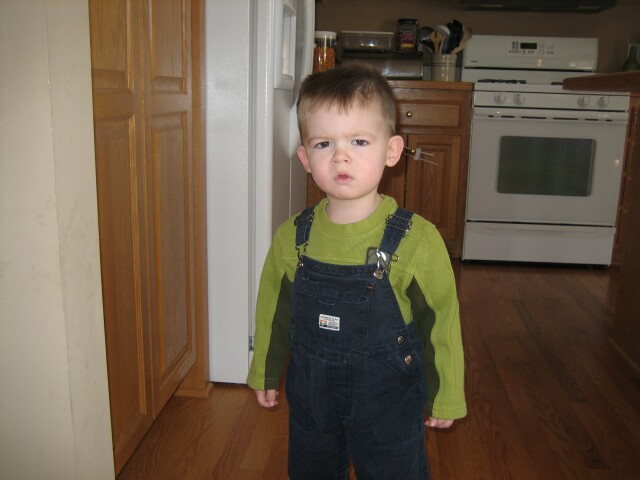 Jack's serious "No" face.
Did I mention the terrible two's are fast approaching?
Posted by Jim at 01:18 AM | Comments (0)
"Ever wonder why you're out of school when there isn't any snow?"
I reveal all...
You can now subscribe to all of the podcasts with this link:
http://feeds.feedburner.com/TheSpecialProject
Just cut and paste it into your favorite RSS reader or iTunes.
Speaking of which all of the podcasts will be available on iTunes in a day or so so do a search for "The Special Project" and you should find me.
Posted by Jim at 02:16 PM | Comments (0)
"Next they'll want me to rub Jack on their kids."
On Monday Jack had some spots break out on his body, mostly around his back and stomach in little clusters. No fever, just some spots.
Odds are it's Chicken Pox despite his having a vaccine.
I kept him home on Tuesday for a Super Big Jack Fun day. After that Mrs. Dawn said it was fine to bring him back as a couple of the parents were hoping the exposure might trigger chicken pox sooner than later in some of the others.
Mercifully there wasn't any itching or blisters and I don't think Jack will wind up with the kind of scars I was left with.
Our son, the disease bearing plague ship of Mrs. Dawn's Day Spa for the Small and Troublesome.
Posted by Jim at 11:37 PM | Comments (0)
March 24, 2006
"Hi Everybody!"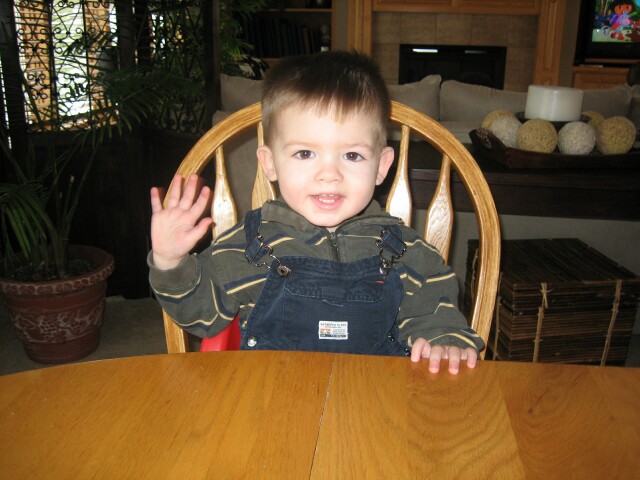 Jack was in a really good mood this morning. Consider this your "Go have fun it's Friday!" greeting.
Posted by Jim at 08:22 AM | Comments (0)
March 27, 2006
"An American in Parisian fashion."
This is going out in an envelope tomorrow: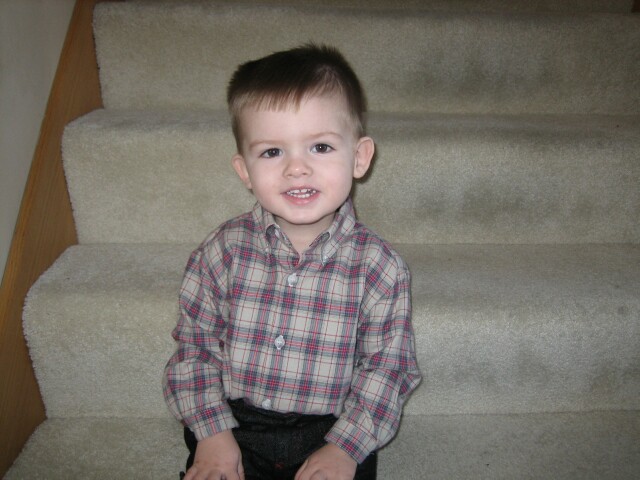 My uncle and aunt in VA were kind enough to pick up this outfit for Jack last year when they were in Paris. It has taken a year but now he's big enough to wear the outfit without tripping over the sleeves or cuffs.
It's a handsome pair of pants and shirt but the materials and colors are definitely not the usual fair for what I see day to day here in America. (The pants are wool as an example.) It's actually nice to have Jack wear something that not everyone else has from Gap, Old Navy or Target. (The atrocity of "group dress" as Orwell might have dubbed it.) When I was watching him run around today I thought to myself that I was pleased that he stands out a bit.
I got another couple of shots of him cavorting but none with the teddy bear backpack that came with the shirt and pants. Maybe tomorrow.

Posted by Jim at 12:43 AM | Comments (0)
"Upgrades are easy and other famous last words."
What was I thinking.
Movabletype went to 3.2 a while back and yours truly spent a maddening weekend trying to dope out the cgi scripts to get this mess to run right. It certainly looks like everything's fixed but I'll keep an eye open for bugs.
I still like MT over anything else so far. It's a learning experience and I've always viewed that as a good thing. It keeps me on my toes and forces me to focus when I get into the code. I'm not a code monkey, never have been and never will be, but I can dope it out if I just take it slowly.
The single thing I am looking forward to the most is the new anti-spam features for comments. It essentially takes a lot of my pain away and I encourage you to comment frequently and often going forward.
There are a ton of new features but most will have to wait for daylight and some sleep before I start to explore them.
Posted by Jim at 12:46 AM | Comments (0)
March 28, 2006
"Admit it. You really, really, really wish you owned a copy."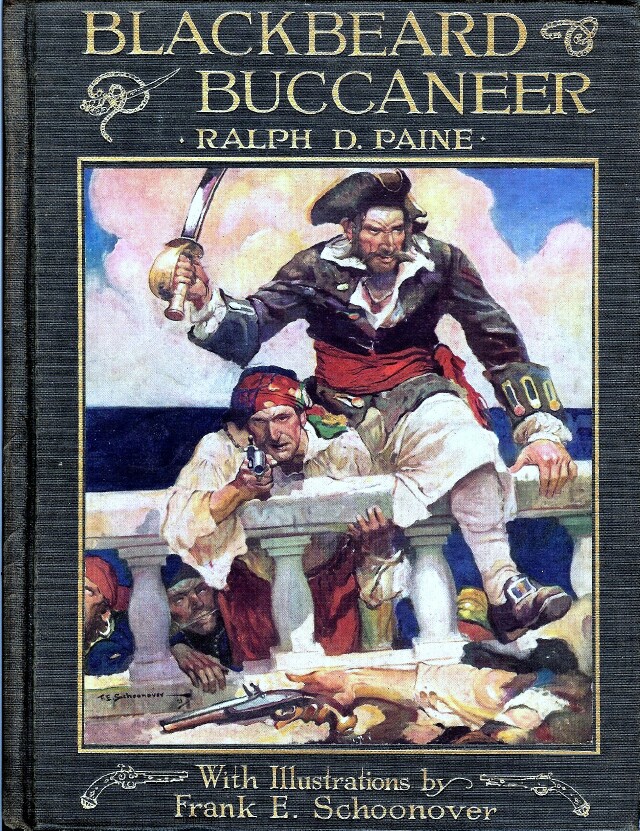 Is that not one of the dead sexiest book covers you've seen in ages? A pirate shooting a gun right at you, another with a knife in his mouth coming aboard, a body on the deck and best of all a tri-corner wearing, cutlass brandishing, bearded fellow out to argue a finer point or two about signalling while passing in the Carribean.
I may faint. It's so good I need a cigarette after just looking at it and I don't even smoke. Shivers my timbers just looking at it.
So who was Frank Schoonover? He was one of the Brandywine School and a student of Howard Pyle's who went on to have a 60+ year career as an illustrator and writer. (Pyle's classes at the Drexel Institute are the stuff of legend. His students included Jessie Wilcox Smith, Maxfield Parrish, and Harvey Dunn to name a few.) Imagine what swapping paint brushes and having lunch with this crew must have been like. Makes you wonder if they ever doodled.
Schoonover was one of the few artists at the time to really travel to get a better perspective on his work. From www.schoonoverfund.org a list of his travels:
Schoonover's travels took him to lands far away; Hudson and James Bay (Winter 1903-04), Montana (1905), Europe (1907), the The Canadian frontier again (Summer 1911), New Orleans (1911), Cuba (1936). From these travels, Schoonover gleaned sketches, diaries, and photographs that were the inspiration for many of his paintings of the North American Frontier.
Who in their right mind wants to go to Hudson and James Bay for winter? Madness.
Within the space of a generation Schoonover established himself as a giant in the field. His paintings are breathtaking and convey a sense of space and realism that is still such that it's hard to imagine how he accomplished it. To keep this somewhat relevant his piratical themed work included "Blackbeard Buccaneer" (1922), "Privateers of '76" (1923), "Barbary Bo" (1929), "To Have and To Hold" (1931), "Yankee Ships in Pirate Waters" (1931) and "Crimson Cutlass" (1933) which are all on my short list to find for Jack.
The Frank E. Schoonover Fund, Inc. associated with the website above is publishing, within the next couple of years, a complete Catalogue Raisonne of Schoonover's works. A quick browsing of their website and this one this one should be enough to have you put it on your short list of books to look forward to.
Did I mention he illustrated Burrough's "A Princess of Mars" when it was first published? *grin*
Worse for Jack, it appears that http://www.artmasterworks.com/ is offering drop jaw beautiful reproductions of some of the genre. Must resist. Must resist!
Posted by Jim at 01:07 AM | Comments (0)
"Say "Please" Jack."
As Jack's vocabulary grows in leaps and bounds I'm struggling to lay the foundation of good manners before the die is cast and he winds up like one of those thugish brutes that wander the Mall of America swearing loudly into his cell phone. (Is it just me?)
Right now when Jack has figured out that the word "Carry" can get someone to pick him up. This means he'll now come running over, grab your leg, and begin saying "Carry" over and over until the end result occurs.
I've been trying over the last week to get him to associate "please" with one of his wants. Thus my near constant refrain of "Say "Please" Jack" until he's as tired of hearing it as I am of saying it.
Oh how I hope this works.
Posted by Jim at 10:52 AM | Comments (0)
"Family night at McDonalds is now a recognized form of Birth Control in Minnesota."
With Mrs. Racetrack at work tonight, Mr. Racetrack gave me a ring about meeting up at McDonalds in Cottage Grove for a night of toddler frolic. Thinking that it might be time for Jack to behold the wonders of "Playland" I said that we would meet them there after Jack and I got haircuts and Fabulous Babe got off of work.
Key detail missing in his pitch: It's family night on Tuesday.
When we pulled into the lot I noticed a lot of cars. When we walked into the McDonalds the wave of shrieking laughter rolled over me like a tsunami. As we ordered our food the spectacle in "Playland" was like nothing I had ever seen: a sea of children and almost every table occupied by a parent. It was like watching a riot beginning to unfold. I told the manager that inviting teens to work "Family Night" would go a long way to preventing them from wanting to have sex. (The teenage co-workers who heard me all laughed and nodded an enthusiastic "yes".)
Watching things I realized that the staff was actually taking orders and bringing it to tables. There must have been 5 staff making sure everything was going ok and they never stopped moving. Our McDonalds is great anyway but tonight was pretty impressive. The manager already has the staff trained to bring food out to your table if you have a toddler and that scores big points with me. The staff is usually spot on, and the woman that supervises "Playland" is pretty focused on making sure it all goes well, just like tonight.
Jack wasn't hungry tonight and he and Kate had a great time playing. (Several of the solo moms noticed Jack and asked me about the two of them.) The only low point was Jack running at full tilt and plowing into a table with one corner of his forehead which promptly began to swell and will no doubt be the size of an egg by the weekend. He cried for a few minutes but we shook it off and he began crawling around within minutes.
It was a good time tonight. Much playing and frivolity on the part of Jack and Kate. Mr. Racetrack and a learning experience for me. Earplugs are highly recommended.

Posted by Jim at 09:30 PM | Comments (0)
March 30, 2006
"So cool they brought it back. Lucky me."
Some of you may remember when I opined about the Schwinn Panther from 2000. After years of lusting after one and being thwarted at every turn I finally managed to find one last year. Of course with my having finally found one what should happen?
Here's a pic of the new one:
Now part of me is a little annoyed that they are doing this but it's really just a half hearted effort to be annoyed. After all why should I be upset when other people are going to have a chance to own something this neat. Sure they'll pay a bit less than I did but that doesn't make it any less of a great ride.
The interesting twist is that they've decided to do a ladies version. Pink and black.
Here's what it looks like:
Not that hot if you ask me but I suppose it's a valiant attempt at something clever.
I suppose it's too much to hope for that they might make a little cruiser to go with mine for Jack to have in a couple of years. Who knows.
Either way the ball is squarely in your court now. Go forth and buy a Panther. Your cool factor will rise 10 points minimum and you'll have a bicycle that the rest of the mortals will covet long after you pass them on those big, fat, black, gnarly tires.

Posted by Jim at 01:21 AM | Comments (0)