« "Guess where we went..." | Main | Jack's Library, Take 2... »
January 24, 2006
"It's a park? Based on cartoons?"
Fabulous Babe had an offsite meeting in Orlando last week. When we first heard about it we decided that since she already had the hotel room it might be a good time for Jack and I to come down after the "work" portion was done and visit Walt Disney World for a couple of days.
I was a little wary due to a.) it would be Jack's first plane flight and b.) I would have to lug Jack and his 1800 metric tons of stuff through the airport by myself. (Car seat, diaper bag, small child, stroller, etc.) It a bit awkward trying to balance everything while going through the terminal but in the end it all went fine and Thursday night we landed in Miami. (Special thanks go to my large supply of Nuks and Jack's Big Bird doll.)
Friday we woke up, got dressed, hopped on the bus, rode the monorail to the Magic Kingdom and arrived at what the Best Woman refers to as "The second happiest place on earth!" (Disneyland having come before Disney World.) Crowds were light, the weather was perfect and who did we meet when we walked through the door?
A gigantic rat! (FB spotted Mickey and noticed the really short line to pose with him so we jumped right in.) At first Jack wasn't really warm to him but within a few seconds that hesitation turned around and began laughing and smiling. It is pretty hard not to smile at the thought of giant cartoon mouse.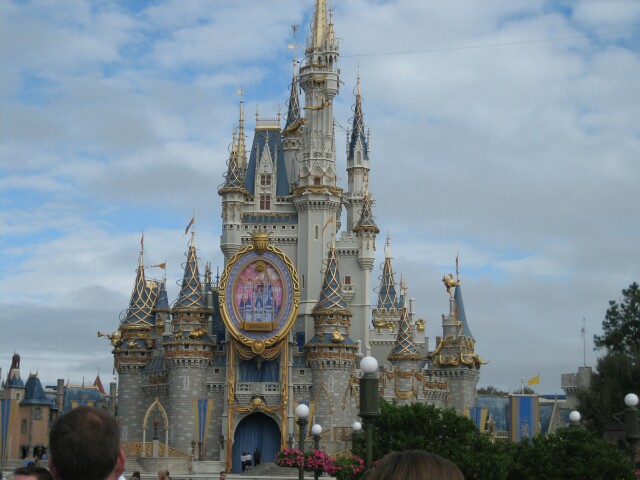 With the 50th anniversary of Disneyland they've gone to the effort of Pimping up the Castle in all of the parks. It's like MTV's show collided with the Imagineer Holiday party. It supposedly lights up and looks great but during the day it's simply gawdawful.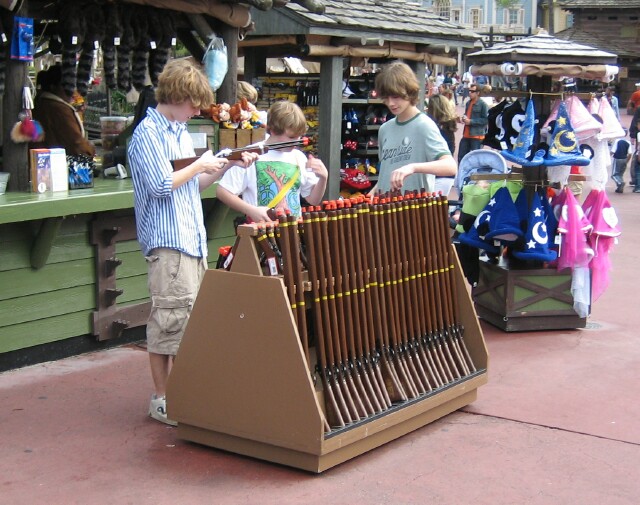 That's right. They sell toy GUNS to kids at Disneyworld! In multiple locations! It warmed my heart so much I had to take a picture. Sure you can buy everything you can think of with a Princess on it but before your Junior Woodchuck gets depressed just point out that he or she can also buy a swell cap pistol or rifle.
I sincerely hope that one of those daft "Children should never have violent toys" types sees this picture and keels over from a heart attack. Imagine the shock from the realization that Disney, the paragons of politically correct culture and branding, have realized there's a cubic acre of money to be made selling kids toy guns and acted on it. (We saw tons of kids with them.) *chuckle*
Jack at lunch, still wearing his personalized hat. If you want that done you have to visit "The Chappeau" on Main Street. We learned that with our last trip.
Notice the mouse shaped bowl of Mac and cheese.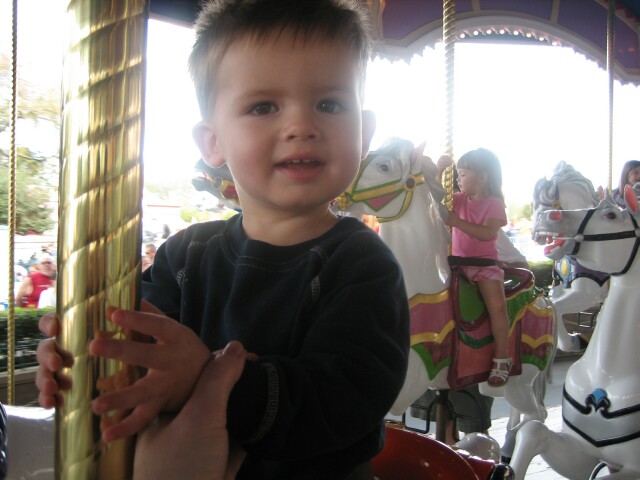 Jack on the Merry Go Round. This may have been Jack's favorite ride according to Fabulous Babe. He certainly looked happy as a clam as we went spinning around.
After the Merry Go Round we headed off to "It's a Small World", a ride left over from the 1964 World's fair. (In another post I'll explain how important that was.) Since we were last there the whole ride has gone through a massive refurbishment. (In my opinion it doesn't suck anymore.) We were both impressed by the new paint and characters.
I'm going to have to keep Jack away from these French women of course. I saw the look in their eye and caught them showing Jack a bit more of their pantaloons that I'm comfortable with.
By 2:00 Jack decided it was nap time. Since Tomorrowland has always been something of a snooze Jack decided to blend in. He slept for about a half an hour and then woke up ready to go some more which was perfect as it was now time for the "characters enclosed in air conditioned bubbles" parade.
I held Jack on my shoulders and took about 40 pictures. This one sums it up nicely. Jack was waving the whole time but his was but one arm wave in a sea of gesturing children and the closest we got to a character stopping near us was one of the primates from the Jungle Book.
I've decided to ease back on my policy of no pictures of myself. Here's one of the author about to embark on a cruise with the Pirates of the Carribbean.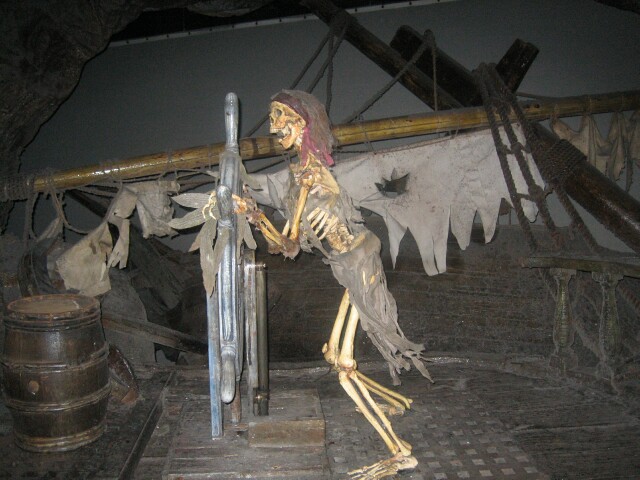 Oops! Took the picture during moonlight. My bad.
More later.
Posted by Jim at January 24, 2006 08:28 AM
Comments
Post a comment