« "We welcome the return of our Arachnid Masters!" | Main | "My kingdom for some Butt Paste." »
October 16, 2005
"1st Hockey game."
Tonight was Jack's first Hockey game.
We played the Ducks tonight and the game was a bit earlier than usual. (5:00 instead of 7:30) That being the case we decided to risk everything and take Jack. The theory was that if we made it the whole game then Jack's bedtime wouldn't be too far off the regular schedule.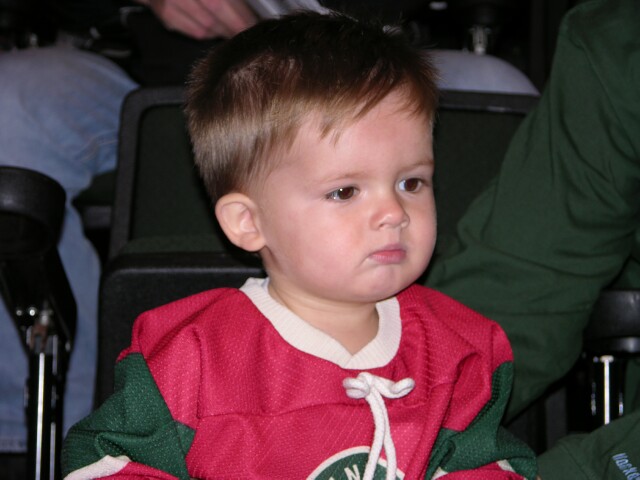 Here's Jack in his Wild Jersey waiting for the game to start.
We went with friends from Fabulous Babe's workplace. They were good sports and willing to play along with Jack. They recently became grandparents and were thrilled to be sharing pictures of the new arrival. We were glad to have them along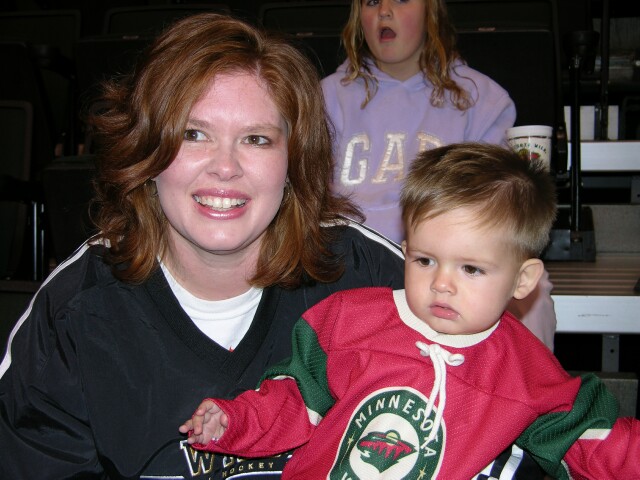 Here's Fabulous Babe and the boy. After the first game of the season where Fabulous Babe wound up on the Jumbotron we decided she needed some "Wild" gear and she scored a nice nylon pullover. Our seats catch a draft and it's fashion and function. The same trip resulted in Jack's spiffy jersey.
Before you ask the answer is "No, I don't know who the unfortunate girl catching flies behind Jack is."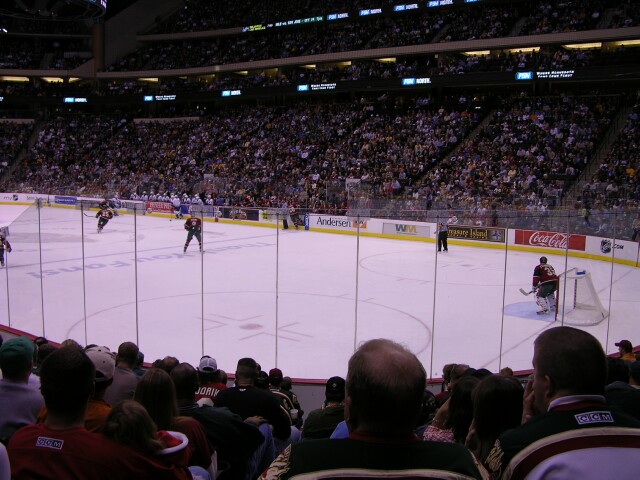 This is the view from our seats. Actually it's better than it looks because I had the camera on wide angle and the rest of my ice shots are crap. The first time someone hit the glass with a puck Jack jumped straight up. (He did the same when the Wild scored their first goal.)
The big moment came with about 7 minutes before the end of the 3rd period. Sure enough the roving camera stops nearby and Jack ends up on the Jumbotron waving his hands and grinning. He of course blew it by looking up to see himself but the moment, however briefly, was there.
A couple of minutes later Miss Brittney, Jack's regular babysitter, came down to our seats. She had seen "Baby Jack" and was even more excited than we were. More proof we're incredibly lucky to have her as a babysitter.
Jack lasted the whole game. He laughed, smiled and clapped as the night went on and ate us out of house and home. (A hotdog, a bucket of popcorn, cheesy bread and some Nilla Wafer cookies from home.) No major meltdowns and except for a couple of water bottle tosses he was on his best behavior. The whole way home he was a gigglepuss.
I doubt he'll remember any of it as he grows older but I hope he someday knows how much fun his dad had just having him sit on his lap and clap and laugh as the game went on in front of him.
Posted by Jim at October 16, 2005 09:34 PM
Comments
Post a comment