« "I'm terrified of what other gags he has up his sleeve." | Main | "These are too cool!" »
September 26, 2005
Whooping it up outside...
Summer is fast a forgotten thing here in the arctic north of Minnesota. We're already getting some pretty chilly weather and the overcast sky is starting to creep in at the edges.
On Sunday of last week I had Jack outside in the warmth and sunshine and managed to capture a few moments before we wish Summer a fond farewell: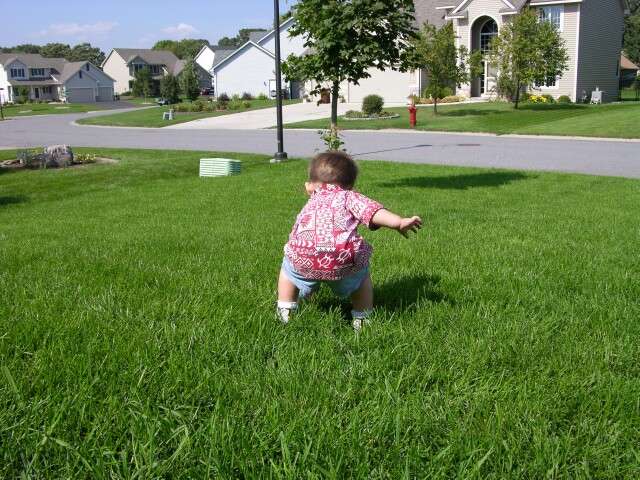 I suppose if I were arty enough I would come up with something clever to title this picture: "Moon over an unmowed lawn" or perhaps "Child at play on a field of verdant green." Jack is picking up a small inflatable ball which you can't see. I was pleased that the colors worked out as nicely as they did. The symmetry of Jack in a direct line with the tree was, of course, planned. (Ha ha.)
"Jack pushing his friend the block eating hippo." He doesn't need it to walk mind you, or run for that matter, but every once in a while he gets a kick out of running along behind it. Meanwhile a certain soaker hose that Fabulous Babe has now decided we don't need lays in the way. (I hate throwing it out but no one in the neighborhood I spoke to needs one.)
Jack's face you ask? None of the mugshots turned out worth a darn.
Posted by Jim at September 26, 2005 02:36 PM
Comments
Post a comment