« "You thought I wasn't going to post a picture of it?" | Main | "There's a Johnny Paycheck song that comes to mind." »
August 09, 2005
"Other than the striped shirt I think it turned out well..."
So it's one year picture time.
This is a time honored ritual where parents document their success in managing to keep their child from disfiguring him or herself horribly. (It's also testimony to keeping the kid from getting a goose egg in the week leading up to the photo session.) It's also, strangely enough, a major leading cause of home equity loans.
Fabulous Babe made the appointment and then took Jack, an extra outfit and some props on the day we left on vacation a week or so ago.
Leading up to this I offered absolutely no resistance. This is one of those "mother knows best" subjects where male input might be earnestly requested but never, ever, seriously considered.
Reports from the photo session were that things went well. Never one to discount Jack's ability to inflict mayhem I figured the proofs would be the pudding. Turns out the initial reports were right: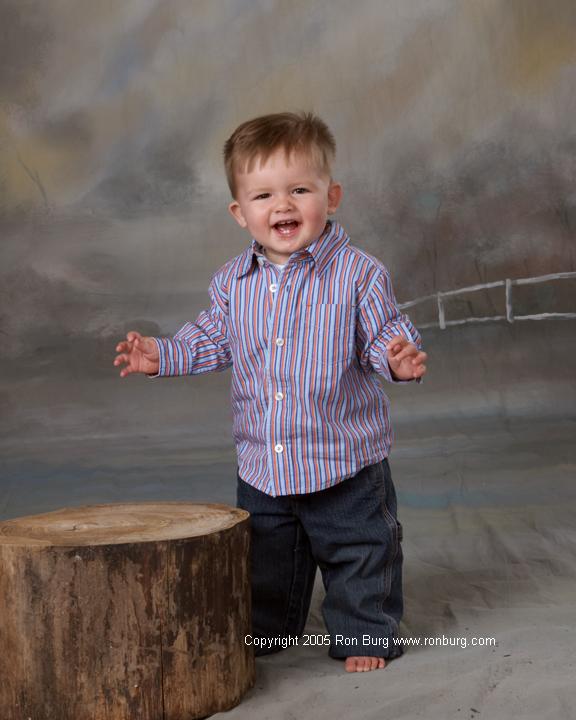 This is just one of the proofs that Fabulous Babe picked up Monday. We went to Ron Burg, a local photographer with an excellent reputation for working with small children. After a phone call with Ron on Tuesday afternoon he was kind enough to allow me to reproduce it here. Fabulous Babe was very impressed and said that his attention to detail and his approach, leisurely and not rushed, made the experience a joy and not nearly as scary as she feared.
You can see more of Ron's work on his website if you want to follow this link: www.ronburg.com. Based on the results and all that I heard the day of the shoot I would highly recommend him for any sort of photography.
Now the pressure is on us to pick and choose the pictures to send out to family, friends, etc. The above picture is a likely candidate but there are others that are equal contenders.
It's scary to look at this picture of Jack and realize how far we've come in just over a year. He's walking and talking and that smile on his face is the expression we see 90% of the time. That arms wide and ready for action pose is pretty typical too.
I know I sound like a blathering proud parent from time to time but if you ever had told me I would contribute to something as wonderful as Jack I would never have believed you.
Posted by Jim at August 9, 2005 11:14 PM
Comments
Post a comment