« "I told you he would be driving before he crawls..." | Main | "I'm big in Doha... AND Dubai." »
April 10, 2005
"Outta my way!"
We had the Racetrack's over for dinner on Saturday night. Kate's got the world's landspeed record for crawing and makes Jack look like a big slug. She's a riot to watch as she bulldozes past everything to get to where she wants to go. (Including elbowing Jack out of the way at one point to gails of laughter.)
She's fun to watch as she would stick her head in thing or poke around where she thought something was interesting. She can pull herself up really well and that can be a chuckle too.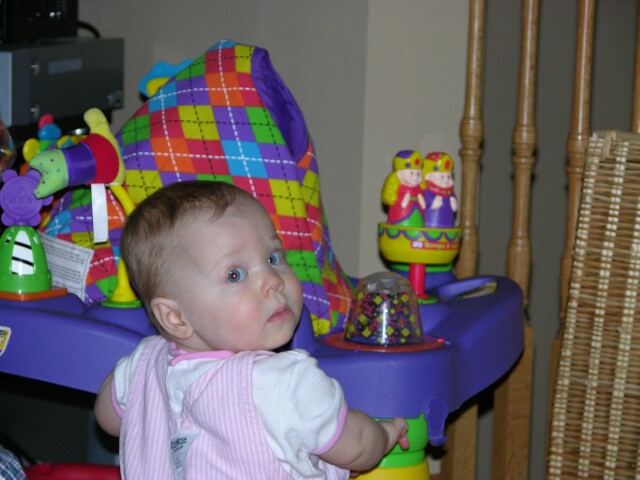 That's her looking back while checking out Jack's Exersaucer. She's becoming quite the little lady.
Which is why we really roared with laughter when she crawled over to Jack and stole the Nuk out of his hand and plopped it into her mouth. Jack looked bewildered and Kate went on her merry way.
The Racetrack's prior claims that Kate doesn't use a Nuk has now been completely discredited: The Racetracks revealed that Kate simply steals them from the other children at daycare. I'm hoping this isn't the start of a life of crime.
On related Racetrack news, one of the ladies from Mrs. Racetrack and Fabulous Babe's book club is now expecting. (I was on an information embargo for a while.) She's do later this year and for my purposes around here I'm going to call her Mrs. Dramatic Lifestyle Change. Trust me, the title is going to be well deserved.
Posted by Jim at April 10, 2005 11:48 PM
Comments
Post a comment