« "Just hear those sleighbells jingling..." | Main | "Begone Mullet!" »
March 01, 2005
Man Night!
Fabulous Babe had a night of frivolity with her fellow co-workers at the Monolithic Peoples Dairy Co-Operative which meant that it was ?Man Night? around the homestead.
Things got off to a pretty good start all things considered. When I picked up Jack he was laughing and carrying on and the mood carried on for quite a while. (My attempt to lay him down for a nap failed miserably however.) After I changed clothes and started laundry we settled into the living room to spend out the rest of the evening with toys and dinner.
Let?s just get this out of the way: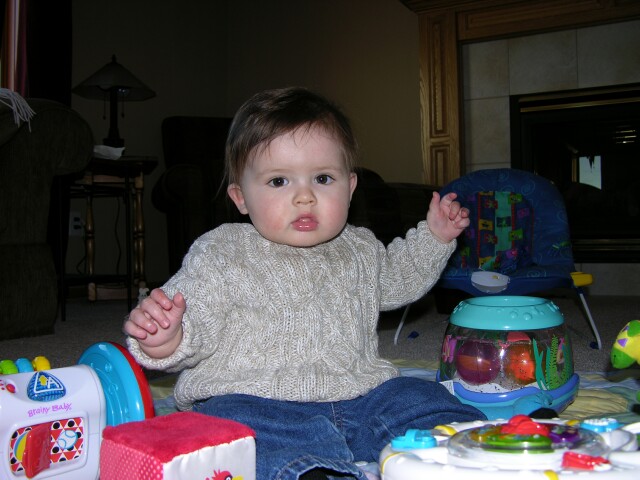 Reason 438 that Jack needs a haircut: He?s starting to look like Donovan from around 1971: ?Atlantis! Groovy!? That or he?s a member of the Moody Blues and he?s ready to sing ?Nights in White Satin?. I think it?s the sweater that adds to the effect. It has a bit of that whole ?70?s retro? look.
Maybe that?s why I took it off of him last night.
After a while Jack settled into give his toys a serious workout. After some truly frenzied rattle abuse I thought I would take a picture: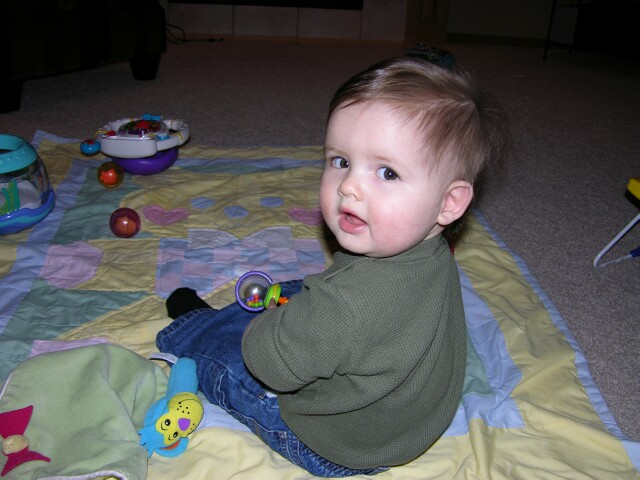 I?m not sure if he?s thinking ?You?re STILL here?? or ?What do YOU want??
That?s his wiggle monkey next to him. To get it to make a funny noise you have to move it in a manner that is mildly suggestive and/or obscene. Of course Jack loves it.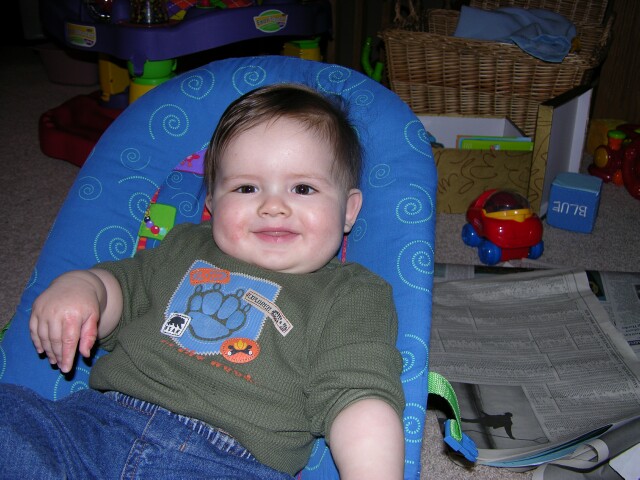 After a long day at work there?s nothing like kicking back in your Man Chair, giving the Journal a read and, when you think no one?s looking, passing gas so loudly it makes you smile.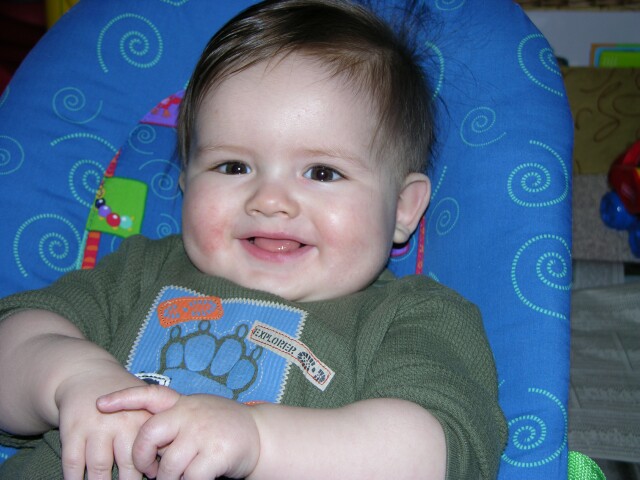 This is what I think about the most when Jack comes to mind: He?s happy to see me and loves me. It?s so sincere and all encompassing that it causes all other things before it to pale by comparison. It?s the smile of recognition at the sound of my voice or seeing me when I walk in to pick him up. (Surprising Jack is very funny when you?re not the person he?s expecting, he looks confused initially and then explodes with mirth.) Compare this picture to some from July. What a difference from then to now.
Posted by Jim at March 1, 2005 11:49 PM
Comments
Post a comment