« Spooky Friday Halloween Countdown Vol. 4 | Main | Jack's first Halloween »
November 01, 2004
The Great Pumpkin
Every once in a while I'll play a computer game. It's usually to kill the time between Jack's bedtime and his last bottle before really falling asleep. That way Fabulous Babe can stay asleep and doesn't have to wake up.
I'm not alone in this. Mr. Racetrack plays Everquest a lot while taking the early shift for Kate duty. (We can see each other through the windows of our offices.) It's fun, you can stay in touch with your friends, and on the bad day whooping up on some bad guys can be very satisfying.
The only online game I play is City of Heroes. You play as a superhero fighting monsters, bad guys, etc. (It's not as complex as some games and fits the bill for not having a lot of time to play.) This weekend the powers that be decided to unleash some Halloween themed monsters on the players. The monsters included witches, scarecrows, vampires, etc., as well as this guy: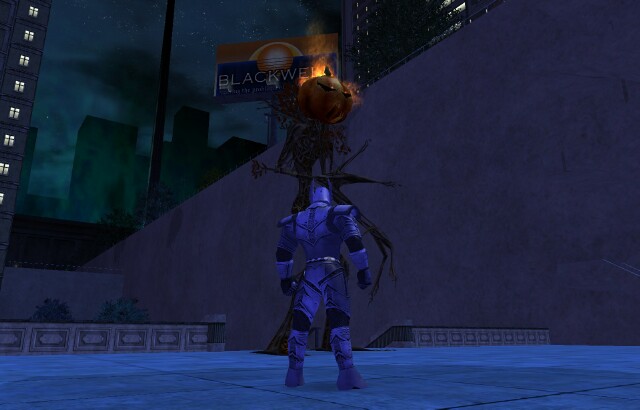 Yikes!
That's yours truly preparing to face off against something that Linus on his worst day could not imagine. I have an embarassing screenshot of me being knocked ass over teakettle by one of his flaming pumpkin missiles but that's the way it goes. In the end good triumphed over evil and the gigantic burning gourd went crashing down.
Also this weekend if you "knocked" at a door in the game there was a chance you would receive a treat. (Small in game bonuses.) Every once in a while instead of a regular treat you would receive that a really special treat: a rock.
*chuckle*
Get it? A rock? A la the Peanuts Halloween special and Charlie Brown's bad luck?
"I got a rock."
Priceless.
I'm almost scared to think of what we'll be fighting on other holidays. I can see axe wielding turkeys, demented elves, and packs of rabid pastel bunny rabbits.
Posted by Jim at November 1, 2004 12:11 AM
Comments
Post a comment