« The Great Pumpkin | Main | Ok. Let's all just take a breath... »
November 01, 2004
Jack's first Halloween
After a long week last week Jack did well over the weekend. His snuffly nose continued but he was feeling much better. He's taking to laughing and "talking" at great length and is very animated when doing so.
I was still recovering over the weekend. Fabulous Babe started to come down with some variant by Sunday. (A migraine creeping up on her on Sunday didn't help.) By Sunday night we both just wanted to go to bed.
Jack's scary lion costume was a hit with all. We had some marvelous costumes this year and I tried to capture a few with the camera. Last year's favorite was the Oompa Loompa. This years best?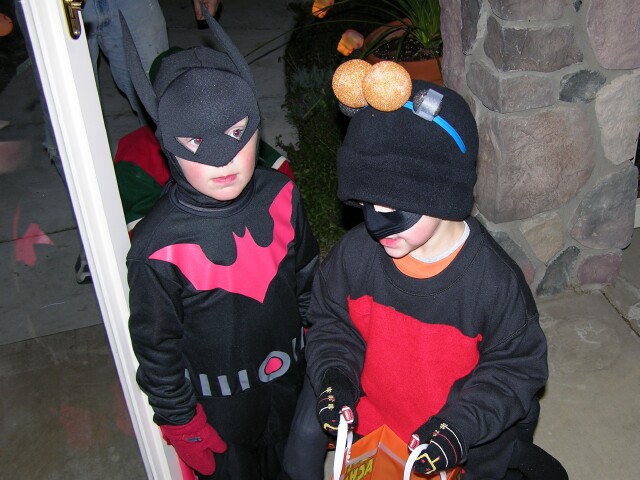 This was the best matching duo. The kid on the left is Batman from "Batman Beyond". He had red wings under his arms that gave him no end of difficulty in trying to get around with his bag.
The kid on the right? A black widow spider. Huge red hourglass on the front. (I didn't have the heart to tell him he was walking backwards.) I liked the light up "eyes" on his head and his droopy legs.
These two were very funny and good sports. They scored well candy wise.
Here's my candidate for the sweetest costume: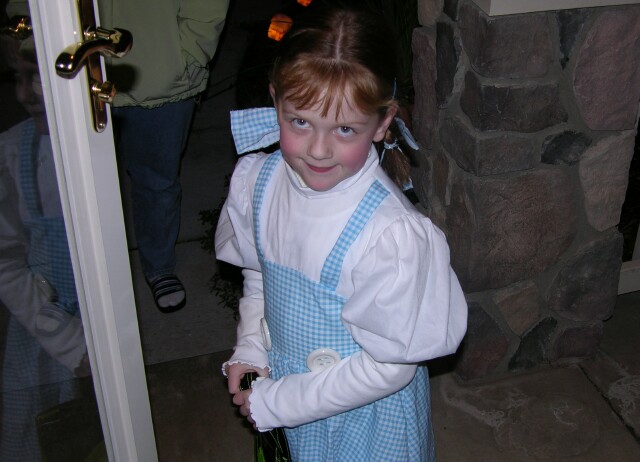 Being a complete goofball I chopped off Dorothy's shoes but trust me, they were red and glittery. Paige was as cute as could be and her mom did a great job. Like the boys she got a handful of candy.
Finally we have the most creative: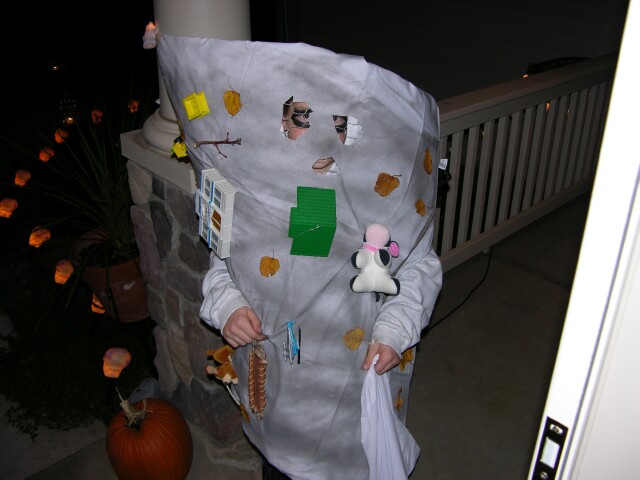 Care to guess? I had no clue.
A tornado.
He made the frame from chicken wire and then wrapped it in a sheet and stapled, glued, welded all the things you would find in a tornado: cows, houses, barns, news helicopters, etc. The best part? He stumbled getting around but it was clear from dad that there was no straying off course from the original design.
His reward? A double handful of candy.
There were more great costumes but a lot of the kids ran before I was able to get the camera and capture them. Please don't take offense if you don't see a photo here.
When I carried Jack upstairs and layed him down he passed right out. For him the night was a blur of colors and shapes, his name and happy voices. Not bad for a first Halloween.
Posted by Jim at November 1, 2004 09:35 PM
Comments
Post a comment