« Home, Not alone... | Main | Spooky Friday Halloween Countdown Vol. 4 »
October 28, 2004
Well at least HE feels better
Two days later and the boy is well on the road to recovery. He's still not 100% but he's getting there.
Proof?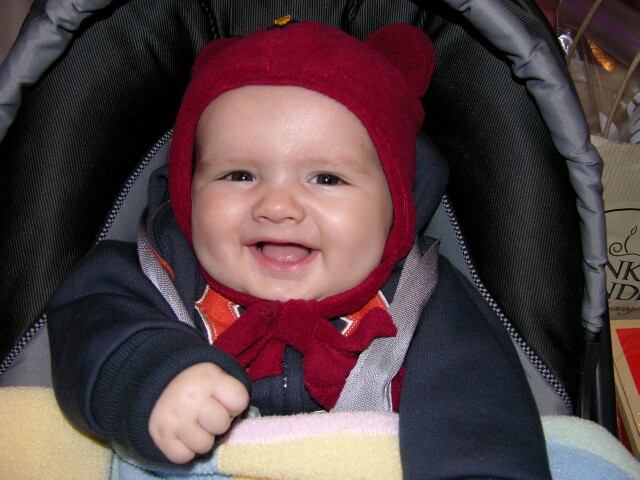 This was our Smiley Guy when I brought him home yesterday. He was laughing and cooing and carrying on so I hauled out the camera to try and capture the moment. Perhaps it is his spiffy new hat. (A fine and appreciated gift from El Jefe.)
For those of you interested in such things that is in fact a Lionel Train box next to the car seat.
I on the other hand am miserably sick with whatever Jack had/has. I'm betting I caught it when he sneezed into my mouth Tuesday. Ah the joys of parenting. As I type this I have a temp of 101 and am going back and forth between sweats and chills.
FB remarked this morning that I actually look as bad as I feel which is the sort of comment you can only expect from the ones who love you. It might be that she's still annoyed about last night. Crawling into bed, coughing and wheezing, sneezing and sweating I told her that I didn't care how powerful her urges I was forbidden fruit. "You keep those hands on your side of the bed!" The withering look I received made it very clear that I had nothing to fear. Shortly after the Sox won the series I slinked off to the guest room so she could have a night of sleep free from a husband determined to cough up a lung.
Posted by Jim at October 28, 2004 07:08 AM
Comments
Post a comment