« "At the rate their growing its going to be one kid per bucket this time next year." | Main | "Jack at sunset on Friday night." »
August 14, 2006
"Her plan is a bit different than ours. It involves building a plane in the attic."
So my dad's mom, Louise, had a bad time a week or so ago. She fell in her house a couple of times and ended up cracking her hip. (She didn't break it, just a small crack.) In the aftermath she was admitted to the hospital for observation and some tests. At 95 you can't really take chances.
At first her doctor was open to a few ideas. One she presented was letting her go live with her younger sister for a while. Of course Louise, in her bid for freedom, neglected to mention that her baby sister was 87. Fearing further accidents the doctor wisely ended this train of thought.
After a few days it came down to my family's plan of moving her to a rehab clinic / assisted living clinic closer to my dad and uncle. (A place that my father describes as "so depressing there aren't words to encompass the experience" which is about what I thought.) She'll be there for a while until they are certain that everything is ok.
Louise is, of course, indignant at having been removed from her home of 64 years. (Think about that the next time you grow tired of where you've been living less than a decade.) She's absolutely of the belief that if the person who found her on the floor had just helped her to the couch and made her comfortable everyone would be a lot better off.
Ha ha.
We're also pretty sure her current plan involves being released, immediately calling for a lawyer to disinherit her children and may or may not involve her use of firearms. If it's not "The Great Escape" in the making I don't know what is.
Jack and I called her last week. I had worked with Jack for a couple of hours to say "Get well Grandma!" but when the time came he just managed to yell "Get well!" over and over into the phone. His usual level of enthusiastic volume, normally a bit loud for this sort of thing, actually played well to Louise's hearing loss.
I once read that people rarely think of their grandparents in the same reference as themselves. They rarely imagine that the people they've always known as "older" were just like them in almost every way. I've thought a lot this past week about Louise's life. 20 in 1931. My age in 1948. 57 years later she's still one to listen to baseball games, still one to read the latest books, still one to do the crossword puzzle.
Remember this picture?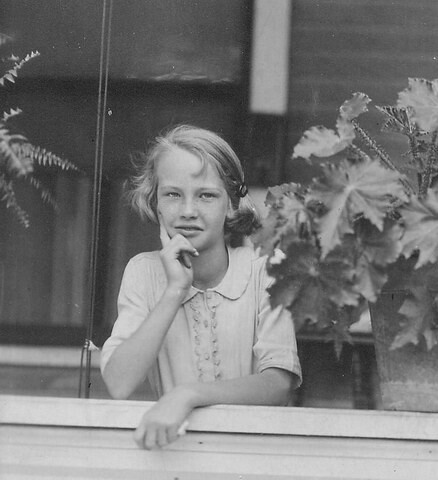 It's still my favorite. It's hard to imagine what being a teenage girl in 1924 would have been like but it's just so much fun to see the look in her eye and the expression on her face.
Age may strip away beauty but spirit never dies.
Posted by Jim at August 14, 2006 12:39 PM
Comments
Post a comment