« "Hi, I'm Garth Brooks. Can you hand me my pants?" | Main | "Your complaints have been noted with management." »
May 26, 2005
"We're not having a Celebrity Golf Tournament this year. Too many people died last year."
In the mornings I usually have a few things I am trying to do before I load Jack into the car. (Trash, bringing the papers in, etc.) This usually means that I have to leave Jack to his own devices for a few minutes before we make the 30 second car ride to Mrs. Dawn?s Day Spa for the Small and Troublesome.
Today Jack wanted to stand instead of sit which is easy to manage.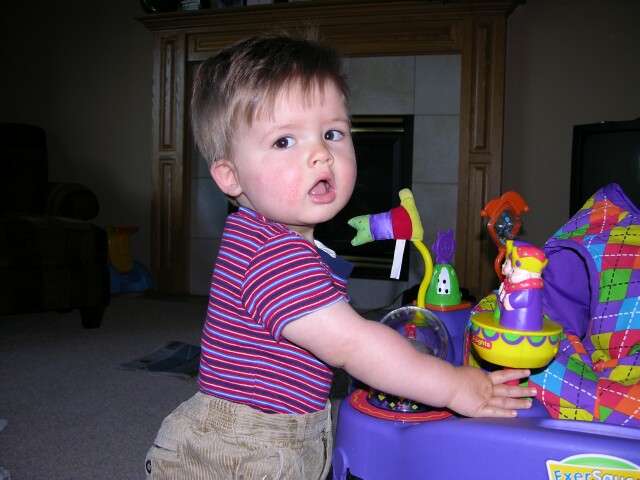 I caught Jack in mid babble. His typical sentence is ?Dabba dabba dabba sheesh quirt? or something similar. (Fabulous Babe and Mrs. Dawn have taken to calling him Fred Flintstone due to the frequency of the ?Dabba dabba dabba? business.)
Let?s be clear however that our son?s butt is not as large as it looks in the picture. It?s those @#$% corduroy pants.
Another shot of the red hotness that is our son. If any of you talk to my Canadian Sister anytime in the near future tell her that Jack loves the Exersaucer. (Like Fabulous Babe her schedule is a thing that doesn?t include much recreational browsing.)
Check out those arms. It's all I can do not to laugh when I see Jack in short sleeves. I keep thinking of Will Farrel in "Anchorman" pretending to work out and referring to his biceps as his "guns". *chuckle* It's still my favorite comedy from last year.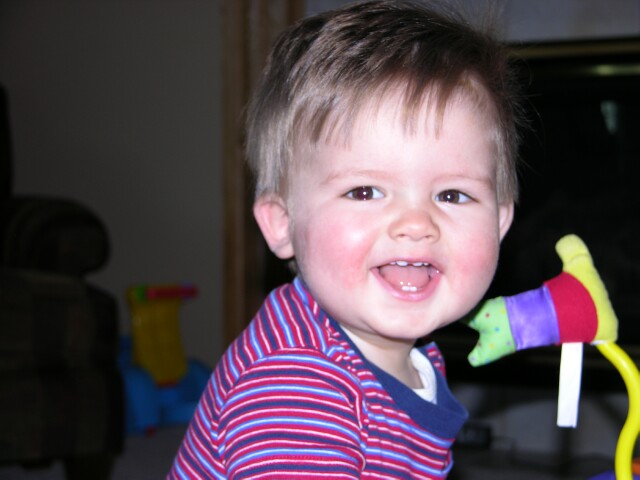 I got a laugh! You can see the beginnings of his hideous maw of fangs. (He cut those four top teeth at the same time.) Now if only I can squeeze another haircut into his schedule?
Posted by Jim at May 26, 2005 07:46 AM
Comments
Post a comment