« "Now that's some hotness! The grill's warm too!" | Main | "Imodium, blessed Imodium." »
May 08, 2005
"A Mother's day that we never thought would happen."
Today was a big day.
When I met Fabulous Babe it was made very clear to me that children were not a part of the agenda. How clear? Try the phrase: "Not happening." After coming to grips with this I realized that my love for Fabulous Babe was going to win out. (I also figured that over the next 10 years I might convince her to adopt.)
When FB and I had the discussion a couple of years ago about our having children I was pretty stunned. Disbelief was one word to describe how I felt. Joy was another.
Since then we've gone on to have Jack. Imagining life without Jack is impossible. Our ever growing, ever changing, little man is as much a part of our lives as the breath I take and the food we eat. Jack's the center of our universe and while that's taken some getting used to it's not been a bad thing. In fact it's the greatest thing that has ever happened to us.
What do you get the woman who was never going to be a mom and now is one? What can you find to stand as tangible evidence of her now unique roll in the universe? A role that countless other women have shared but is so unique to each.
Hmmm.
Jack gave me some ideas when I discussed it with him. (Mostly in answers along the lines of "Ma" or "Ba" or my personal favorite: "Ghhhk!") Still he suggested this: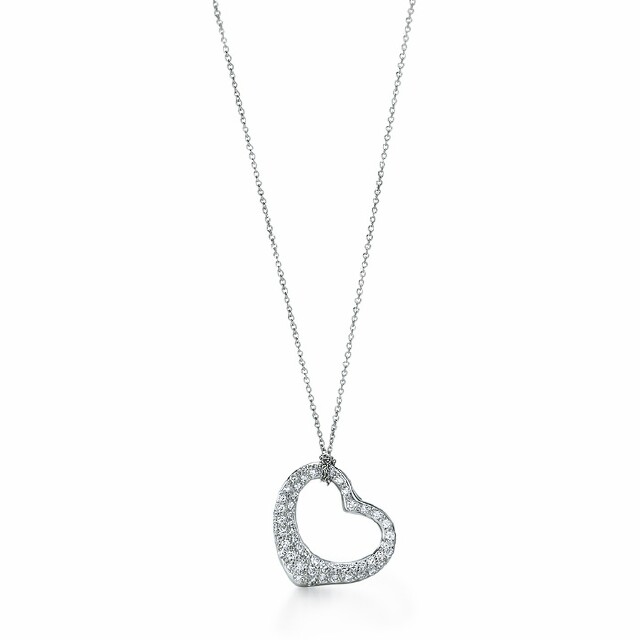 It's from the Elsa Peretti collection at Tiffany. It's simple and beautiful. I think Jack and I did ok, Fabulous Babe seemed to like it. It probably means I won't be able to go by her offices for a few months as some of the co-workers will be looking to lynch me. (Tough nuggies.)
Fabulous Babe has struggled to come to grips with her drive for work and making sure that Jack has had the attention he needs from his mother. She's like tons of other women out there who have created incredibly successful careers but still want to be wives, mothers, etc. In a juggling act of the occasional self doubt I wanted to let her know how close to our hearts she is. Jack and I love her very much and her role as my wife and Jack's mother is more important to us than she may ever know.
Sunday afternoon the Racetracks wandered over. Mr. Racetrack got the Mrs. a nice link for her snazzy necklace and she was beaming. Here's a nice shot of Mom with Kate: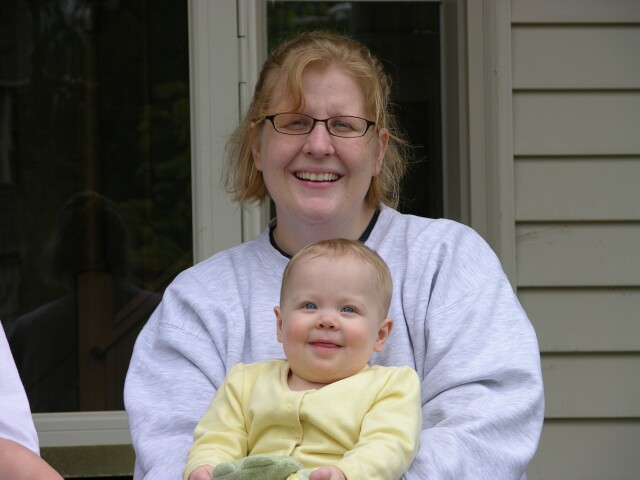 I love the smiles. Kate's hair has started to thicken and she's really turning into a pistol. I think she is looking more and more like her mom.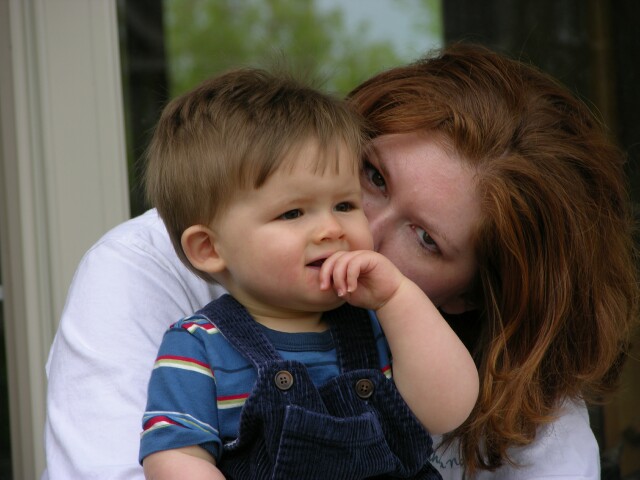 Fabulous Babe and Jack. That look in Fabulous Babe's eyes is the look that says "I'm up to something and heaven help the man who stands in this redhead's way." Jack, clueless, is trying to figure out if he can stuff his whole hand in his mouth. She gave him a big smooch right after I took this. I'm hoping I get that same look sometime in the near future.
Here's Jack looking for gold in Kate's ears. Kate on the other hand has Soggy Froggy and is preparing to administer a beat down.
Kate: "I think you're cute too but our parents will never let us date."
Jack: "Doh!"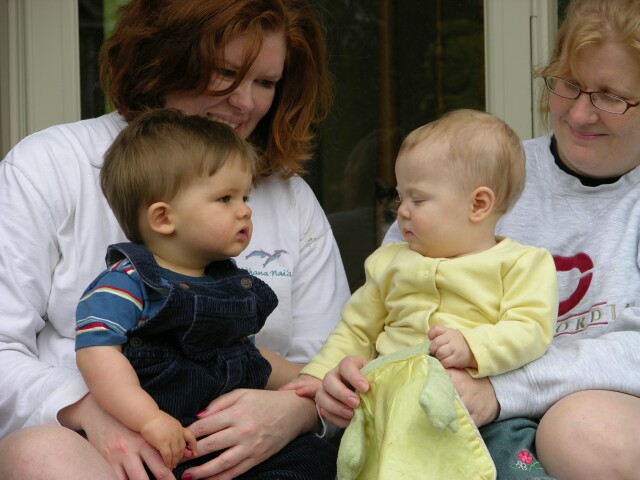 Kate: "Besides which. Your overalls are undone and you can't crawl. You have to be mobile if you expect me to date you."
Jack: "Curse this massive body of mine. Oh well. Where are the Teddy Grahams?"
Posted by Jim at May 8, 2005 08:19 PM
Comments
Post a comment