« Someone went to visit Santa... | Main | Christmas Part 1 or "Packing everything but the birdcage" »
January 03, 2005
Christmas pictures
Ugh. Still run down from last week. The weekend was, um, difficult as will be explained in a different entry.
That means you have to make do with some pictures in the short term while I work up the strength to sit down and do justice to the entire trip:
This was Jack with his grandfather, Farmer Dad, on Christmas morning. Jack is sporting his Reyn Spooner Christmas 2004 shirt to ring in his first Christmas morning. (The shorts, while just as stylish, were not enough to keep up with the cold on the farm.) Notice the bemused stare of both of them.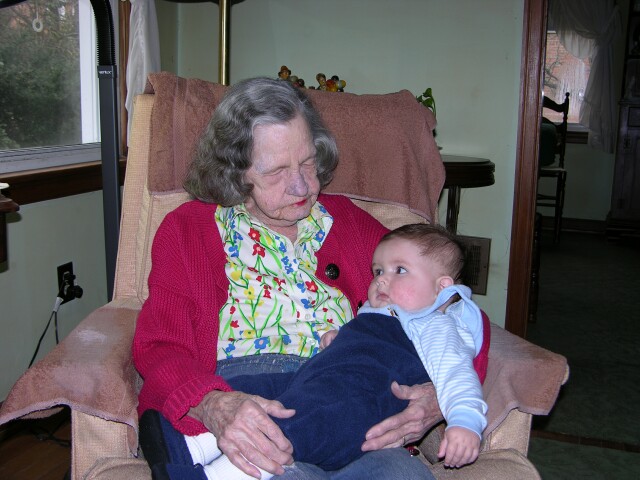 The long awaited presentation of Jack to Louise, my dad's mom and widow of Jack's namesake. The initial meeting was one of wary looks as they sized each other up. I was halfway terrified he might snap her thighs like twigs with his weight.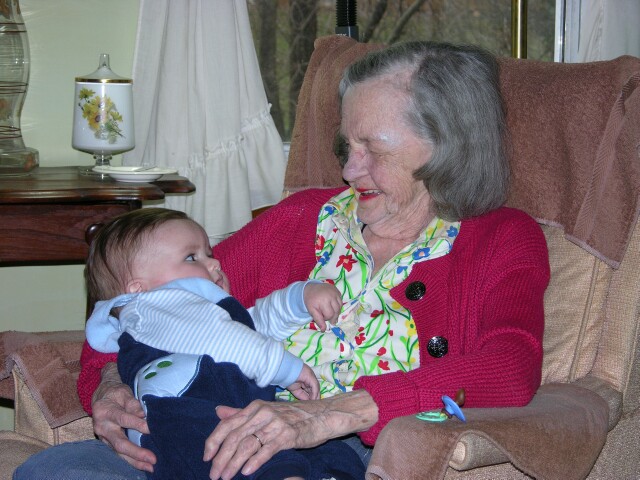 After a few minutes it was all smiles and giggles. My father reports Louise thought that Jack was looking at her like he had never seen an old person before. I told my grandmother that when it came time to come up with a name for our son it just didn't seem right not to have a Jack in the world. She got awfully quiet and it was one of those moments that was more powerful than I ever imagined.
Another comment on Jack to my dad from Louise, "He sure doesn't have any flys on him!" It's the sort of compliment that just makes you grin when you get it.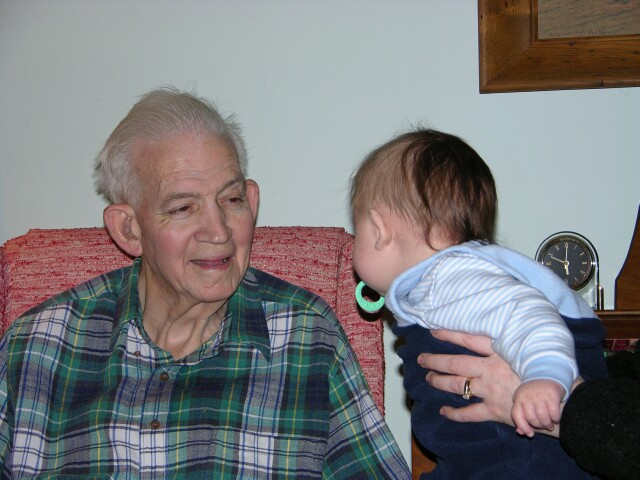 My grandfather that raised me laughing it up with Two Foot Small. Granddaddy is 86 now and one of the main reasons we made the trip. He thought that Jack didn't like him until I pointed out that while holding Jack he accidentally clonked Jack's head on some furniture.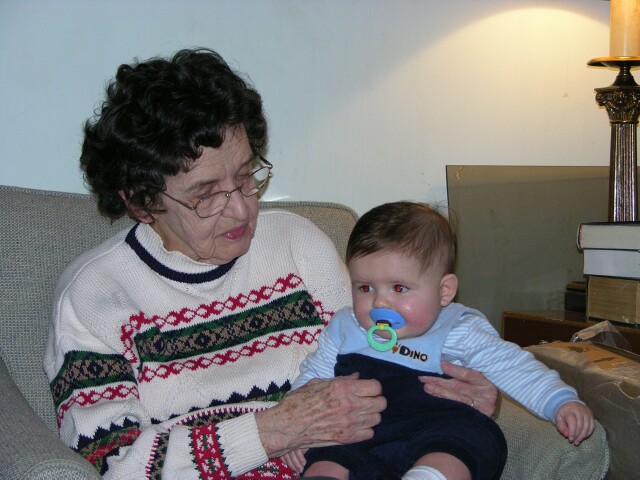 My grandmother that raised me holding the 20 pound monster that is our child. (He's wearing 12-18 month outfits now.) She was thrilled to see him but was heard to groan more than once while carrying him around the house.
Mary Jane Watson and the fabulous prize she got from me in the Holiday Secret Santa. After her initial reaction of "Oh. How nice." I broke out the gift I actually I got her: a VERY nice knife from her favorite cooking joint. Alas, she already had it. Never fear though. That autographed copy of "Confessions of a Kamikaze Cowboy" by Dirk Benedict is going up on Ebay where you will have a chance to fund Jack's college fund. (Donations are non-existant and I have to pay that higher education off somehow.)
That's it for the short term. Long write up will follow. I just have to try to sum it all up. Look for me to release it around noon on Tuesday our time. (I always proof it before inflicting it on you my dearest readers.)
Posted by Jim at January 3, 2005 11:00 PM
Comments
Post a comment