« Spooky Friday Halloween Countdown Vol. 1 | Main | Our little germ vector »
October 10, 2004
Saturday...
Pretty lazy weekend here at the ranch. Jack has had the sniffles so we took things pretty easy. Did some yard prep for the winter and filled the trash with some of the worst smelling plant refuse I've ever caught a whiff of.
None the less I still found time to snap a picture that captures some of that Fabulous Babe hotness: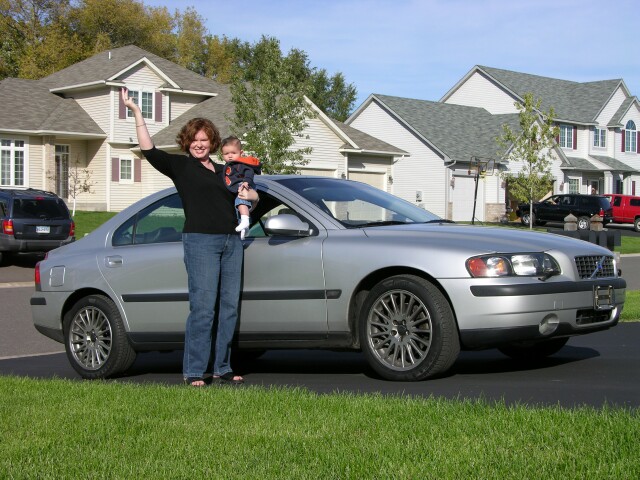 A few years ago when we bought the Tribute I got a picture of FB in the same pose. Now whenever we get a new car I try to capture the car show moment. I keep thinking I should get a sash that says "Mrs. Redheaded hotness" or something similar but know she would never wear it.
That's the new ride behind FB and Sir Drools-A-Lot. The other day I realized this car is our first automobile with wipers on the headlights. The gadget side of me thought this was nifty, the practical side began to wonder how much the replacement blades will cost.
We did drag Jack to a local pumpkin vendor in a vain quest. The idea, as hatched by Fabulous Babe, was to capture our little pumpkin surrounded by other little pumpkins. Jack wasn't feeling up to the moment and so this was the result: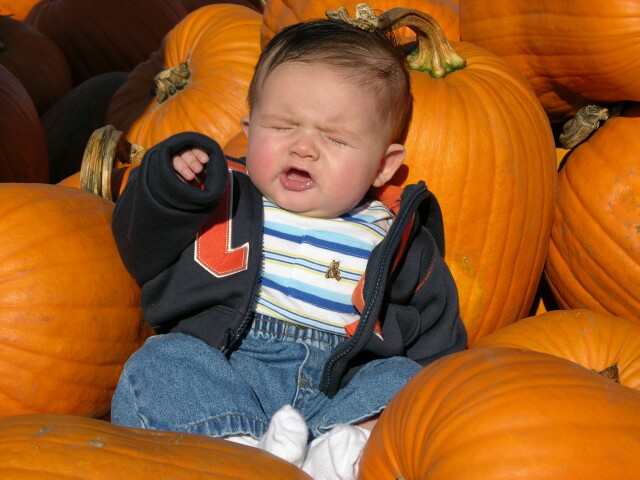 Not a happy camper.
Posted by Jim at October 10, 2004 11:13 PM